Teranga Gold: Update on My #10 Overall Gold Stock
Teranga Gold (OTC:TGCDF) is well on its way to becoming a diversified, mid-tier gold producer.
On Jan. 5, the company announced it had beat its 2016 production guidance, with gold production of 216,735 ounces exceeding the high end of its 2016 production guidance range of 200,000 - 215,000 ounces. This represents 19% growth over production in 2015. Then on Jan. 29, Teranga gave a more detailed report on its Q4 and full-year 2016 earnings. Here, I discuss the news in detail and give my updated thoughts on the stock.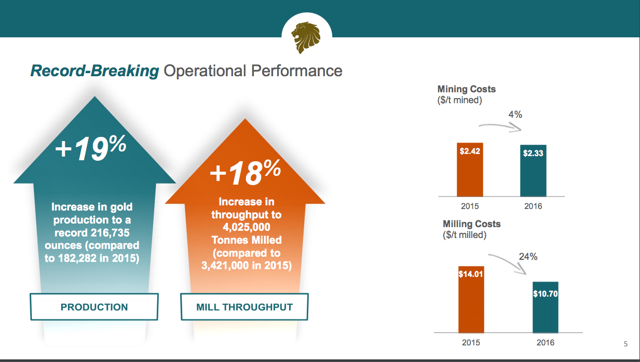 (Credit: Teranga Corporate Presentation)
For some backgrond, Teranga Gold is a core holding of mine and I previously listed it as my #10 overall gold stock to own in 2017. I pointed to Teranga's strong operating performance as a main reason to own the stock, as production increased by 32% annually, with cash costs under $1,000 per ounce.
Simply put, the miner is growing, but also growing profitably. Meanwhile, I also hold a favorable view of Teranga's newly acquired Banfora project, which should boost the miner's production by 73,800 ounces of gold annually at $839 all-in sustaining costs (AISC).
Since listing the stock as a top pick, Teranga shares have risen 12.27%, in-line with the benchmark VanEck gold miners index (NYSEARCA:GDX). Shares have underperformed other top picks, such as Endeavor Mining (OTCQX:EDVMF) and Kirkland Lake Gold (OTCPK:KGILF). However, I still expect the stock to outperform peers (as measured by the GDX) in 2017.
Besides achieving record high production of 216,735 ounces in 2016, the company also says investors can expect its AISC to fall on the mid-point of its guidance of between $900 - $975 per ounce for 2016.
Now, 2017 guidance doesn't look that great at first glance. The company expects production to fall between 205,000 to 225,000 ounces of gold, basically in-line with 2016 results. What's more: AISC are expected to rise to $1,000 to $1,075 per ounce.
Why the higher costs? A majority of the mill feed will come from low-grade stockpiles in 2017, as planned. The company will also spend money on the Banfora gold project, at an expected $11 - $17 million, as the company works on completing a feasibility study and prepares for construction. First gold pour is estimated by 2019.
Teranga will still likely be profitable in 2017 with gold trading over $1,100 per ounce, as I expect it to do so.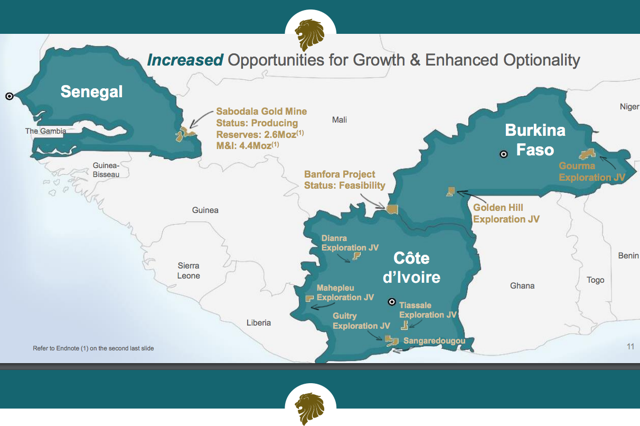 (Credit: Teranga Corporate Presentation)
As for the balance sheet, Teranga completed an equity offering at the end of 2016, of 64 million common shares at C$1.05 per share, netting gross proceeds of C$64.9 million (or $48.4 million in US dollars).
As of writing, Teranga has a cash balance of approximately $95 million, with no debt. So combined with its cash flow, Teranga has enough cash to advance Banfora to construction, with upfront capital requirements very low at $85 million.
Teranga remains an excellent growth stock to own in my view. By the middle of 2019, Teranga is estimated to produce more than 300,000 ounces of gold, with AISC falling to the low-$900's. As mentioned, upfront capital is very low at Banfora and Teranga will continue to optimize production at its producing Sabodala mine. The company could also be a strong takeover target for a larger miner that is looking to add low-cost production and future growth.
I remain bullish on Teranga, and will look to buy more shares on any future dips. I'm a fan of the company's assets and believe the stock will outperform going forward.
Disclosure: I am/we are long TGCDF, EDVMF, KGILF.
I wrote this article myself, and it expresses my own opinions. I am not receiving compensation for it (other than from Seeking Alpha). I have no business relationship with any company whose stock is mentioned in this article.