Shares of offshore drilling company Seadrill Ltd. (NYSE:SDRL) slumped ~30 percent on Tuesday after it gave investors an update about its debt restructuring. It is highly likely that investors overreacted to yesterday's news, and that the emotionally-fueled sell-off has gotten way out of hand. As a result, the overreaction offers an attractive entry into the stock.
Seadrill Ltd. has been struggling for a couple of years now, largely because of deteriorating economic fundamentals in the offshore drilling business. Like most offshore drillers, Seadrill was caught off guard by the collapse of energy prices in 2015 and 2016 that has pushed a lot of companies to the brink of bankruptcy. At the very least, the cutback in investment spending has rendered the capital structures of offshore drilling companies unsustainable. As a result, energy companies and those that depend on them, have had no other choice but to start restructuring their balance sheets amid falling energy prices and revenues.
Yesterday was without a doubt not a good day for Seadrill's shareholders. The offshore drilling company said that it hasn't made much progress yet in terms of restructuring its financial liabilities, and the Chief Executive Officer's statement about the state of the negotiations created a lot of new uncertainty for investors. Here is what Mr. Wullf, CEO and president of Seadrill Management Ltd., had to say:
These negotiations have proved to be more complex than we had originally anticipated. Nevertheless, key stakeholders have demonstrated a clear desire to be part of a solution and with the right structure and terms we believe there is significant capital available to us. Seadrill is a great company with excellent people, assets and customers and we look forward to concluding a transaction that ensures Seadrill continues to be well positioned for the eventual recovery in the industry.
Seadrill Ltd. had ~$8.9 billion in net interest bearing debt on its balance sheet at the end of the September quarter. This was ~12 percent less than a year before that when Seadrill had to service $10.2 billion in net interest bearing debt, but it is still a formidable amount of debt. Despite the progress the company has made in terms of paying down debt, the company has so far failed to make its capital structure sustainable. Seadrill aims to transition its capital structure based on three core elements:
1. Extending bank maturities to mature in the period from 2021 to 2023, reducing fixed amortization and amending financial covenants;

2. Extending the maturity of unsecured claims to mature in the period from 2025 to 2028; and

3. Raising at least $1.0 billion in new capital.
Seadrill said that negotiations with creditors are ongoing, which investors interpreted as having been "unsuccessful so far." As a result, Seadrill's shares slumped ~30 percent on fears that the drilling company will fail to secure creditors' commitment to a new capital structure before its West Eminence credit facility matures on April 30, 2017. While failing to reach an agreement with creditors is certainly a possibility, it is not that likely.
Further, there is a huge emotional element playing into the developments here, suggesting that investors are overreacting to Seadrill's restructuring update. I think that Seadrill continues to deserve the benefit of the doubt here, and that the company also deserves a little more time to hammer out a mutually beneficial deal for debt and shareholders.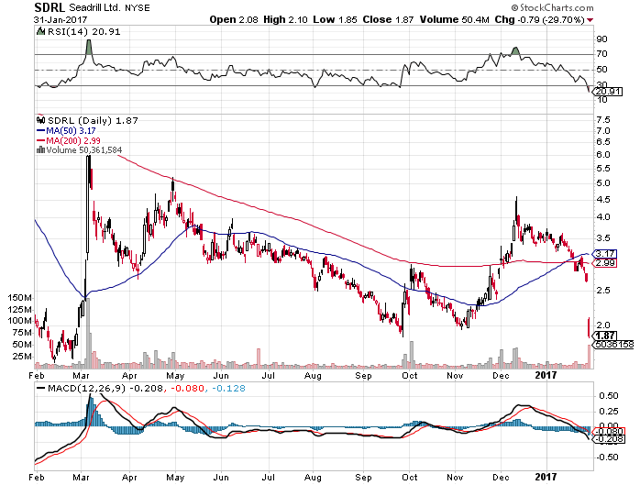 Source: StockCharts.com
Your Takeaway
Seadrill was kicked to the curb yesterday after the company announced that its restructuring wasn't going as smooth as investors had hoped. On the other hand, there is a huge emotional element included here, which implies that the sell-off may have gotten out of hand. Seadrill deserves the benefit of the doubt, and I expect the company to be able to hammer out a debt restructuring with its creditors before April. Speculative Buy.
If you like to read more of my articles, and like to be kept up to date with the companies I cover, I kindly ask you that you scroll to the top of this page and click 'Follow.' I am largely investing in dividend paying stocks, but also venture out occasionally and cover special situations that offer appealing reward-to-risk ratios and have potential for significant capital appreciation. Above all, my immediate investment goal is to achieve financial independence.
Disclosure: I am/we are long SDRL.
I wrote this article myself, and it expresses my own opinions. I am not receiving compensation for it (other than from Seeking Alpha). I have no business relationship with any company whose stock is mentioned in this article.