Shares of midcap firm Nevro Corporation (NYSE:NVRO) are up almost 40% in the past year.
The medical device company has developed HF10 therapy, a neuromodulation platform for the treatment of chronic pain. While founded in 2006, the company didn't see its innovative therapy approved by the FDA until 2015.
While the traditional SCS (spinal cord stimulation) market amounts to about $1.7 billion, the company has gained a market share of around 15% in just the fifth quarter of the sales launch in the United States.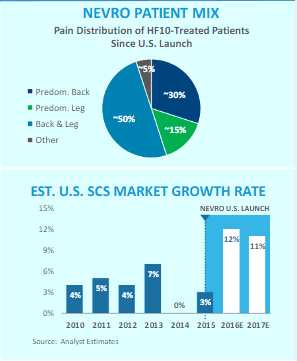 The device was originally approved as an aid for chronic intractable pain of the trunk or limbs, including pain associated with failed back surgery syndrome, low back and leg pain. Currently, the back and leg segment represents 50% of treated patients.
As can be seen in the image on the right (source: company presentation), the approval of the device has led to a spike in the growth of the U.S. SCS market.
Late last year, long-term data was published from the study dubbed SENZA-RCT. As the largest clinical trial in SCS history and comparing traditional low frequency SCS therapy to HF10 therapy, results appeared quite definitive. Superior responder rates were seen in both back and leg pain (76.5% versus 49.3% and 72.9% versus 49.3%, respectively). Pain relief was delivered with no paresthesia (unpleasant sensation akin to tingling or prickling).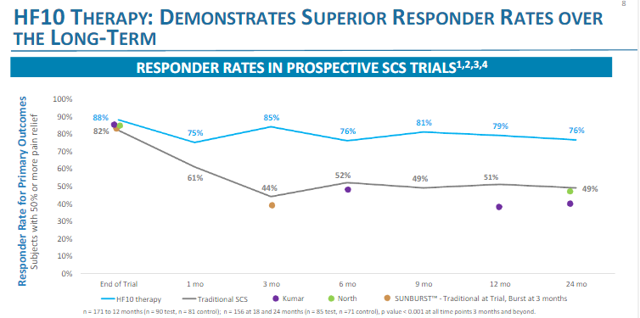 Figure 3: Long-term responder rates (source: company presentation)
Revenue continues to ramp up nicely, amounting to $60.9 million in the third quarter of 2016 (up 296% over the same period last year). The company has made inroads with insurance coverage, as seen recently with Cigna (NYSE:CI) reversing its investigational designation and covering HF10 therapy in light of clinical evidence.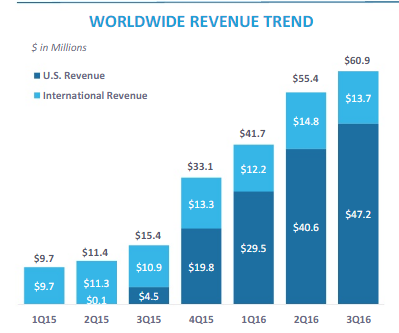 Figure 4: Impressive revenue ramp (source: company presentation)
Gross profit amounted to $41.7 million, with a 68% gross margin versus 61% in the same period last year. Operating expenses came in at $43.6 million (up 60%), while loss from operations came in at just $1.9 million versus $17.7 million for the same period in the prior year. Management also raised worldwide revenue projections for 2016 from $210-220 million to $220-225 million.
The company also continues to increase the number of representatives it has in the United States, from 52 at launch to now at or over 165. We should see continued growth as more representatives are hired and trained, as well as with the launch of the surgical lead sometime in the first half of the year, which would grant access to surgeons (30% of SCS market). Also, management plans to expand into additional pain indications and assess new opportunities to demonstrate clinically meaningful results.
Risks to the story include competition and especially the issue of intellectual property. The company is currently in a spat with Boston Scientific (NYSE:BSX), where Nevro filed a lawsuit claiming the larger rival is infringing its patents. Boston Scientific followed a similar route shortly thereafter, but it will be a long drawn out process as is usually the case with these types of issues.
As to the competition risk, current president and CEO Rami Elghandour addressed the issue in the conference call. In regards to a competitor releasing their own high-frequency trial data with claims of superiority, he referred to the SUNBURST study having run two superiority tests and failing one of them. He concluded by stating that a closer look at the data reveals HF10 responder rates in the 80s, while Burst, St. Jude (NYSE:STJ), and traditional SCS are much lower. In the end, the data speaks for itself, and the company is selling a product that, in my opinion, sells itself due to outstanding patient outcomes and supportive data in the clinic.
Cash burn is minimal and the company might have positive earnings in some of the next few quarters. In light of this, the company's current cash and short-term investments of over $250 million appears more than adequate going forward. Management has commented that it will continue investing in the technology and pipeline, which takes priority over earnings. So, from that commentary, we can surmise that positive earnings are not a given, while revenue growth and growing market share are more likely to take center stage.
After a decent pullback from the 52-week high of 106.93, I think shares of this growth stock are worth scooping up with a longer term time horizon. Whether the company gets bought out by much larger and better capitalized competition, or management simply executes on its expansion plans, it's a bet that shareholders will profit either way.
Disclosure: I/we have no positions in any stocks mentioned, and no plans to initiate any positions within the next 72 hours.
I wrote this article myself, and it expresses my own opinions. I am not receiving compensation for it (other than from Seeking Alpha). I have no business relationship with any company whose stock is mentioned in this article.