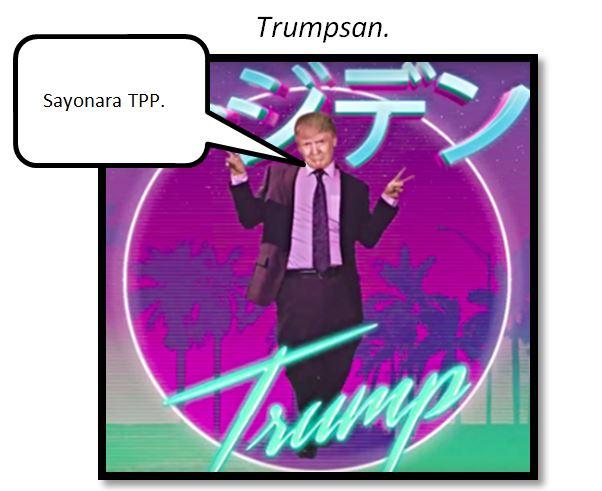 (Source: Youtube)
President Trump has created an intermission in Japanese economic policy making. Whilst his impact is ultimately expected to be positive, his views on global trade and currency manipulation combined with the recent weakening of the yen versus the US dollar have tempered Japanese enthusiasm.
The last report observed the game of smoke and mirrors, being played by the BOJ and MOF, in order to monetize the fiscal deficit. This culminated in the fabrication of a Goldilocks economic forecast from the cabinet office, which provided the data to justify this game; and to enable the BOJ to prevent JGB yields from following US Treasury yields higher. The recent leak of the 2017 budget, showed the heavy reliance on the BOJ to keep the cost of deficit finance and hence its notional value low, through the purchase of JGB's at zero to negative interest rates. Following this budget leak a new leak signaled that Prime Minister Abe intends to ratchet up military spending even further, in order to be President Trump's regional partner.
Prime Minister Abe then confirmed this national security agenda, when he reaffirmed his strong commitment to a military alliance with President Trump's agenda at the opening of the Diet. The BOJ is therefore being tasked with a political mission to enable this rise in military spending and partnership with President Trump. It is however clear that the BOJ does not yet have a unanimous consensus within its Board members to aggressively pursue the expanded monetary policy strategy that enables the underlying expansionist political strategy.
Recently released minutes of the November BOJ meeting revealed a considerable argument over how much emphasis should be placed on the outright level of bond purchases under the new tactical policy change to target the yield curve. Some board members wished to signal an ultimate tapering through this change in policy; whilst conversely others saw the need to emphasize the potential to expand purchases not only in order to target the yield curve but also to address the fundamental issues of slow economic growth and weak inflation. This lack of consensus could be the downfall of BOJ Governor Kuroda and the making of his rumoured potential replacement Masayoshi Amamiya aka "Mr BOJ". "Mr BOJ" is famous for his ability to create consensus; which is clearly something that the BOJ currently lacks and therefore makes him the ideal candidate to replace Governor Kuroda.
"Mr BOJ" kept his face in the frame, when he recently reported that he will be studying the optimal shape for the yield curve this year. In his opinion central banks have demonstrated that they can control the yield curve; so that it is now time for them to divine the correct shape for the yield curve under the current circumstances. By inference this yield curve will be the one that enables Prime Minister Abe's policies. In announcing his undertaking of this important task, "Mr BOJ" has framed it as the BOJ's priority and thus elevated his own importance going forward. Once he has found this perfect curve shape he will then be in a position to build consensus in support of it; and also in himself as the BOJ Governor to create it.
Governor Kuroda's latest comments signaled that he may not be the man for the job any more. He appears to be de-emphasizing the QE process ; a position which was characterized by his year-end 2016 comments that : "the headwind is turning into a tailwind" and that "conditions for wage increases have largely been met". He then began the New Year with a speech, in which he said that he is more confident that further progress on beating deflation will be made this year. In his first meeting of the year with Abe he told the Prime Minister that the US economy is growing and that there is nothing to fear from President Trump's policies. Both gentlemen agreed to jointly monitor global developments closely.
Governor Kuroda then announced at Davos that he is taking the back seat and leaving the heavy lifting to President Trump. According to him: "as U.S. economic growth accelerates and world growth strengthens, of course the Japanese economy will benefit," so "that could make achieving our 2 percent inflation target, or price stability target, slightly less difficult." Whilst he remains cautious about the threat of protectionism, he believes that the mix of tax cuts and infrastructure spending in the anticipated Trump fiscal stimulus will be a "tailwind" for the Japanese economy.
Kuroda also did a great job of ducking the big question, that has been on the minds of Japanese analysts, as to why Donald Trump has remained silent over yen weakness while he simultaneously lambastes China for yuan weakness. Kuroda skilfully opined that whilst the current level is "appropriate", it is in fact incorrect because of the volatility associated with its recent trading pattern rather than its outright level per se.
BOJ Deputy Governor Hiroshi Nakaso then warned the Japanese banks to prepare for the diverging path of US and Japanese interest rates; and the spike in dollar associated funding costs that this will occasion. In conclusion it can be said that there is nothing on the BOJ's immediate horizon to prompt Kuroda to consider significantly weakening the yen with expanded monetary policy. The consensus within the analyst community now supports this view also.
Despite this fact, sources close to the BOJ have been swift to signal that the BOJ has no intention of prematurely exiting its monetary stimulus either; as it did with grave consequences in 2000 and 2006. Whilst refusing to consider further easing therefore, Governor Kuroda has no intention of targeting higher JGB yields either. He is thus content to continue to enable Prime Minister Abe to continue borrowing for ten years at zero per cent. Consistent with this thesis, the BOJ left its policy and inflation forecast largely unchanged at its latest meeting.
President Trump's notable failure, to label Japan as a deliberate currency weakener, holds out hope that the BOJ can sit back and let the Trump fiscal tailwind reflate the Japanese economy. Evidently Japan is part of the larger strategy to combat the regional threat from China, which also plays into it enabling the increased military spending of Prime Minister Abe. Speculation over Kuroda's future at the helm of the BOJ and who will replace him may grow in 2017; but there is very little for him or his replacement to do as long as President Trump agrees to do the heavy lifting. Commensurate with this role, Governor Kuroda recently opined that he will sit back and only intervene if his 2% inflation target is challenged. To confirm this view, the BOJ aggressively advertised its recent round of bond buying on the heels of the latest core CPI data which fell 0.2% .
Prime Minister Abe does not appear to share the same degree of inertia and complacency about the expected Trump tailwind as Governor Kuroda. Far from letting time and President Trump run their course, he has fiscal stimulus plans of his own; that may require the BOJ' balance sheet to finance at negative interest rates rather than the positive interest rates that are facing President Trump's attempted fiscal stimulus. A well-placed source signalled that Prime Minister Abe intends to ditch the commitment to a primary surplus by 2021 that he inherited from his predecessor. The chances of him hitting it are already slim, even without fiscal expansion. So far he has delayed raising the sales tax, which just moves the target even further away. Said well-placed source recently opined that: "At some point I want to examine all our fiscal discipline targets, including the goal of returning to a primary budget surplus in fiscal 2020" and also that "achieving a primary budget surplus in fiscal 2020 is not that realistic, so there is debate about revising this target ….there's nothing strange about that."
This leak was then followed with the official news from the Cabinet Office that the primary deficit will worsen in coming years, even by its most optimistic forecasts, because of falling tax revenue and weak consumer spending. Mr Abe's next target will be to remove the 2021 primary surplus target, after which he will be looking to borrow and spend. If Mr Kuroda does not oblige with the BOJ's balance sheet and zero to negative interest rates, then a replacement may be needed.
With the leaking formalities out in the public domain, Prime Minister Abe and his adviser Etsuro Honda then went on the record about discussing the merits of a 5 trillion yen supplementary budget and a yen weakening past 120 to the US dollar. Evidently, Prime Minister Abe is now testing to see how far he can go before President Trump intervenes.
Confirmation of the shift in policy, away from meeting the primary surplus target, was confirmed by Abe's adviser Kozo Yamamoto. Mr Yamamoto is alleged to have convinced Abe to adopt a reflationist policy at the beginning of his tenure, so his recent comments are meaningful. Mr Yamamoto did a cursory review of Abenomics to date, in order to provide some kind of justification for what he sees coming next. In his opinion, of the three arrows of Abenomics, the fiscal stimulus arrow has not been fired with sufficient conviction. He therefore called for a larger fiscal stimulus later in the year. Evidently he remains a little uncertain of how relations with President Trump and the American fiscal stimulus will play out, in relation to its tailwind impact on the Japanese economy and the level of the yen in the near term.
Recent comments from veteran LDP lawmaker Toshihiro Nikai also suggest that the stage is being set for Prime Minister Abe to take an unprecedented third term in March. Mr Nikai signalled that there is little in the way of opposition to this move; and also that it will most likely occur without the requirement for snap elections. Prime Minister Abe is thus set to assume a third term by the simple passage of a parliamentary process without requiring the democratic confirmation of the Japanese people. In March therefore, Prime Minister Abe may claim that he has the political mandate to cancel the primary surplus commitment and to press on with an alignment of American and Japanese policies. Faced with such political momentum, Governor Kuroda will be under pressure to go with the flow or leave.
The forces of coercion upon Governor Kuroda, to enable the Prime Minister's continued reflation, began to be exerted by Etsuro Honda. Honda is an architect of the reflation strategy generally known as Abenomics; and also for the selection of a BOJ governor who would enable this strategy with the central bank's balance sheet. Commenting on his recent meeting with Governor Kuroda at Davos and also on his potential reappointment, Honda spoke positively about him. It should be noted however that he couched his praise in terms of the requirement not to disrupt the continued reflation strategy with a messy transition at the helm of the BOJ. Governor Kuroda has been informed of what it takes for him to remain in his chair.
The latest Reuters Corporate Survey showed that nearly two-thirds of Japanese firms surveyed do not intend to raise wages this year; and also that roughly a quarter of them have only raised compensation thus far by two per cent. The risk of the BOJ missing its inflation target is therefore elevated this year. This miss may not however lead to an immediate easing by the BOJ, since the survey also found a great deal of concern about the impacts of President Trump's trade policy. In particular, there was consensus that both Prime Minister Abe and President Trump wish to avoid excessive yen weakening going forward. Japan Inc. is therefore happy to sit on its hands in terms of expansion plans or wage increases. The economic driver from the private sector is thus misfiring. In addition, the BOJ's room to ease is limited by the risk that a weakening yen upsets President Trump. Despite his best laid plans therefore, Prime Minister Abe is constrained by what President Trump will let him do. A joint fiscal stimulus by both nations is the best that can be hoped for at this point in time.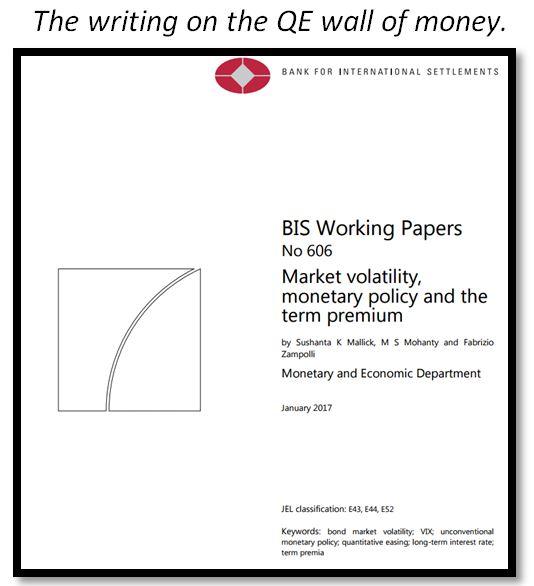 (Source: BIS)
The Bank for International Settlements (NASDAQ:BIS) recently issued a working paper that may challenge Prime Minister Abe's intentions and capabilities to bully the BOJ into monetising his new fiscal deficit at negative interest rates. The study found that, whilst QE soothes and liquefies capital markets during a crisis, it does not stimulate economic growth post-crisis. This report seemed to signal the global closing of the chapter on QE for now and a return to normality; however this belies the fact that some central banks are still devoted to QE.
It is interesting to compare and contrast the political roles being assumed by developed nation central banks continuing with QE, despite the fact that they are overtly signaling their retreat from it. This signal of retreat on QE and negative interest rates, disguises the fact that they are still very much engaged in political initiatives that require it. In the Eurozone the ECB has anticipated political risk, in the European electoral calendar of 2017, by extending its QE programme. The Bank of England has anticipated Brexit by easing monetary conditions. The BOJ is financing a return of Japanese militarism and much more. Only the Fed ostensibly appears to be genuinely tapering off its QE process. The rise in the US dollar because of this divergence of the Fed from its peers, threatens to create a headwind to the US economy that will require the Fed to then enable President Trump's fiscal stimulus response to the weakness. The BOJ may have to wait for this process to work its way through to the Fed's next monetary stimulus, before it can act itself.
Disclosure: I/we have no positions in any stocks mentioned, and no plans to initiate any positions within the next 72 hours.
I wrote this article myself, and it expresses my own opinions. I am not receiving compensation for it (other than from Seeking Alpha). I have no business relationship with any company whose stock is mentioned in this article.