Finding good yield in large cap stocks after the rally of the last six months is getting more challenging. Blue Chips like Microsoft (NASDAQ:MSFT), that yielded better than 3% when I first starting acquiring the stock in middle of last year, now yields closer to 2.5% after the market's run up. I am finding better opportunities in the less-followed small cap space. One such example is Rimage (RIMG)
Rimage Corporation - "Rimage Corporation provides workflow-integrated digital publishing systems that are used by businesses to produce recordable CD, DVD, and blu-ray discs with customized content and durable disc labeling. It offers digital disc publishing systems in three lines, including the producer line of equipment for higher volume requirements for the publishing and duplication of CD, DVD, and blu-ray discs with digital content; the professional line of network-attached publishing systems that feature an Everest printer and a small footprint for front office production; and the desktop line of publishing systems, including two-drive recorder Rimage 2000i desktop publishing system and Rimage 480i thermal inkjet printer for office and other desktop applications." (Business Description from Yahoo Finance).
6 Reasons to pick up RIMG at under $11 a share:
The company just increased its dividend by 70% and now yields 6.1%
Rimage has a fortress balance sheet with over 60% of its market capitalization in net cash.
Although the company disappointed the market with its last earnings report, it did maintain margins and projected low double digit revenue growth in 2012.
Management takes some flack from the investment community on SA, but they returned over $10mm to shareholders to dividends and share repurchases (significant given its market cap is just $140mm)
The one analyst that covers the stock has a $14 a share price target on RIMG, and it has had net insider buying over the six months.
The stock has long-term technical support at these levels (See Chart)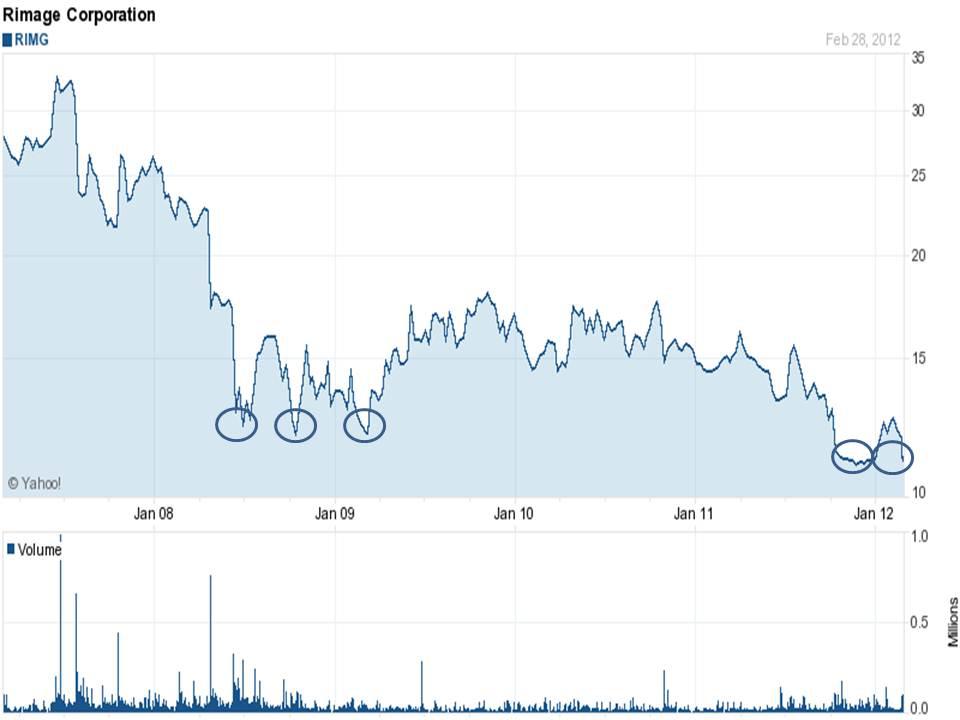 Disclosure: I am long (MSFT), (RIMG).