In my last article of 2016 (Part I of this series), I rejected the then popular notion that Gold (NYSEARCA:GLD) was a "dead investment". I countered with the observation that, much like President George Bush II, gold was made for a President like Donald Trump. I suggested the possibility that Trump's policies and management style would induce a big rally in gold. So far, we haven't seen a huge rally - but it is up $68/ounce (6%) in the one month since that article was published on Seeking Alpha. It has much (much) further to go in my opinion.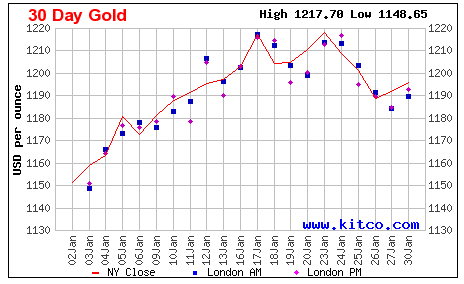 It is an understatement to say that much has happened since President Trump was inaugurated - some good, some bad. But if I had to characterize the economic policies of President Trump so far in a single word, I would say "uncertain". And if there is anything the stock market and U.S. corporations dislike - it is uncertainty.
Since the election, the market took off as investors bet that the Trump administration's pro-growth policies, if enacted, would drive the stock market higher. However, since the inauguration much of the Trump Administration's rhetoric has slanted toward protectionist trade policies that could hamper S&P 500 corporate earnings. Whether a corporation is an importer or an exporter, or both - the uncertainty surrounding a large portion of corporate America's operations is unprecedented in recent times.
Meantime, uncertainty and opposition regarding President Trump's immigration policy have generated a backlash from heretofore mostly quiescent corporate CEOs from companies like Amazon (NASDAQ:AMZN), Goldman Sachs (NYSE:GS) and Starbucks (NASDAQ:SBUX) joined with Google (NASDAQ:GOOG) (NASDAQ:GOOGL) co-founder Sergey Brin in protest against Trump's immigration policy. A group of tech firms planned a meeting today to discuss filing a brief in support of a lawsuit challenging President Trump's action restricting immigration and travel. Regardless of how the issue is ultimately resolved (if ever...), one would have to agree it injects much uncertainty into the operations of many U.S. companies.
Now we have word that Iran has conducted its first ballistic missile test since Donald Trump took over as president. This is in apparent violation of a United Nations resolution. As a result, the UN has called an urgent meeting today at the request of the President Trump. Trump was a very critical of the Iran nuclear deal during last year's campaign and has suggested he may seek to renegotiate its terms. Again, this issue injects yet more geopolitical uncertainty into the picture and in a region already rife with violence and uncertainty about the future.
Switching gears somewhat, late last year and early this year investors generally believed the low-rate policy of the Federal Reserve - which has supported the current bull market in stocks - would be removed with at least two rate increases are being factored in for 2017. That would obviously lift borrowing costs while providing an alternative for investors seeking income. It would also help bank profits. However, the last GDP print for Q4 was only 1.9% - a marked QoQ slowdown from Q3 (3.5%):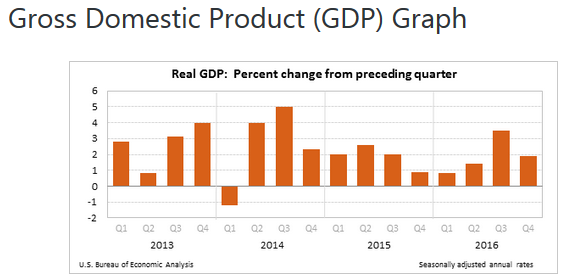 Source: BEA, U.S. Department of Commerce
Investors now must consider that the overall economy may not be growing as fast as was previously thought, and that perhaps the uncertainty regarding Trump's economic policies could be a negative influence on the economy - at least in the short-term. That would cast doubt on the number and extent of Fed Funds increases in 2017. If fewer increases are made, the U.S. dollar would likely contract and buoy higher gold prices.
Other topics concerning the market - such as China's slowing economy and political turmoil in Europe - are still with us. As is the potential for trade wars between the U.S. and both China and Mexico - either of which would be terrible for U.S. consumers, and for the stock market.
Then we have the issue of "alternative facts". However, many people would characterize an "alternative fact" as simply a "falsehood". Regardless of how one views the issue, it does bring yet more uncertainty with respect to: what can we believe from the new administration, and what can't we?
With so many unknowns, one has to believe the odds are increasing for a significant correction in the stock market. At one point yesterday the DJIA was down over 1%. Currently the DJIA is down another 150 points, basically wiping out all the gains YTD: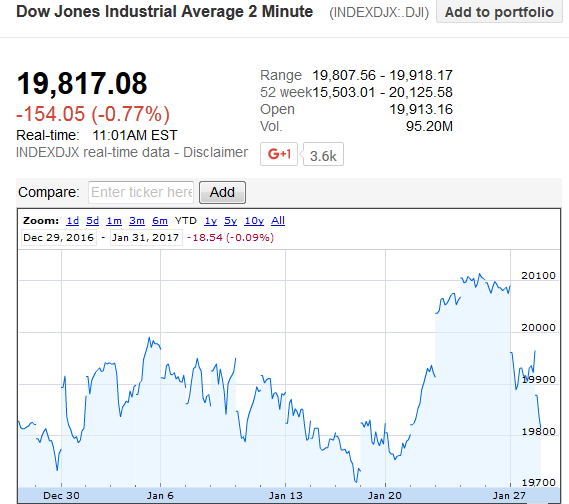 Source: Google Finance
But probably the most direct impact on gold prices going forward is President Trump's use of the bully pulpit to talk down the value of the U.S. dollar. Even more worrisome was the Financial Times' article describing how Trump threatened to not only dismantle decades of the U.S. "strong dollar" policy, but to potentially renegotiate U.S. sovereign debt. Under such a scenario, it is hard to predict how high gold would go. Over $2,000/ounce would not surprise me in the least. And that could happen very quickly on any word that the Trump administration was even considering renegotiating terms of U.S. sovereign debt. In fact, I would go so far as to say that could hasten adoption of a basket of global currencies - which could include precious metals like gold and silver - to replace the U.S. dollar as the world's reserve currency.
Summary & Conclusion
President Trump has not changed much from candidate Trump. He is tackling the issues he promised to take-on one issue at a time. But not always gracefully. The net result is that President Trump's policies have injected much uncertainty into the economic and earnings potential of the largest companies in the S&P 500. The markets are not reacting well to the president's latest policy initiatives. At the same time, gold is responding to the upside. In my view, Trump's impulsive and emotional style have lead to policy initiatives that lack thorough preparedness as to unintended consequences and display a lack of depth-of-analysis rarely seen from the executive branch. As a result, I see the odds of a significant stock market sell-off increasing. On the other hand, I see gold moving significantly higher over the next four years. Investors would do well to heed to old adage of holding 5-15% of their net wealth in precious metals. For investors with an average net worth of over $5 million, I would say the percentage should be even higher. That's because you have more to lose.
As a result of all the issues discussed in this article - or at least in part due to these issues - gold is currently trading up +$17/ounce, while the U.S. dollar is down almost 0.8%. From the 5-year chart shown below, I agree with Trump - the U.S. dollar is over-valued. And that is bullish for investors holding gold bullion (my choice) or gold miners.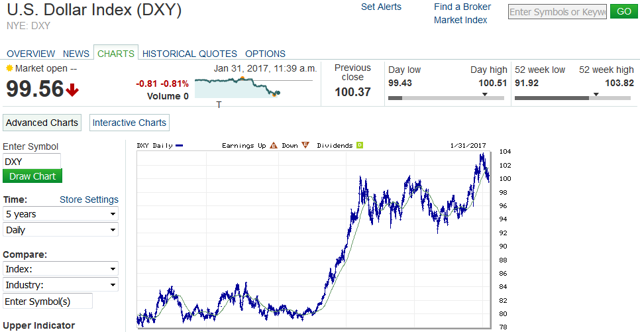 Source: MarketWatch
Disclosure: I am/we are long BULLION.
I wrote this article myself, and it expresses my own opinions. I am not receiving compensation for it (other than from Seeking Alpha). I have no business relationship with any company whose stock is mentioned in this article.
Additional disclosure: I am an engineer, not a CFA. The information and data presented in this article were obtained from company documents and/or sources believed to be reliable, but have not been independently verified. Therefore, the author cannot guarantee their accuracy. Please do your own research and contact a qualified investment advisor. I am not responsible for investment decisions you make. Thanks for reading and good luck!