Overview
The Lean Long-Term Growth Portfolio (LLGP) was created in early February 2016. The objective of this portfolio is for long-term capital appreciation and will include both companies that pay dividends and those that do not. The projected dividend yield for 2017 is 1.2 percent. Over the long term, yield may become a higher priority.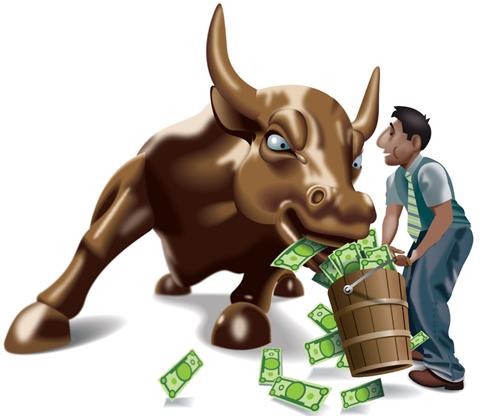 There are currently 30 individual stock holdings under management. For some this may seem like too much, others may think it is too little. Management strategies utilize business and industry growth drivers from a variety of source information. The biggest challenge of managing 30 companies is maintaining enough cash liquidity to grow all holdings consistently over time. A firm structure is in place to allow for this, but the reality is that positions will sporadically become overweight as different industry-related cycles ebb and flow.
As some of you may know, I focus intently on transports. The substantial majority of this focus is freight-related, so airlines, airports, transit services are not strongly covered. I also focus strongly on industries within the portfolio. Overall, 115 or so companies have detailed databases tracking quarterly information. Additionally, most industries also have other pricing and demand trends, which are monitored.
Currently, only individual stocks are purchased. The primary objective is for long-term growth, but there are strategies in place to accumulate larger positions, which may be sold for short-term gains. Motif is used for both ROTH IRA and Traditional IRA accounts. The primary benefits of Motif over some other brokerage services include the ability to build one's own portfolio as a motif which can be invested in by any amount for only $9.95, up to 30 companies; and to be able to purchase fractional shares with a trading commission of $4.95.
As of January 31, 2017, the fund held 30 companies including:
Amazon.com (NASDAQ:AMZN)
The Boeing Company (NYSE:BA)
Cal-Maine Foods (NASDAQ:CALM)
Calavo Growers (NASDAQ:CVGW)
Concho Resources (NYSE:CXO)
DexCom (NASDAQ:DXCM)
FedEx Corporation (NYSE:FDX)
Grupo Aeroportuario del Pacifico (NYSE:PAC)
J.B. Hunt Transport (NASDAQ:JBHT)
JD.com (NASDAQ:JD)
Kansas City Southern (NYSE:KSU)
Lockheed Martin (NYSE:LMT)
Lamb Weston Holdings (NYSE:LW)
LINE Corporation (NASDAQ:LN)
Matson, Inc. (NYSE:MATX)
McCormick & Company (NYSE:MKC)
Pioneer Natural Resources (NYSE:PXD)
Rice Energy (NYSE:RICE)
Republic Services (NYSE:RSG)
Raytheon Company (NYSE:RTN)
Sanderson Farms (NASDAQ:SAFM)
Sprouts Farmers Market (NASDAQ:SFM)
The Dow Chemical Company (DOW)
The J.M. Smucker Company (NYSE:SJM)
ULTA Beauty (NASDAQ:ULTA)
Unilever (NYSE:UL)
US Foods Holding (NYSE:USFD)
V.F. Corporation (NYSE:VFC)
Visa Inc. (NYSE:V)
XPO Logistics (NYSEMKT:XPO)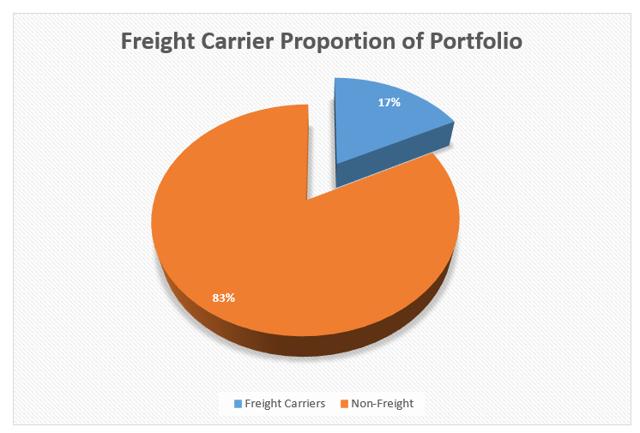 Source: Personal database
Freight holdings as a percent of the total increased by one percentage point to 17 percent. During January, the XPO Logistics position was increased. No other freight-related holdings are at a level meriting an increased consideration. Swift Transportation (SWFT) is being reviewed as a possible new addition for February.
Current Holdings Performance - Update
As of January 31, 2017, the table below provides the stock acquired and sell dates, average price, weighting, performance by year and monthly change. All dividend payouts are included in the performance to illustrate total returns.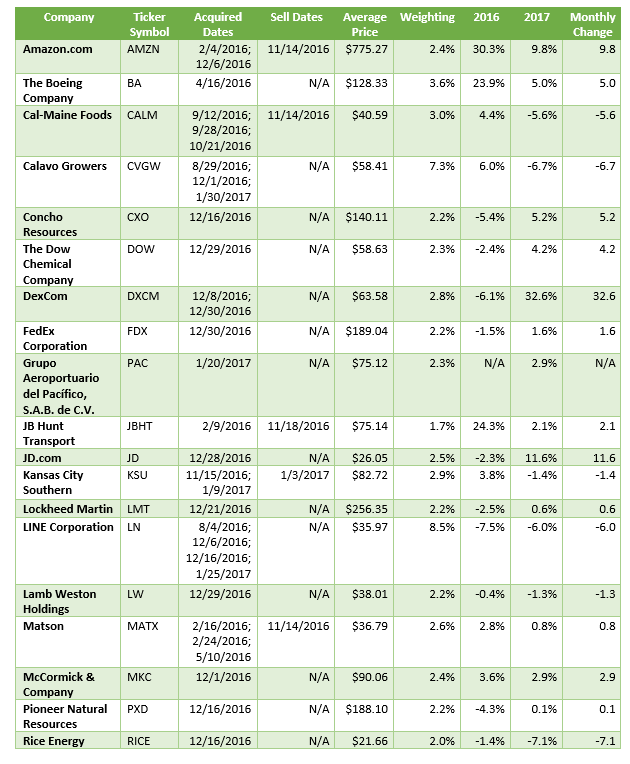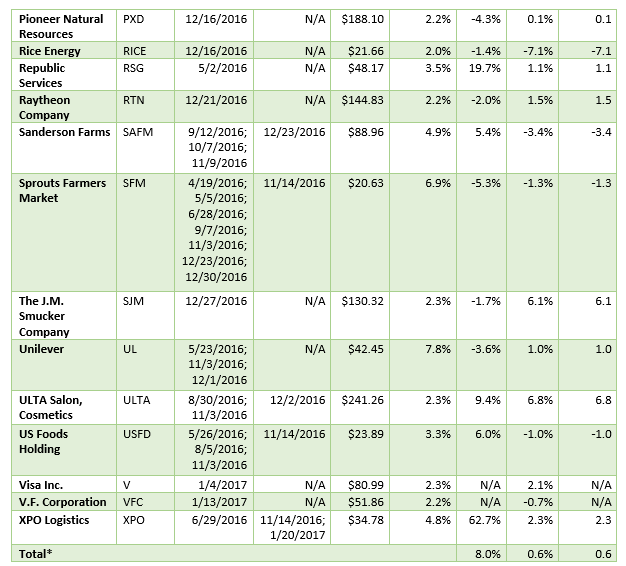 Source: Personal Database
Performance has been mostly solid with 19 holdings being positive for January. Three positions have weighed on the portfolio including LINE, Calavo Growers and Sprouts. All three companies have struggled early, each for its own reasons. LINE has been hit by slowing growth concerns for its core markets, Calavo Growers has been impacted by President Trump's anti-Mexico trade rhetoric and Sprouts has been going through a prolonged deflation cycle in addition to sensitivities to perceived trade risks.
The wave of e-commerce has benefited Amazon and JD. Both companies are positioned strongly for their respective geographic markets. DexCom is the lone healthcare holding. The company benefited from the U.S. Centers for Medicare and Medicaid Services (CMS), establishment for reimbursement for DexCom's G5 Continuous Glucose Monitoring (CGM) System.
As can be viewed through the table, many companies have had a marginal to solid month. In addition to the three laggards already mentioned, Sanderson Farms also displayed some weakness. The combination of trade risks, combined with increasing processing costs including corn and soybean meal have impacted near-term market perceptions.
Based upon the current environment, the LLGP may continue to defend positions that are already overweight. On average, each holding will typically increase by a minimum of one addition each year. In the event this amount is exceeded due to cycles and/or conditions, short-term and/or long-term gains will be realized as the tides turn.
LINE, Calavo Growers, Sprouts and potentially energy-related positions will be in this position during 2017. It is hard to gauge exactly when tides may turn, but opportunities may appear within the next year or more.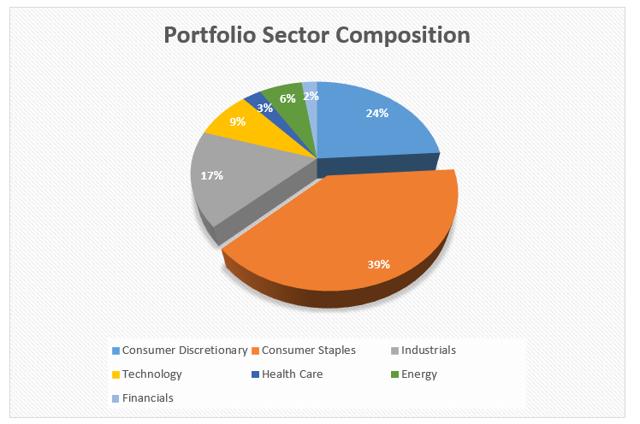 Source: Personal Database
Despite the further add to Calavo Growers, the consumer staples sector decreased by three percentage points from December 2016. This resulted from the non-consumer staple sector adds for the month, as well as for the portfolio's performance.
Increases in Grupo Aeroportuario del Pacifio, V.F. Corporation and XPO all contributed to the increase in the consumer discretionary sector - now accounting for nearly one-fourth of the LLGP. The addition of Visa is the sole holding within the financial sector.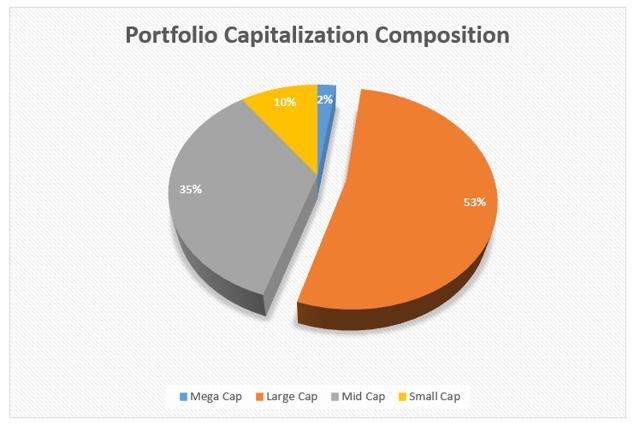 Source: Personal Database
Large-cap holdings increased to 53 percent of the LLGP's total. This was largely driven by the new additions during January. Mid-cap holdings witnessed a decline to 35 percent as a result. Growth through appreciation is a primary objective. Many larger companies offer strong growth prospects at the right price.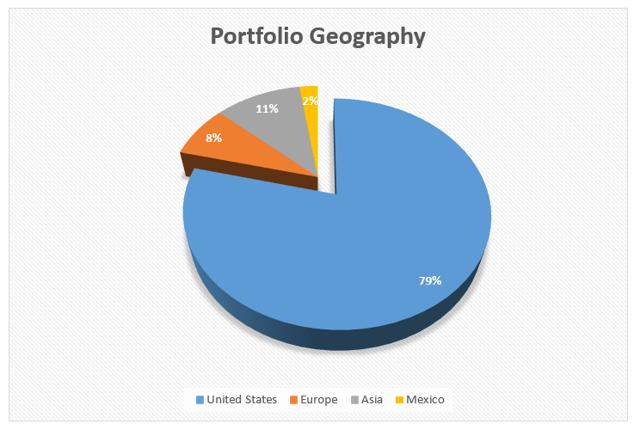 Source: Personal database
The percentage of U.S.-based holdings declined by one percent during January. This was driven by the new addition of Grupo Aeroportuario del Pacifico as well as the increase in the existing LINE position. Despite anti-trade rhetoric from President Trump, the LLGP will continue to look for opportunities within a comfort level for existing holdings and new companies, which have strong cross-border businesses.
On a side note, I would like to make a recommendation for the investment community on Seeking Alpha (SA) with regards to opportunities within or with connections to Mexico. Some of you may already be aware, but Ian Bezek has been a strong consistent contributor with a focus on Mexico. I rarely follow a buy recommendation from contributors on SA, but Ian's review of Grupo Aeroportuario del Pacifico was a great assessment, which led me to perform my own due diligence and take a position.
Ian also was a reference and source for using Motif, as he regularly provides his own portfolio buying activity. Investors with any interests in these subject matters should consider reviewing Ian's work and engaging with him as he is also very active with educating and answering questions.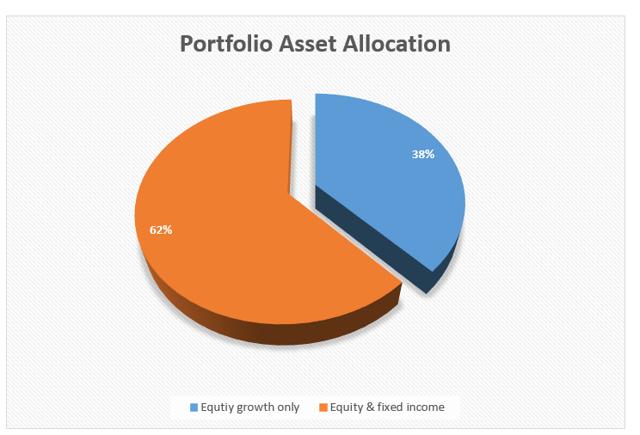 Source: Personal database
Actions for the month of January had an effect of increasing the percentage of equity growth only holdings, which increased by two percentage points to 38 percent. Swift is the only company currently being considered for addition in February. The majority of existing positions under review for addition are also non-dividend paying companies, so equity growth only percentages may increase in the near term.
Benchmark Comparison and LLGP Historical Performance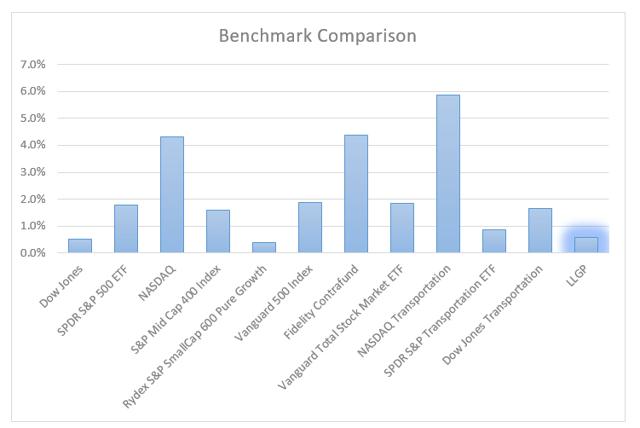 Source: Yahoo! Finance and Personal Database
For the first month of the year, the LLGP has returned 0.6 percent. Three companies have paid dividends, but amounts have been immaterial so far. Early on, the NASDAQ and Fidelity Contrafund have been the big winners, up over four percent and close to six percent for transports. The LLGP is currently near the bottom versus the benchmark spectrum.
Through the month of January, the LLGP peaked at a high of 2.6 percent. The low was slightly negative. The portfolio is still in an early stage of development as it is not yet one-year-old. Quarterly earnings results and the political climate will continue to lead to gyrations weighing on performance.
The expense ratio for the LLGP has been minimal, but Motif does not provide a historical daily invested amount to calculate a weighted average basis (WAB). From where the portfolio's amount is today, the transaction fees reflected 0.2 percent. This amount is slightly lower for January, but will likely be maintained throughout the entire year.
As mentioned, despite dividends being paid, the aggregate amount is not yet material, so there is not yield on cost (YOC). A 1.2 percent YOC is estimated for all of 2017.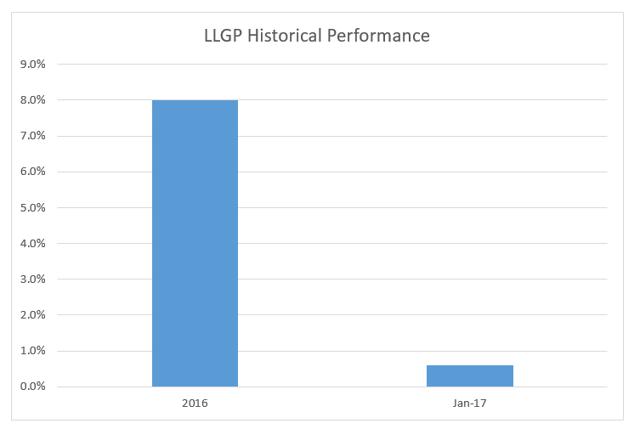 Source: Yahoo! Finance and Personal Database
The following chart above will be used to track annual and monthly performance. There is no record of 2016 monthly performance, so 2017 will be the initial year to break out and aggregate monthly performance. January 2018 will be the first year that will compare the annual trend, as well as the monthly performance from the previous year.
Conclusion
The 0.6 performance to date is a decent start, especially when considering that the LLGP owns companies including Amazon, Boeing, Calavo Growers, DexCom, Grupo Aeroportuario del Pacifico, Kansas City Southern, Lockheed Martin, Raytheon, Sprouts and V.F. Corporation. These companies have been either a direct target or have been impacted by President Trump's political rhetoric.
There is a lot of noise surrounding trade, immigration, infrastructure spending, etc. The looming balancing of the federal budget is also soon approaching. While these political events will continue to create volatility, I am focused on the long-term picture.
Due to heightened volatility, 2017 may end up being a year of fewer new additions to the LLGP, and more averaging of existing holdings. Signs are still pointing towards economic expansion, expectations are for an accelerated level versus last year. However, caution is heeded as there is a clear disconnect at the moment between President Trump's aspirations and what the tangible outcomes from Congress will look like.
Disclosure: I am/we are long AMZN, BA, CALM, CVGW, CXO, DOW, DXCM, FDX, PAC, JBHT, JD, KSU, LMT, LN, LW, MATX, MKC, PXD, RICE, RSG, RTN, SAFM, SFM, SJM, UL, ULTA, USFD, VFC, V, XPO.
I wrote this article myself, and it expresses my own opinions. I am not receiving compensation for it (other than from Seeking Alpha). I have no business relationship with any company whose stock is mentioned in this article.