Silver (NYSEARCA: SLV) is up more than 2 percent at $17.545, having crossed the crucial resistance zone of $17.20-$17.40. With this powerful breakout, bulls have made their intentions very clear - silver goes to $18+ levels now.
Barely a couple of weeks ago, I penned an article titled Silver - Bears Are About To Get Mutilated in which I concluded as,
Shorting silver now could prove to be a costly affair as the underlying momentum remains extremely strong. The commodity has crossed the 50-day SMA in a strongly bullish manner.

Silver will likely face some profit-booking or consolidation near the strong resistance zone of $17.410. A close above this level will catapult the precious metal to $18+ in the next few weeks.
This conclusion played out really well in the days following the publication of the linked article as silver did fall to $16.635 but has sharply rebounded.
I now believe that silver will aim for north of $18 on positive undertone. Technical price charts also tell that there is a significant probability of silver amassing more gains in the coming weeks.
The daily silver price chart below gives investors so many important clues to factor into their analysis.
As one can see, silver has formed a classic Inverse Head & Shoulders technical pattern, which is a bullish, reversal pattern indicating that the underlying may head higher. The confirmation of this pattern is taken when the underlying breaches the resistance zone; in silver's case, it was $17.20-$17.40 which I discussed earlier. If by the end of today's trading session, silver manages to close above $17.40, it will be a strong evidence of the dominance of the bulls. In such a case, the precious metal should aim to test the downward sloping resistance level of $18.50.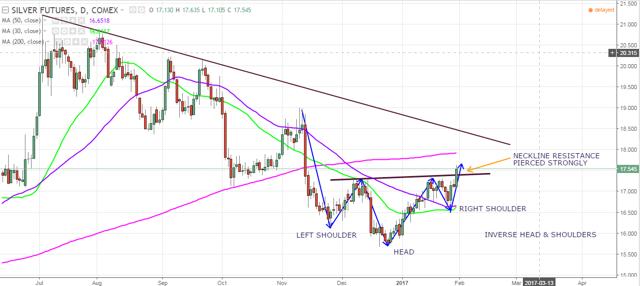 Source: TradingView
That there is buying interest at lower levels is also evident from the recent decline which was stopped by a couple of simple moving averages - 30-day SMA of $16.6117 and 50-day SMA of $16.6518.
An important level that investors should pay attention to going forward is the 200-day SMA at $17.9126.
Silver's upmove is being supported an unstoppable decline in the U.S. dollar (NYSEARCA: UUP). Having dropped more than 4 percent from its multi-year peak of 103.82, the dollar index is aiming to pierce an important support level this week. A risk to greenback is beneficial to the dollar-denominated precious metal in the short-to-medium term.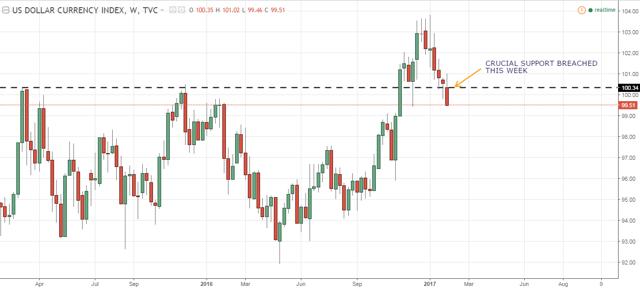 Source: TradingView
The importance of silver closing above $17.40 and maintaining the optimism cannot be stressed enough. The weekly silver futures price chart below clearly tells us that Argentum is attempting to sustain above the 50 percent Fibonacci retracement level of $17.43 today. To add more gains in the coming sessions, it is an imperative that silver closes above this retracement on a weekly basis. If it fails to do so, it will be wasting away the opportunity.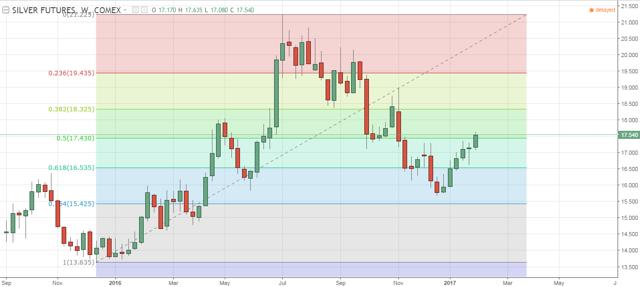 Source: TradingView
Conclusion
Silver is attempting to close above the neckline resistance of the Inverse Head & Shoulders technical pattern today. The bullish reversal pattern suggests that the bottom is in and that silver should attempt to jump above $18 in the coming weeks.
Part of the help that silver is getting is from a weakening dollar which is off 4 percent from its multi-year highs and is threatening to break an important buying level this week. Puncturing the optimism of dollar bulls may prove to be rewarding for silver investors.
For a better confirmation of the bullish signal, I will await a closing above $17.40 on a weekly basis. Sustaining above $17.40 is important for silver for many reasons discussed in the article above.
Investors who went long following my advice in Silver: The Bottom Is In do not have to necessarily book profits now. However, for those who are risk-averse, booking partial profits may be a good step.
Let your profits run. Keep a tight stop-loss below $17.20 for a target price of $18.50, which is the downward sloping resistance marked in the daily price chart.
Note: I cover several stocks in different sectors as well as S&P 500, crude oil, gold and silver, U.S. dollar, etc. So, if you liked this update, and would like to read more of such informative articles, please consider hitting the "Follow" button above. Thank you for reading!
Disclosure: I/we have no positions in any stocks mentioned, and no plans to initiate any positions within the next 72 hours.
I wrote this article myself, and it expresses my own opinions. I am not receiving compensation for it (other than from Seeking Alpha). I have no business relationship with any company whose stock is mentioned in this article.