Editor's Note: This article was updated 2/1/2017 at 3:40 P.M. in response to an error pointed out in the comments section.
Let me start with my biggest understatement of this young year: Gilead (NASDAQ:GILD) has not exactly been on a tear recently. The stock has lost almost 40% since its top in August 2015.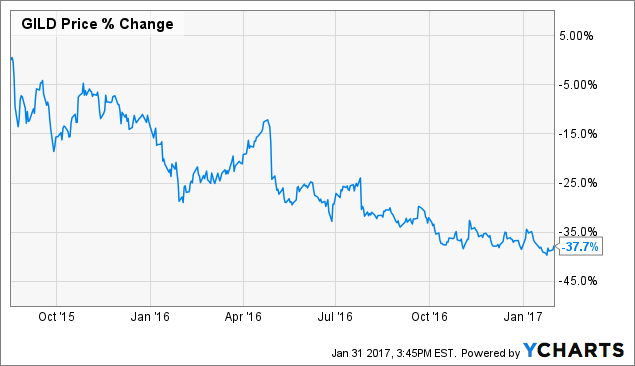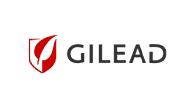 Several authors here on SA have praised the stock as undervalued, including me in this article and this article. It's a stock that divides investors as no other, and there are often intense discussions between bulls and bears. These discussions are based, in part, on the fact that it is always difficult to evaluate, let alone value, a biotech company's pipeline. The pipeline is the key component of the future of any biotech. That pipeline can be filled by internal R&D, but also with external products through licensing, mergers and acquisitions.
I think one of the best products in Gilead's pipeline is one that has been bought: Galapagos' (NASDAQ:GLPG) Filgotinib, a JAK1-selective inhibitor.
JAK stands for Janus kinase, a human protein that is very important in the signaling between cells. You could say, with a simplification, that JAKs are hormone-like enzymes. JAKs play an important role in autoimmune diseases, inflammation and cancer. At this moment Filgotinib is being tested for rheumatoid arthritis and Crohn's disease, two autoimmune diseases; and ulcerative colitis, an inflammatory disease.
The deal
Gilead has paid $725M for Filgotinib to the Belgian biotech Galapagos, consisting of a license payment of $300M and a $425M equity investment, which brought Gilead's block of shares to 14.71%. The deal also included a lock-up arrangement until the end of 2017, so Gilead can't buy or sell any shares until then. The milestone payments for Galapagos could go up to $1.35B. Galapagos' royalties are tiered, starting from 20%. There is also an undisclosed standstill, which will probably be longer than the lock-up and which prevents Gilead from outright buying Galapagos until it is over.
I wouldn't be all too surprised to see Gilead buy Galapagos when the standstill ends. Galapagos has a market cap of under $3B, which is only 10% of Gilead's cash and equivalents. Even though some of Galapagos' pipeline is in collaboration with AbbVie, their platform and technology are somewhat parallel to Gilead's approach: They use human primary cells and patient cells and then try to make small molecules that inhibit these cells. I think that Galapagos platform, especially, could be an asset for Gilead, even more so than its pipeline.
Treatments for RA
The first line drugs for RA (rheumatoid arthritis) are disease-modifying anti-rheumatic drugs, or DMARDs. Examples of DMARDs are Teva's (NYSE:TEVA) Trexall, which is MTX (methotrexate), and Pfizer's (NYSE:PFE) Azulfidine (sulphasalazine is its chemical name).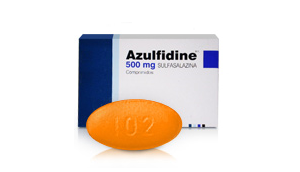 The disadvantages of these DMARDs are that they suppress the human immune system and therefore increase the risk of infections. These drugs also have severe side effects, including nausea, abdominal pain, and serious lung and liver damage. And these side effects are not rare: in Azulfidine, for example, almost 25% of the patients suffer from side effects. The drugs need 6 to 12 weeks to take effect, which is a long time to suffer from pain or inflammation if you see no effect at all.
The development of biologics was an important milestone in the treatment of RA patients. Biologic therapies use antibodies or other proteins formed by living organisms to treat diseases.
Some arthritis patients have very high levels of TNF (tumor necrosis factor, a protein) in their blood and joints. This TNF increases inflammation, pain and swelling. The biological drugs stop the overpresence of TNF.
Anti-TNFs are now standard for patients who cannot tolerate DMARDs or don't respond well enough to them. But here too there are two disadvantages: Anti-TNF drugs also suppress the immune system, which means that infections can occur more easily. The second disadvantage is the way it is given to patients: through injections (or sometimes intravenously), which many patients don't like.
Not all patients react to anti-TNFs, or over time, the results fade, resulting in a need to switch to a new therapy to control the disease. Approximately one-third of RA patients see no effect from anti-TNFs.
Hence, in more than 30% of RA population, alternative treatments are needed. A significant number of patients that take anti-TNF drugs will have to change to a second and third anti-TNF treatment within 24 months after beginning the first. And this change is very unsettling, because it often takes some months before the new therapy becomes efficient. This contributes to the progression of the disease and further joint damage. For those patients, JAK inhibitors provide an alternative.
Rheumatoid arthritis patients being treated with either Humira (adalimumab) or Remicade (infliximab) have three times the risk of developing certain cancers and twice the risk of developing serious infections.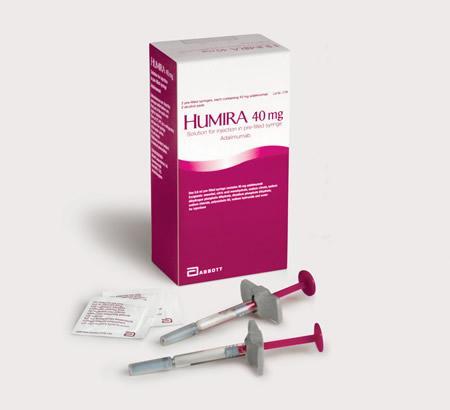 Filgotinib in RA
Filgotinib, which is being tested in phase 3 now for the treatment in RA, differs from the biologic therapies in quite a number of ways. To name just a few key elements: it is an oral therapy; it is not a biologic, but a small molecule; and it is a drug that targets the Janus kinase, or JAK, not TNF. JAK inhibitors, however, are associated with a range of side effects, including aberrations in low-density lipoprotein, or LDL, cholesterol, and red blood cell counts.
Galapagos is developing a highly selective JAK1 inhibitor, Filgotinib, for treatment of RA, amongst other indications. Filgotinib has 30 times selectivity of JAK1 over JAK2, which makes it more selective than any other drug up to now. And that is very important for efficacy and safety. In other words, both the serious side effects of biologics and especially other JAK-inhibitors are not a problem for Filgotinib: no cholesterol problem, no infections, no liver problems, etc.
And besides the fact that this is an oral therapy, it is also once daily, which is a boon for adherence. So far, Filgotinib shows very little negative interactions with other medications, another blessing for patients who are often on several drugs for side effects and/or other diseases.
But of course, the most important issue is that Filgotinib is very efficient. Contrary to the present treatments, there is a rapid efficacy of Filgotinib in the tests for RA. No more months of painfully waiting until the drugs start to work.
Filgotinib in Crohn's Disease
Crohn's disease is a bowel inflammation disease. It causes abdominal pain, diarrhea, vomiting and weight loss. Although it is a completely different disease than RA, its cause is related to it. 25% of patients with Crohn's also have RA. And Humira, the most-used RA drug, is also used for both diseases. In a press release, Galapagos stated:
Just as with RA, dysregulation of the JAK-STAT signaling pathway has been associated with CD. Accordingly, the Company believes that drugs with high selectivity for JAK1 and less selectivity for JAK2 and JAK3 are likely to be attractive candidates for development in CD. By inhibition of JAK1 but not JAK2, unwanted effects such as anemia may be prevented.
Just as with RA, Gilead has started phase 3 of the trials with Filgotinib in CD.
Filgotinib in ulcerative colitis
Ulcerative colitis is another inflammatory bowel disease. Also in UC, Galapagos and Gilead have moved to phase 3. The results from the first two phases looked promising for UC too.
Possible revenues for Filgotinib
As an investor, I always try to understand the products from the companies in my portfolio. I really feel that I own a part of a company with my shares - and hey, I do. But ultimately I especially want to know how that company is going to do financially. Revenue and profits are the bread and butter for any investor. That is why I am going to try to give my take on Filgotinib's revenue potential. To start this, I will have a look at the markets for Filgotinib's indications.
The worldwide market for RA drugs is big and growing rapidly. In the 10 main healthcare markets, RA drugs gathered a total revenue of $15.6 billion in 2013. This number is expected to grow to about $19B by 2023, according to a December 2014 GlobalData PharmaPoint report. Injectable biological therapies, such as Humira, are the largest component of this market.
The market for CD therapies, across the 10 main healthcare markets, was approximately $3.2 billion in 2012, and is estimated to exceed $4.1 billion in 2022.
The market for UC treatments is expected to grow to $6.6B in 2022.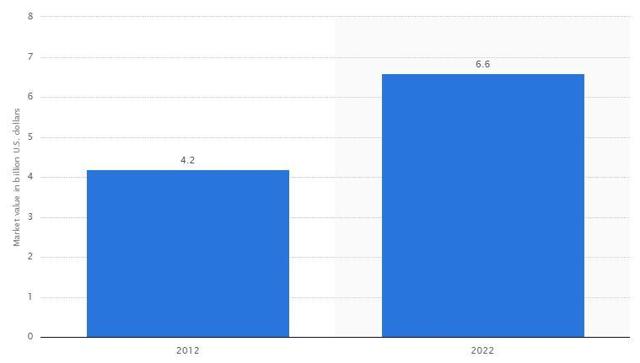 (Source: statistica.com)
So the total possible market value in about five years' time for RA, CD and UC together is almost $30B. It is always difficult to project the revenue of a new product, but we will try it anyway. This is the situation now for the biggest RA treatments, with a projection into the future: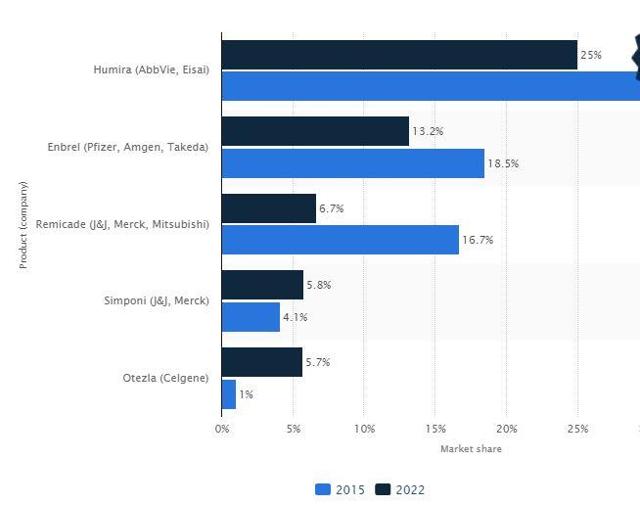 (Top RA products; source: statista.com)
If Filgotinib continues its great results in phase 3, with better safety qualities than the present anti-TNFs, an immediate response to the treatment versus a weeks-long waiting period for the patient now and great interaction safety with other treatments, I think Filgotinib could become one of the biggest in the RA market. With Gilead's marketing machine behind, it even might become the new Humira in RA over time. But the competition is fierce and therefore, let's be conservative and suppose Filgotinib takes Enbrel's place - 13.5% of the market, or about $2.5B.
Another way to see it is that about one patient in three isn't helped (any more) with anti-TNF drugs. If Filgotinib could grab half that market alone, it would have 15% of the total market of $19B, which means possible yearly sales of $2.85B in RA.
For inflammatory bowel diseases such as UC and CD, the market is smaller. This is another statista.com graph: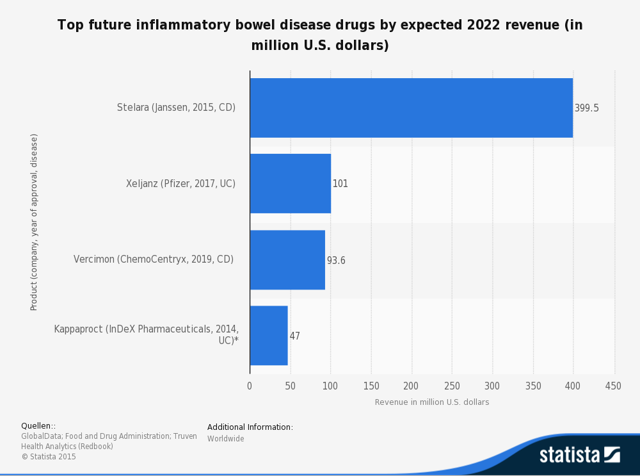 Here again, I think that Filgotinib has a great future, but as you can see, the revenues are much smaller. Let's put it at somewhere around $150-250M.
Together this could mean $3B in yearly sales. Of course, this is a highly speculative sales number, since Filgotinib still has to pass the trials without incident, and then the FDA. On the other hand, I think some other indications for Filgotinib might be found. Psoriasis and atopic dermatitis are the diseases that come to mind.
Conclusion: Gilead should buy Galapagos
I think Filgotinib is one of the best products Gilead has in its pipeline. If all goes well, it could rake in quite some billions for Gilead. The treatment seems to be best-in-class so far.
Gilead could do an excellent acquisition if it would buy Galapagos, even for $5B. Besides the other products in its pipeline and its technology platform, Filgotinib alone could be interesting enough to justify the acquisition. As a shareholder of Gilead, I am very pleased with its conservatism. I am a long-term investor and I have the feeling that Gilead's management has the same mindset. No macho overpaid acquisitions, but smaller, well-thought-out investments. The acquisition of Galapagos would fit into that investment strategy very well, I think. Until the end of this year there is a lock-up and after that probably the standstill will be effective for one or two more years. After the standstill ends, probably nothing can stop Gilead to scoop up Galapagos.
If you liked this article and you want to read more articles from a long-term perspective, feel free to hit the "Follow" button next to my name.
In the meantime, keep growing!
Disclosure: I am/we are long GILD.
I wrote this article myself, and it expresses my own opinions. I am not receiving compensation for it (other than from Seeking Alpha). I have no business relationship with any company whose stock is mentioned in this article.