In my previous article, "Overstock: Undervalued As It Launches Initiatives With Limited Downside, But Potentially Tremendous Upside," I opined that OSTK's altered business model was conducive to future growth. At the time of my article, OSTK was trading just below $14 per share, and after earnings it is trading at $18.90 per share. OSTK shifting itself into an intermediary that doesn't carry the risk of inventory allows OSTK to focus on profitable growth. With management focused on growing revenue in a steady and profitable way, I believe OSTK still has more upside.
I will first discuss the earnings release, then I will delve into OSTK's new initiatives, and then discuss its valuation.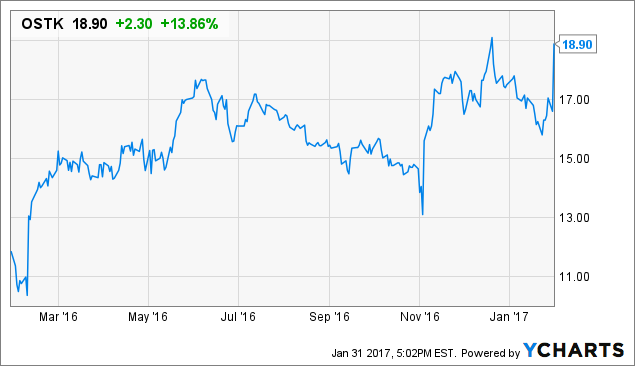 Earnings Release
Overstock.com (NASDAQ:OSTK) reported earnings after the bell yesterday and blew away estimates. OSTK reported Q4 EPS of $0.12, beating estimates by $0.16 and revenue of $526.2 million (+9.6% y/y), which also was above estimates by $2.71 million.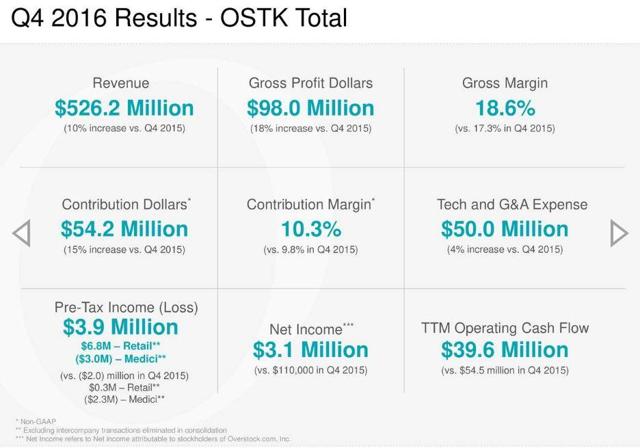 Source: Q4 Earnings Presentation
OSTK has also improved significantly on a full year basis, with revenue for full year 2016 being $1.8 billion, which represents a 9% increase from $1.65 billion in FY 2015. Additionally, OSTK is becoming more profitable, reporting pre-tax income of $20.5 million in FY 2016, growing $17.4 million from FY 2015. Pre-tax income is a relevant metric to look at right now because they have net operating cash losses that they are using so they aren't actually paying taxes.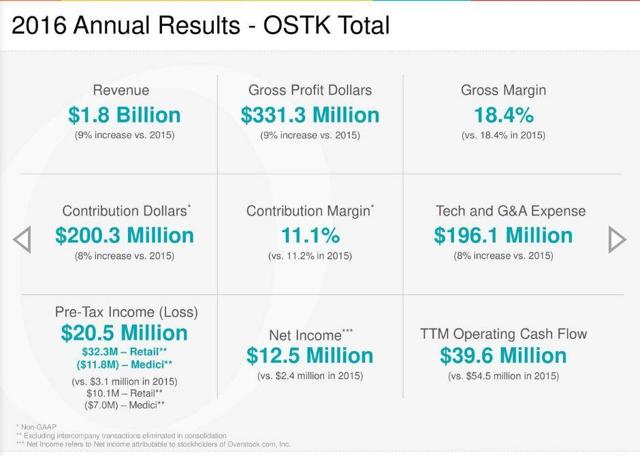 Source: Q4 Earnings Presentation
During the quarterly conference call, CEO Dr. Patrick Byrne, said he was disappointed with the quarterly revenue growth, but cited that despite the growth coming in lower than he wanted, they were able to use "new pricing algorithms and analytics" to optimize their business which allowed them to grow their gross profit by 18%.
He went on to say that they are focused on profitable growth and aren't interested in just growing the top-line growth "I know that we can lose $180 million and we can have a $4 billion business overnight . . . but we are not going to do that. We said years and year ago, we will find the structural business to be profitable once we reach the $1 billion." He said that their competitor, Wayfair, focused on growing the top-line without considering the bottom line, which although took sales away from OSTK, led to Wayfair posting large losses in the quarter.
New Initiatives
Overstock has been rolling out numerous initiatives for the last few quarters. OSTK has prudently been shifting to become a platform for selling with many of these initiatives, which provides for limited downside, high upside business potential. I will now discuss the most notable initiatives.
Source: Overstock.com
Flash Deals
Flash deals was a recent initiative launched late last year, which will drive site engagement. Every day at 12pm E.T. there is a litany of new deals available. Many of the products offer significant discounts and will spur users to frequent the site. Causing users to frequent the site often will help OSTK drive sales on its other offerings, such as the Farmers Market platform, which I will discuss further below.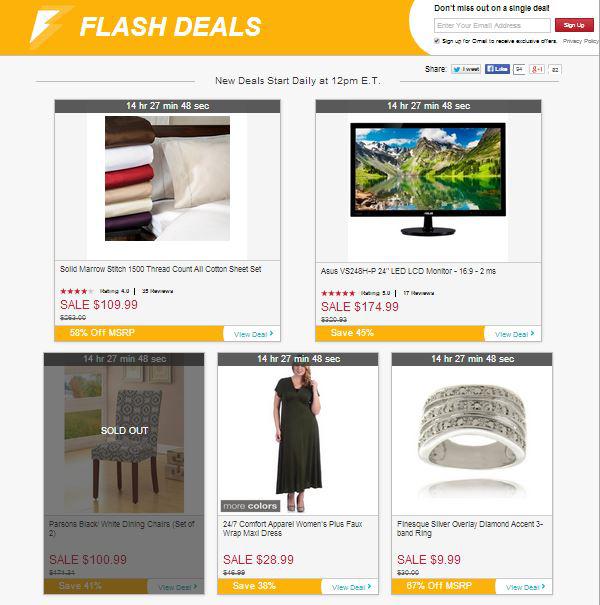 Source: Overstock Flash Deal Site
Farmers Market
Overstock has been expanding its offering, which does not increase its risk to any degree, as it shifts to fulfilment revenue. A couple years ago, it integrated a Farmers Market into its site. Through its website you can buy a variety of food ranging from organic, to gluten free, and even vegan. The site provides users with valuable transparency, which even lets them see where the product was made. Moreover, OSTK has been expanding this offering and soon a subscription service will be available.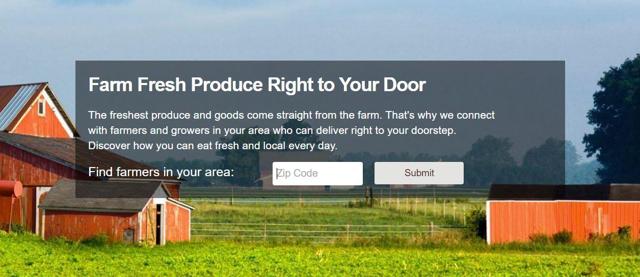 Source: Overstock.com
Pet Adoption
In February of 2014, Overstock announced plans to allow online shoppers to browse through the profiles of thousands of rescue animals and find themselves the perfect pet. Since its launch, the site has already made over 81,500 connections.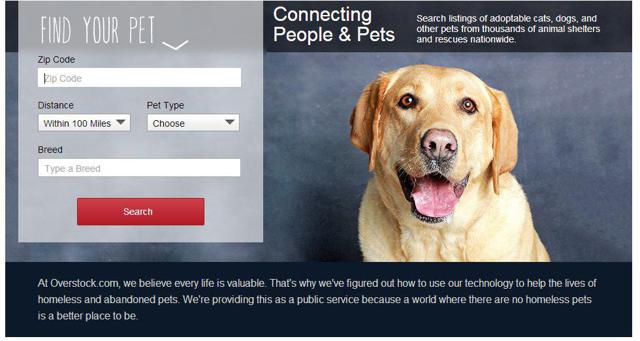 Source: Overstock Pet Adoption
Insurance
Back in 2014, Overstock launched an insurance sales segment to its website. Overstock will act as the intermediary and will facilitate a third party selling it. Thus, this initiative is essentially risk-less as their downside is the paltry sum of adding the technological framework to the site to run the system.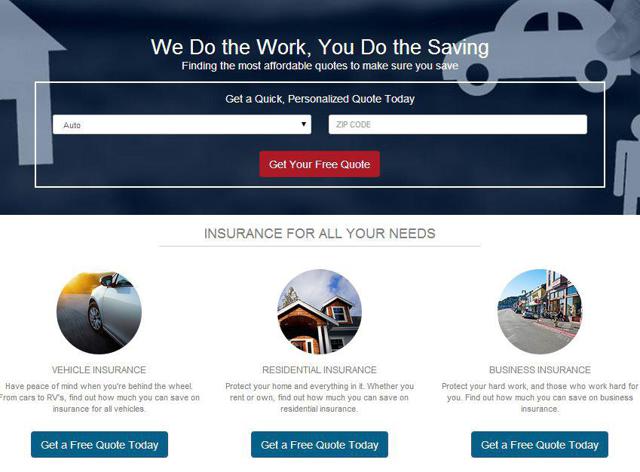 Club O Loyalty Program
Overstock has taken a play out of Amazon's book with its Club O loyalty program. The membership cost is $19.95 for a year, but is free for teachers, students, active military and veterans, and first responders. The membership, like Amazon's, includes free shipping, but also offers various other rewards to drive continuing sales. Each order allows you to receive 5% back and they even give 5% back for select restaurants. This rewards program can create serious customer loyalty. If successful, this program has the opportunity to create a competitive advantage and drive repeat sales.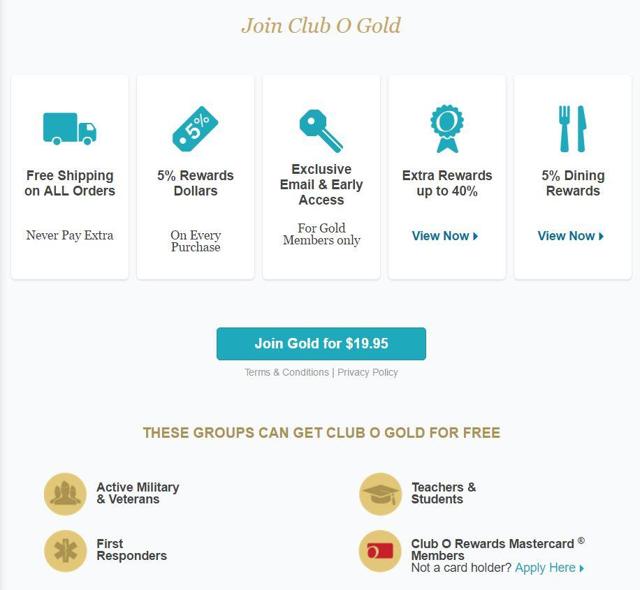 Source: Overstock.com
Value
At the current trading level, OSTK's market capitalization is roughly $420 million, which I believe represents a bit of an undervaluation when considering the most recent quarterly and full year report. OSTK is still growing the top and bottom lines prodigiously, with quarterly revenue growing roughly 10% y/y in the most recent quarter. Moreover, this growth is coming along with margin expansion as well, with its gross margin expanding from 17.3% to 18.6% in the same period. This drove gross profit to $98 million in this quarter alone and expanded net income $3 million to $3.1 million. With further growth of its Club O Loyalty program and shift to becoming a platform destination, I believe profitability can expand quite further from here.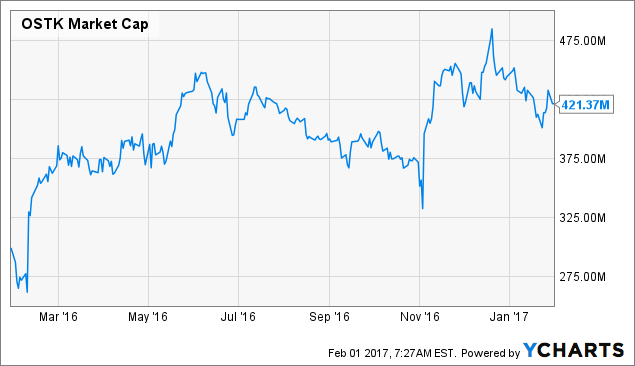 It is difficult to find great comparable publicly traded companies to OSTK to do a comparable market valuation analysis. However, I believe two pretty good comparables are Groupon (NASDAQ:GRPN) and Tuesday Morning (NASDAQ:TUES). OSTK is still trading at less than 1/3 GRPN's price-to-sales ratio. Although GRPN is a much larger company, with a market cap of nearly $2 billion, OSTK is profitable, whereas GRPN is not. As such, I believe OSTK is comparatively undervalued.
TUES is a better comparable in terms of market capitalization, roughly $200 million, but operates brick-and-mortar stores so its upside is a bit lower than OSTK's and is a riskier investment. Nonetheless, their price-to-sales ratios are about on par, despite OSTK having sales that are roughly double TUES's and OSTK being more profitable.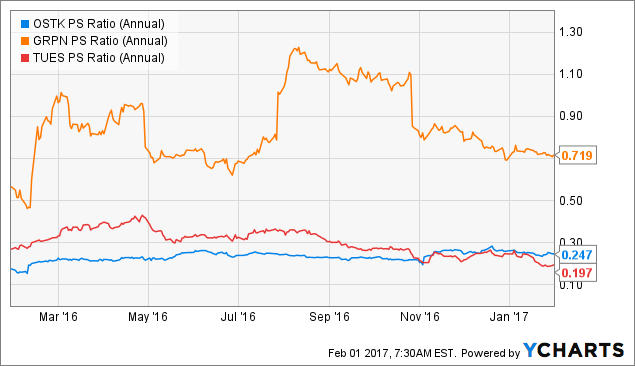 Concluding Remarks
Overstock's management has prudently shifted its business model and steadily grown revenue in a profitable manner. The new initiatives it launched on its site have been paying off and its Club O Loyalty Program coupled with its focus on data analytics has helped to increase the long-term value of customers and drive top and bottom line growth. Despite the stock price pop, following this earnings beat, OSTK is still a bit undervalued and has some more room to run. Nonetheless, I have taken my profits, and sold off my position, as I have had to pay for my last semester of tuition for law school and believe other positions in my portfolio have more potential.
Disclosure: I/we have no positions in any stocks mentioned, and no plans to initiate any positions within the next 72 hours.
I wrote this article myself, and it expresses my own opinions. I am not receiving compensation for it (other than from Seeking Alpha). I have no business relationship with any company whose stock is mentioned in this article.