Exxon Mobil (NYSE:XOM), the world's largest publicly traded oil producer, has recently released its quarterly results in which its profits came in ahead of Wall Street's estimates, though the earnings beat wasnt convincing. But there was one big bright spot which the mainstream financial media seems to have missed.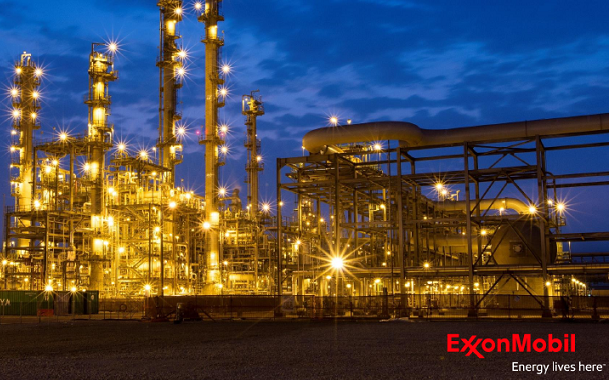 Exxon Mobil produced 4.12 million barrels of oil equivalents per day in the fourth quarter, which was 58% oil and other liquids while the rest was natural gas. Volumes were down 3% from last year's 4.25 million boe per day. The company benefited from the surge in oil and gas prices which averaged $51.06 a barrel (Brent oil) in 4Q2016, up 14% from 4Q2015, and $3.177 per mmBtu, up 42% from a year earlier. As a result, the company posted 2.2% increase in revenues to $61.1 billion, despite lower production. That was the first increase in revenues in more than two years.
However, Exxon Mobil's bottom-line was hit by a $2 billion impairment charge related to dry gas assets. The company reduced the value of its properties in the Rocky Mountain region which it acquired following the ill-fated $31 billion takeover of XTO Energy. Exxon Mobil, under the leadership of its former head Rex Tillerson, bought the natural gas producer in 2009 at the peak of the shale gas boom when the commodity was priced near $5.35 per mmBtu. That made Exxon Mobil the leading natural gas producer in the US, but the surge in shale gas output pushed the fuel to less than $2 per mmBtu in less than two years. Since then, gas prices have recovered, but Exxon Mobil likely does not see it climbing to pre-downturn levels anytime soon.
Thanks to the impairment charge, Exxon Mobil's net profit fell from $2.8 billion, or $0.67 per share, a year earlier to $1.68 billion, or $0.41 per share. Excluding the write-down, Exxon Mobil earned $0.90 per share, which was well ahead of analysts' expectations of $0.70 per share. However, this was not a convincing earnings beat. That's because the company's profits also received a boost from favorable corporate charges which, instead of dragging the profits, actually lifted earnings by $209 million, mainly due to the positive impact of non-US tax items. Last year, the corporate and financing charges were $391 million. Exxon Mobil's profits also received some support from gains related to sale of downstream assets.
That being said, a major positive aspect of the fourth quarter was that Exxon Mobil generated strong levels of free cash flows (or cash flows in excess of capital expenditure). In the fourth quarter, its cash flows from operations surged 72% from a year earlier to $7.4 billion. The company has also been keeping a lid on spending levels. Its total capital expenditure fell 35% from a year earlier to $4.82 billion. With increase in cash flows and decrease in capital expenditure, Exxon Mobil swung to a free cash flow of $2.57 billion as opposed to a cash flow deficit of $3.12 billion in the year ago quarter. The free cash flow was enough to fund most of the shareholder distributions of $3.1 billion. The company funded the shortfall through asset sales, which were $2.1 billion.
This sets up Exxon Mobil well for the future. The oil price environment has further improved in 2017 as the major OPEC and non-OPEC oil producing countries began to deliver on their promise of cutting production. That has pushed Brent to more than $55 a barrel at the time of this writing. Most analysts and industry experts have a positive outlook around the future of oil, which they believe could average in the mid-$50s in 2017, up from last year's average of around $44 a barrel. Natural gas is also expected to remain close to the current level of around $3.15 per mmBtu this year, also up from last years's average of around $2.45. That should have a positive impact on Exxon Mobil's cash flows in the coming quarters.
Exxon Mobil itself did not provide any specific oil price forecast, but it did increase its capital budget for 2017 to $22 billion from $19.3 billion in 2016, which implies that the company has a positive outlook around the future of oil prices. The company also did not provide specific details regarding capital allocation, but we can assume with a fair amount of certainty that Exxon Mobil will likely accelerate drilling in the Permian Basin in Texas and Mexico, where it has recently expanded by spending as much as $6.6 billion. The company also announced a discovery in South American waters and is reportedly eager to fast track development. Exxon Mobil is also in the process of acquiring InterOil to increase its foothold in the lucrative natural gas field, the Elk-Antelope, located in Papua New Guinea.
The increase in oil prices will have a positive impact on Exxon Mobil's earnings and cash flows in 2017. This will be partly offset by the 14% increase in capital expenditure. I expect the company to continue to report higher profits and live within its means by reporting positive free cash flows in the coming quarters. The excess cash flows can be used boost shareholder value, for instance, if it is used to fund shareholder distributions, debt reduction, or acquisitions.
Exxon Mobil's future outlook, therefore, is looking bright.
Note from author: Thank you for reading. If you like this article, then please follow me by clicking the " Follow" link at the top of this page.
Disclosure: I/we have no positions in any stocks mentioned, and no plans to initiate any positions within the next 72 hours.
I wrote this article myself, and it expresses my own opinions. I am not receiving compensation for it (other than from Seeking Alpha). I have no business relationship with any company whose stock is mentioned in this article.
Additional disclosure: I own shares of funds that may hold a long position in XOM.