Introduction:
Bank of America (NYSE:BAC) is the second largest U.S. bank in assets. After years of house cleaning and underperformance, the US banking system appears more interesting on rising interest rates and an administration open to regulatory easing. Given its cheap funding sources, cost cuts and capital markets exposure, BAC has more earnings upside potential vs. its peers. I believe fair value of BAC is $30-31, or 35% higher than current levels.
Investment Highlights:
High leverage to rising rates
Cheap funding sources
Low duration asset base
Cleaned-up balance sheet
Lower operating expenses
Potential gains in capital markets
Potential for 2x earnings power on normalized rates and expenses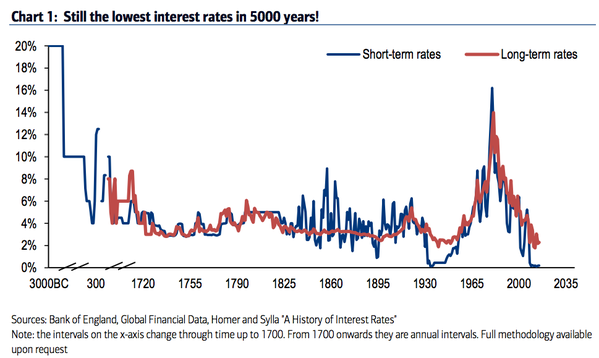 Rising Rates:
The Fed is finally committed to raising rates and long rates have followed suit. While calling the inevitable rise of long-term interest rates has been a fool's game for the last decade or two, the new administration is targeting an ambitious spending plan. The recent yield curve rise should benefit banks to varying degrees. Among the larger banks, BAC stands the most to gain due to in part to its cheap funding sources.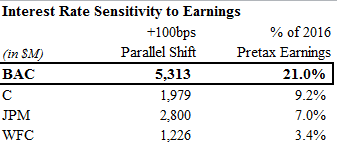 Source: Company Information, JP Morgan, My Estimates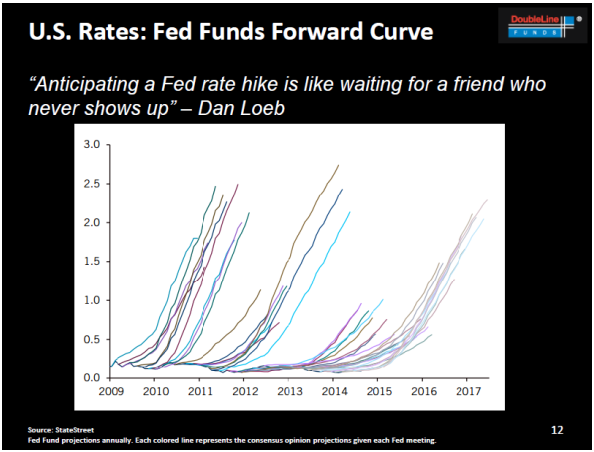 Cheap Funding Source:
Given the large consumer deposit base, BAC's deposit beta in the low 50s (per Goldman Sachs) is lower than other non-consumer focused banks. In addition, over 35% of BAC's deposits is non-interest bearing vs. 25% for the average US bank (per FDIC) and 28% for BAC's peers. In fact, BAC has more non-interest bearing deposits ($443B of $1.23T in deposits) than any other US-based bank, including JPMorgan (NYSE:JPM) and Wells Fargo (NYSE:WFC). The 5 percentage point (PPT) differential between BAC and WFC/JPM translates into $60-70M in savings per 10 basis points (bps) move in interest rates. In mid-January, management stated it expects a $600M/Q benefit from the increase in interest rates to current levels.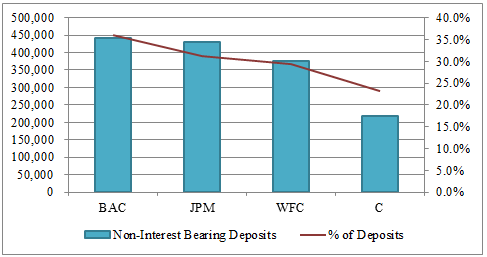 Source: 3Q16 Company Filings
Dry Powder:
Since the recession, BAC has progressively held more of its interest-bearing earning assets in liquid, lower yielding securities and deposits. Among the big banks, BAC and WFC have had the most conservative change in their asset composition. A move to higher yielding loans would enhance earnings. For BAC, a reversion simply to 2008 or 2011 levels would add $3.4B or $1.0B, respectively, to earnings (or $0.02-0.08/sh). Since bottoming out in 1Q15, loan growth is once again a management focus and the shorter duration asset positioning should translate to more opportunities in a rising rate environment.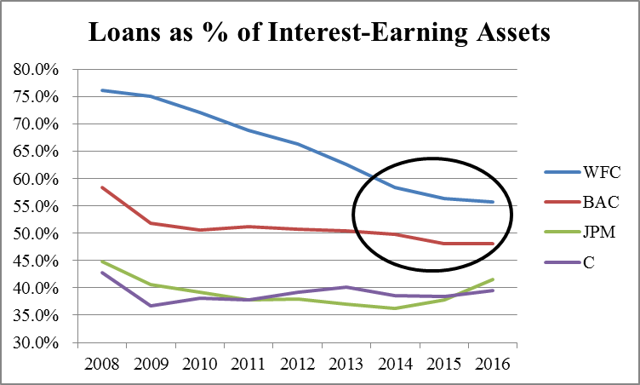 Source: Company Information, My Estimates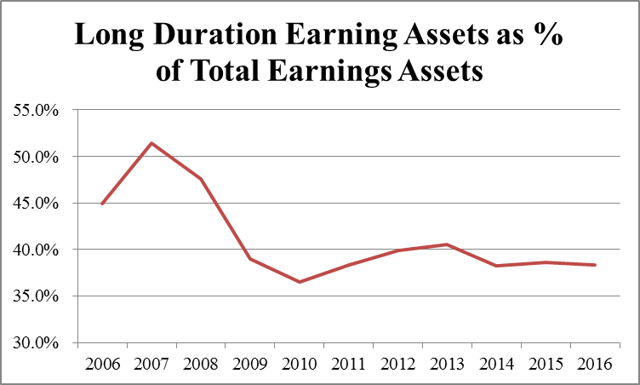 Source: Company Information, My Estimates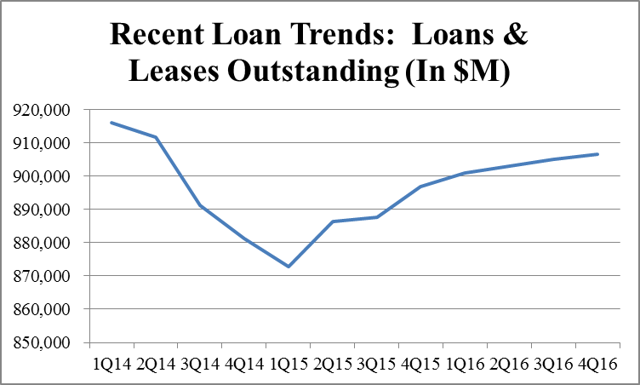 Source: Company Information, My Estimates
Medicine Taken: Improved Balance Sheet Quality
Over the last 5 years, charge-offs, litigation expense and reserves and write-downs totaled almost $200B compared to a base of ~$900B in loans at the beginning of the recession. Consequently, charge-offs have dropped from 3.6% of loans during the recession to 0.4% for 2006. While a low charge-off rate environment generally is not the most opportune time to invest in banks, we are hardly at the point of overextended credit (judging by the asset mix of the big banks - see chart above) or aggressive lending standards (especially for mortgage loans, see below). Despite this headwind, BAC's TBVS has increased nicely over the last few years.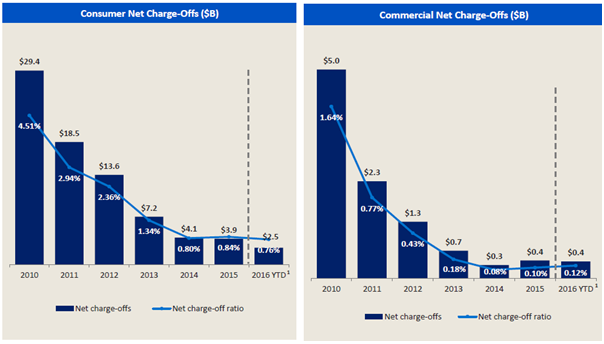 Source: Bank of America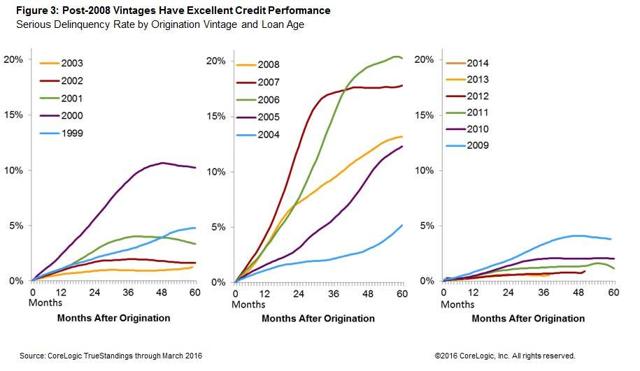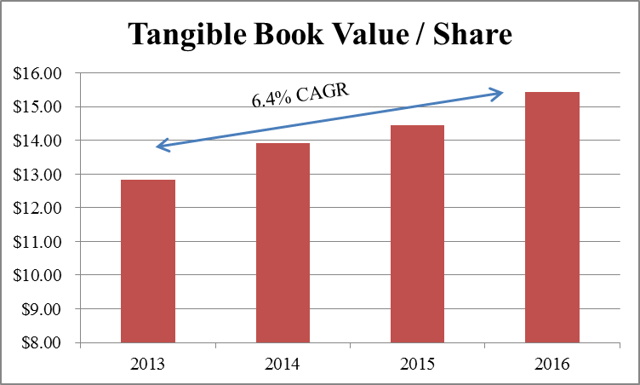 Source: Bank of America, My Estimates
Simplification of Product Offering:
From the 1998 merger of Bank of America and NationsBank, FleetBoston in 2004, MBNA in 2005, US Trust in 2006, LaSalle Bank in 2008, Countrywide in 2008 and Merrill Lynch in 2009, BAC went into the recession with a hodge podge of different products, divisions and operating structures. CEO Moynihan has simplified the organization to yield fewer products and less complexity. This will continue to drop the operating expense base and will help the go-to market strategy.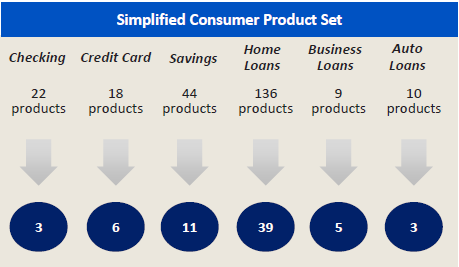 Source: BofA
Lowering Operating Expenses:
Management has been very successful in reaching its operating expense goals and is well on its way to hitting its 60% efficiency ratio target. Its stated objective of exiting 2018 at a $53B run rate would push the ratio down into the 50s, which is where BAC's peers are already. The primary lever to arriving there is personnel expense: even though employee counts are down, as a percent of revenues they are still 12 ppts above pre-recessionary levels (more about that below). In addition, BAC is culling its smaller branches and pushing more customers online in order to save on fixed costs and personnel. All told, I believe a mid 55% target is achievable in the next year or two. As a reminder, BAC has been there before.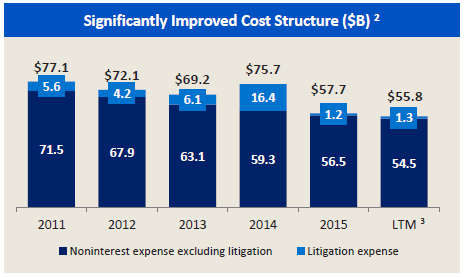 Source: Company Information
Potential Compliance Cost Savings:
In a study by University of Mississippi professor Ken Cyree of over 6,000 banks, Dodd Frank drove salaries-to-assets and average pay per employee higher for banks of all sizes during the implementation. The author posits that "either employees were reassigned to compliance tasks (perhaps in addition to their original job) and paid more, or employees who did leave were replaced with higher salaried and better performing employees". In a separate study by the same author, half of community banks stated compliance costs were 5-10% of operating expenses (another third at 11-20%). Given his regression on salary impact by bank size, BAC's size would dictate a larger expense size similar to the community banks (due to its status as systemically important). Assuming compliance is 7.5% of opex and it was perhaps up to half of that pre-Dodd Frank, BAC has up to 3.5-4.0 ppts in potential savings from a banking regulation rollback.
Management has eliminated 73,900 jobs under Moynihan's tenure - more than any other bank outside of Citigroup (NYSE:C) - and expects to shed more to hit its efficiency goal. Compliance savings could be an unexpected extra boost.
Capital Markets:
I estimate income from capital market activities comprises a quarter of net income. Due to the softness in global investment banking, investment banking revenue is down 13% to $5.2B from a few years ago. While corporate bond issuance was at an all-time high, M&A volumes and IPO issuance was more middling last year. An increase in investment banking activity could provide a boost to non-interest income.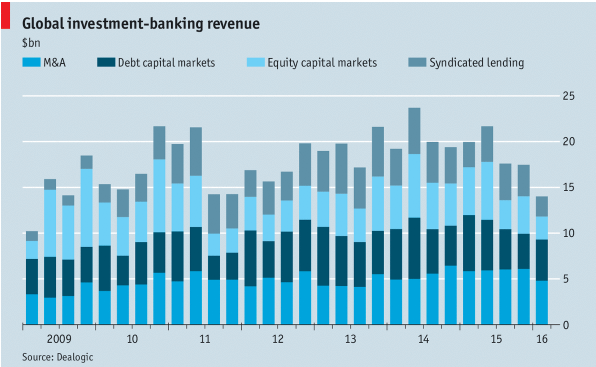 However, trading activities mean more to profits than investment banking. Improvement in fixed income trading as well as potential regulatory lightening should translate to improving fixed income revenues for the Global Markets division. In April 2016, Fed Governor Jerome Powell said before the Senate Banking subcommittee, "Some reduction in market liquidity is a cost worth paying in helping to make the overall financial system significantly safer…Dealers significantly reduced their fixed-income portfolios beginning in 2009…" Ironically, Powell recently urged Congress to rewrite the Volcker Rule. While prop trading is likely not returning to the big banks, there is increased likelihood of having greater flexibility in making markets. Fixed income, currency and commodities (FICC) is 60% of global trading. Incremental gains in FICC would likely flow through at a 50% or better profit margin (my estimate based on past incrementality to profits).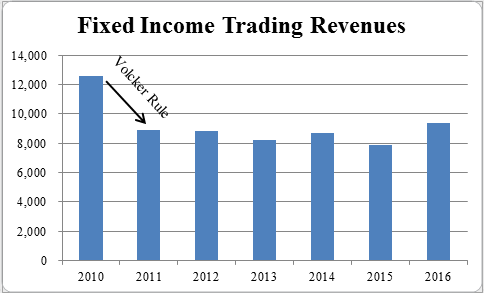 Source: Company Information
Insider Buying:
Over the last 12 months, insiders have purchased $2.2M of stock in open market transactions. Compare that to almost every other bank, where insider selling spiked after the Trump election.

Source: Insiderscore
Wild Card: Corporate Tax Rate:
Not factored into my upside analysis is a potential cut in corporate tax rates. BAC derives 80-90% of its pretax income in the US. Assuming a cut to Trump's proposed 15% would boost earnings by ~30%. Under a more modest cut to 30%, BAC's earnings would see an 8-9% boost to earnings.
Normalized Net Interest Income:
Over the last 20 years, net interest income (NII) has shown a fairly high correlation to long-term rates. BAC's NII has a .75 r-square from the 10-year yield. Over the long term (see chart at beginning of report), long rates average roughly 5%. A 5% 10-year yield would indicate BAC NII of $64.7B vs. last year's $41.1B, which equates to a 42% boost to 2016's earnings level ($0.62 of additional EPS). Current interest rate expectations do not anticipate a 5% rate anytime soon, but the exercise shines a light on how much BAC is under-earning given the low interest rate environment.
Normalized Earnings
Below I show BAC has $3 per share of earnings power assuming a more normalized interest rate environment, a return to prior levels of non-interest income levels and a $53B run-rate on non-interest expense plus roughly $7B to support the added revenues of non-interest income (or roughly a 48% efficiency ratio). However, given the uncertainty to arrive at a "normalized interest rate"environment, I just show this as BAC's earnings power potential. I view that more as a long-term price target depending on how the interest rate environment unfolds.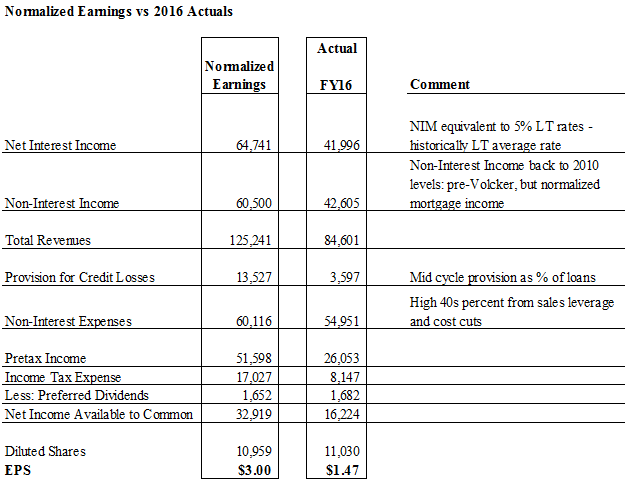 Historical Valuation Perspective:
Careers have been made in institutional money management by underweighting financials over the last 10 years. This is quite understandable given the great recession, increased compliance, lower leverage, equity raises and liability exposure.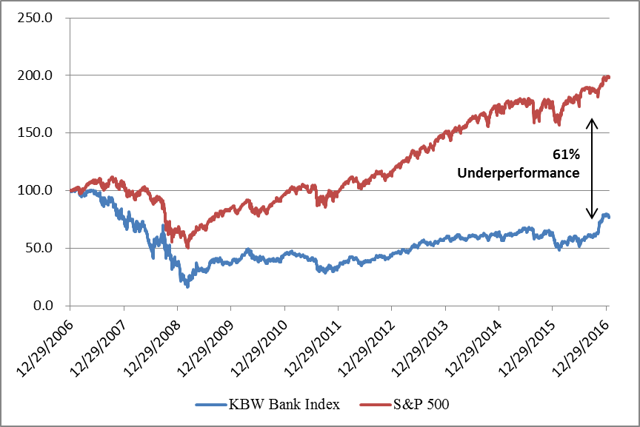 Source: S&P 500, KBW Indexes
However, this should be put in context to historical valuation rates for the industry, central banks and the interest rate environment. Below is an old graph just after the recession of the historical P/B range for the US banking sector. The bearish season for banking has shifted investor mentality from 2.3x P/B as bank fair value down to 1.0x P/B as fair value. Eventually, the viewpoint that banking is a cleaner, safer, better capitalized and higher scale business will lead to a revaluation of the sector.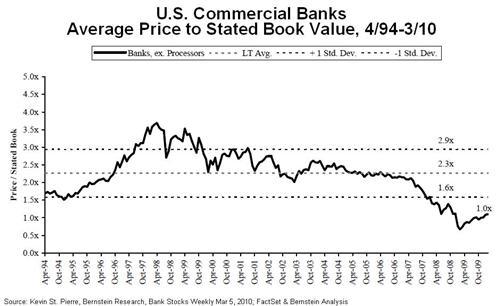 BAC Valuation:
Valuation methodology #1 is simple no-growth valuation on tangible book value below. If we assume that BAC is back to GDP-type growth (i.e. 2% long term), then the implied valuation today using where consensus ROTE is used in perpetuity yields a fair value of $31.64.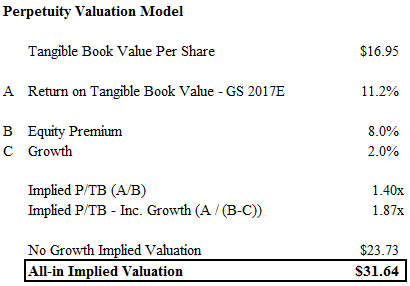 Source: My Estimates, Goldman Sachs
Alternatively, I lay out the base case of valuation using a market multiple of 13.5x earnings and my above consensus estimates for the next two years and discount the dividends and terminal value back to today. My variant view vs. consensus is highlighted in the model in the appendix. The bull case utilizes my normalized earnings and assumes that spreads, reserves and non-interest income are mid-cycle normalized by five years out and then the dividends and terminal value is discounted back. Note that the P/TBV is in line with the longer-term historical valuation for banks (see chart above). The bear case assumes interest rates, NIMs and non-interest revenues are in line with the 5-year lows and reserves rise to mid-cycle levels.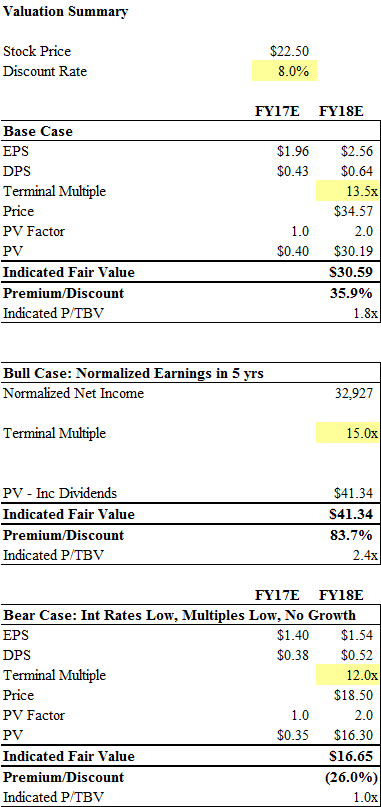 Risks:
Interest Rates Stay Stubbornly Low and the Economy Stagnates: A large part of the bullish thesis here is indeed higher interest rates. A slowdown/stagnation of the economy not only puts BAC's loan portfolio at risk but also the positive interest rate thesis here posited. In addition, BAC is not only levered on the upside but also on the downside: during the Fed's stress testing of catastrophic scenarios for the global systemically important banks, BAC had the largest theoretical loss of the largest banks at $36.3B over the 9-quarter scenario vs. $30.5B for JPM, $27.6B for C and $25.2B for WFC. The good news is that BAC would exit that theoretic drop with 8.1% common equity tier 1 capital - well above the 4.5% regulatory minimum. If rates stagnate from here, then BAC and other bank stocks will likely produce meager results. The good news is that expectations are low, even when including the 4Q16 rally. NIMs are not really expected nor priced to increase meaningfully in the models I have seen. No one is expecting interest rates to revert for having been burned so many times in the past. Current 10y10y swaps are pricing in a 3.6% yield, which would only retrace us to early 2011/late 2010 rates.
Furthermore, if we assume rates stay flat here all year long, BAC will earn $2.4B more in revenues. Adding that to the current run-rate in non-interest expense, BAC is already at 2017 consensus estimates before we factor in any other savings or gains in the top line off a larger asset base.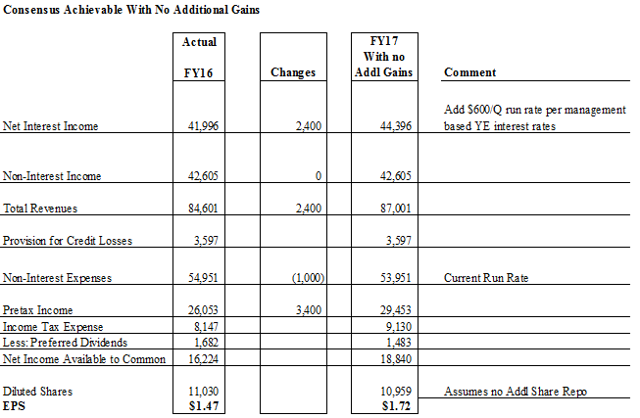 Appendix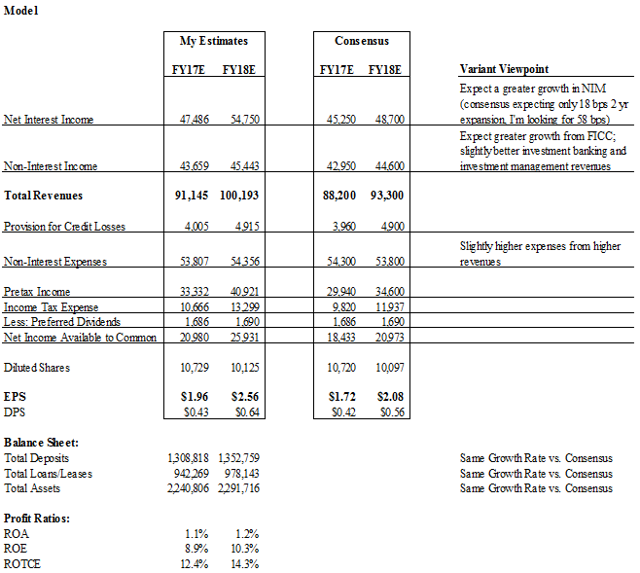 Disclosure: I am/we are long BAC.
I wrote this article myself, and it expresses my own opinions. I am not receiving compensation for it (other than from Seeking Alpha). I have no business relationship with any company whose stock is mentioned in this article.