According to Bloomberg and Nationwide Building Society, UK house price growth slowed to 4.3% y/y in January.
Source: Bloomberg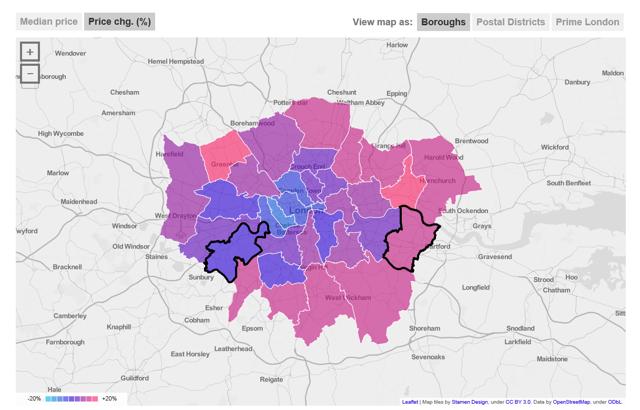 Source: Bloomberg
Nationwide expects growth in house prices to soften to 2% y/y in 2017 from 4.5% y/y in 2016.
The outlook for the housing market remains clouded, reflecting the uncertainty surrounding economic prospects more broadly," Gardner said.

On the one hand, there are grounds for optimism. The economy has remained far stronger than expected in the wake of the Brexit vote. However, there are tentative signs that conditions may be about to soften.
Given that mortgages represent around 50% of Lloyds' (NYSE:LYG) balance sheet, property prices in UK and, especially in London, are certainly worth keeping an eye on.
First, we note that, while the UK housing market cooled in January, the growth rates are still positive. Second, we believe most analysts overlook the fact that Lloyds has significantly de-risked its mortgage book since 2010. The chart below demonstrates that Lloyds' average mortgage LTV (loan-to-value) decreased to 43% in 1H16 from 56% in 2010. Notably, the share of mortgages with LTV of >100% declined from 13.2% to less than 1%.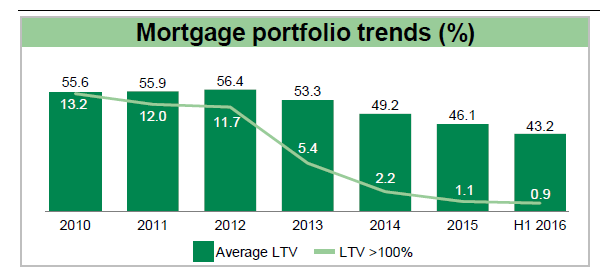 Source: Company data
One can argue that the bank's average LTV of 43% is impacted by 'old' mortgages, whose underlying property prices have significantly increased since 2010. However, it is key to note that Lloyds discloses its LTVs on new mortgages. The table below shows that the bank's average new business LTV is 64.3%. As such, we believe Lloyds' mortgage book is well-positioned to withstand a further slowdown in the British housing market.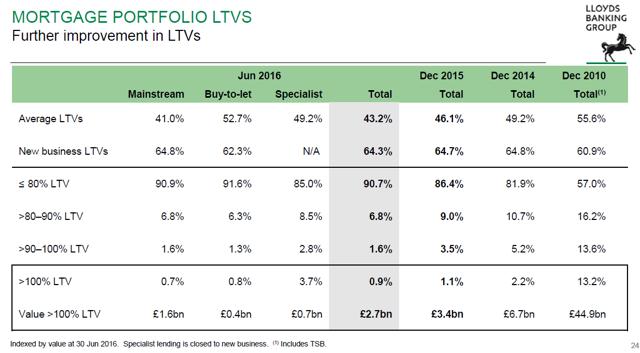 Source: Company data
It is also worth mentioning that commercial real estate exposures have been significantly reduced.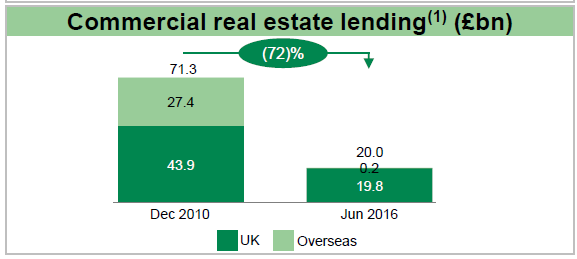 Source: Company data
MBNA deal is value-accretive
On December 20, Lloyds announced that it had agreed to buy the MBNA UK credit card business from Bank of America (NYSE:BAC). The acquisition bodes well for Lloyds' net interest margin, given MBNA's high asset yields. According to the company's press release, the deal should result in a c.10bp pick-up in Lloyds' NIM. However, consensus is still very pessimistic about the bank's interest income dynamics. According to Bloomberg, consensus expects Lloyds' NIM to decline in 2017.

Source: Bloomberg
In our view, the MBNA deal is not yet reflected in 2017-2018 NIM estimates. As such, we expect consensus forecasts to be revised upwards.
Valuation
Lloyds remains one of the most undervalued banks in Europe. The stock is trading at a discount to its peers, despite having a double-digit RoE, a superior dividend yield and strong capital adequacy ratios.
European banks: P/B vs RoE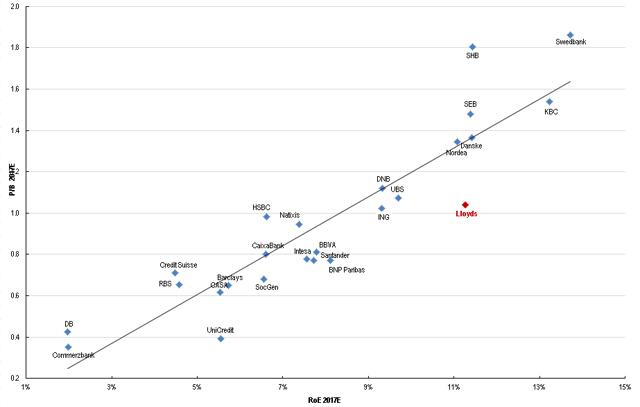 Source: Bloomberg, Renaissance Research
European banks: P/TB vs. RoTE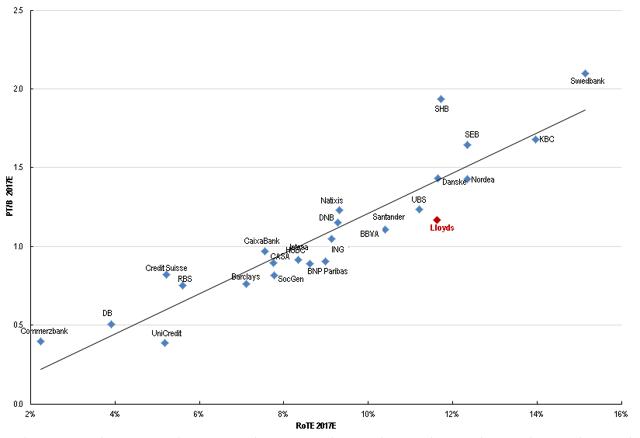 Source: Bloomberg, Renaissance Research
Bottom line
We believe Lloyds is well-positioned to withstand a slowdown in the British housing market, thanks to its de-risked balance sheet and low LTVs. The MBNA deal is value-accretive, but not yet reflected in consensus estimates. Lloyds is still one of the most undervalued banks in Europe and globally.
As a buy-side analyst and a deputy portfolio manager, I oversee a financials-focused fund and will be continuously providing research coverage on developments with Lloyds and other global banks. If you are interested in the topic, consider following us by clicking the "Follow" button beside our name at the top of the page. Thank you for reading.
We also invite readers to check out our recently launched subscription service. Get in-depth fundamental research, stock recommendations, trading ideas, exclusive access to professional databases, sophisticated valuation models and expert commentary on Wall Street recommendation from a hedge-fund analyst with a proven track record. Go here to learn more or to sign up, we look forward to having you on board.
Disclosure: I am/we are long LYG.
I wrote this article myself, and it expresses my own opinions. I am not receiving compensation for it (other than from Seeking Alpha). I have no business relationship with any company whose stock is mentioned in this article.