Magna International (NYSE:MGA) is one of the largest automotive OEMs in the world. With revenues of over $32 billion in 2015, it has extensive capabilities in various aspects of the modern automobile. That includes:
Body & Chassis Systems
Seating Systems
Exterior Systems
Powertrain Systems
Vision Systems
Electronic Systems
Closure Systems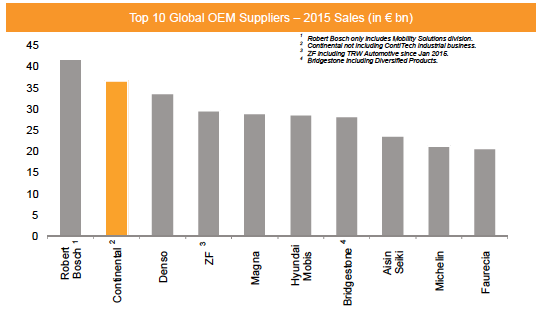 Exhibit: Top 10 Automotive OEM in the World (Source: Continental AG)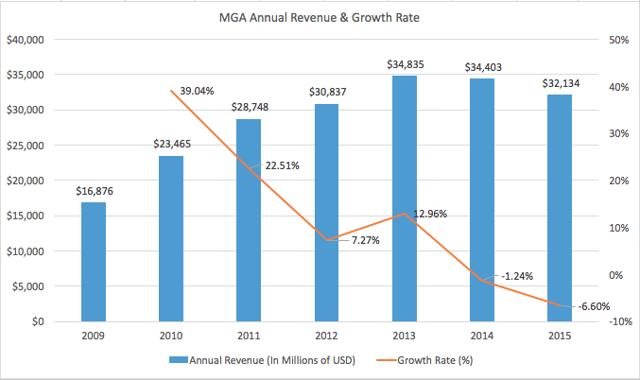 Exhibit: Magna International Annual Revenue and Growth Rate (Source: Company Filings)
Focused on the Megatrends
Magna is a player in the mega trends driving automotive OEM. I have discussed those trends here.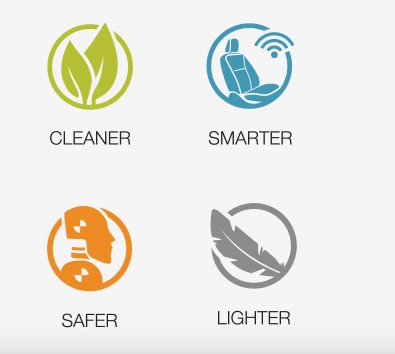 Exhibit: Magna Priorities Aligned with the Megatrends Driving the Automotive Sector (Source: Magna International MMLV: A Lightweighting Story)
Magna's metalforming expertise contributes about 29% of the total revenue. Magna has been focused on using less materials in cars that can help drive-up fuel efficiency and reduce emissions. Metalforming contributes a large amount of revenue to Magna and is critical to reducing emissions and increasing fuel efficiency.
Light Weight Vehicles are More Fuel Efficient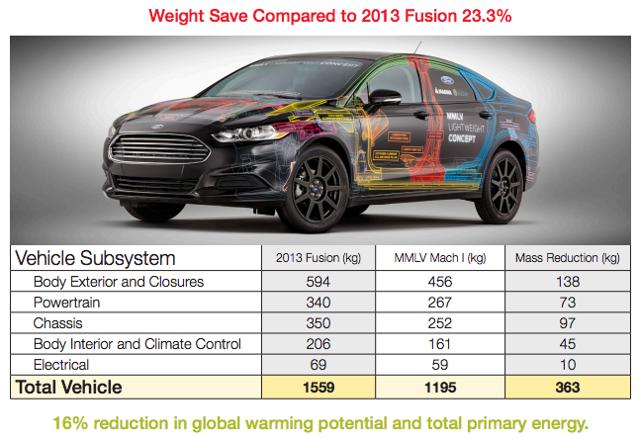 Exhibit: Ford Fusion Concept Developed in Collaboration with Department of Energy (DoE) and Magna International
The next area that offers lot of growth in the long-term is powertrain. In 2016, powertrain contributed about 19% of the total revenue. I had recently done an article on BorgWarner and had discussed the importance of mild-hybrid technology in the near-term to improve fuel efficiency and reduce emissions. Magna expects strong growth in powertrains.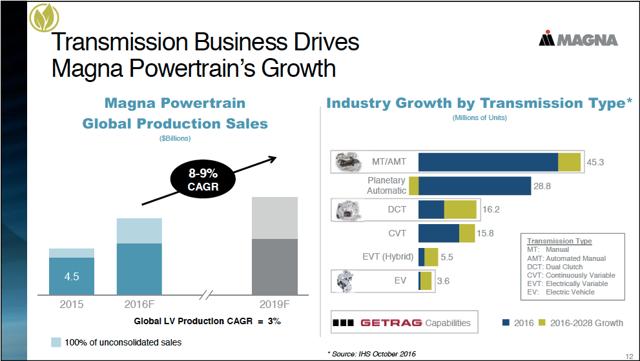 Exhibit: Powertrain is Critical to Magna's Growth (Source: Company Filings)
Finally, Advanced Driver Assistance Systems (ADAS) offers the most growth opportunity for Magna. ADAS revenue in 2016 was just 2% of the total, so they can grow for many years to come as the market itself expands. ADAS makes cars more safer. Safety is a mega trend and as more semi- or fully-autonomous features are added to vehicles, Magna will benefit from this business. I see ADAS as a enabling technology for semi- or fully-autonomous vehicles.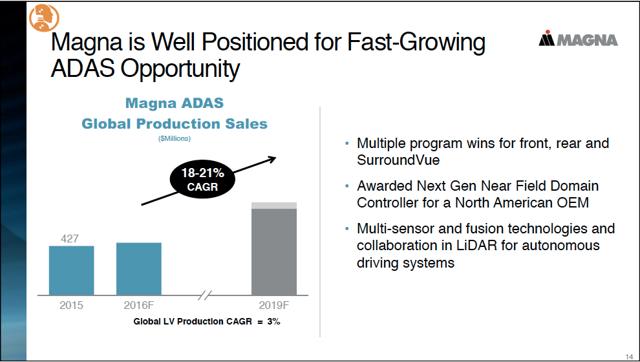 Exhibit: Magna is Positioned for ADAS Opportunity (Source: Company Filings)
Affordability: A Mega Trend in Asia
For an automotive OEM, it is not enough to have broad range of products. An OEM needs to have vast scale in each of those areas to avoid price competition. This is especially important in Asia where the average selling price of an automobile is far less than in Europe or the U.S. For example, in the U.S., the average price of a new car in April 2015 was $33,560. In China, Chevrolet Sail 3 is listed for 63,900 yuan (~ $9,287 - Exchange Rate 1 USD = 6.88 Chinese Yuan). (Source: GM China)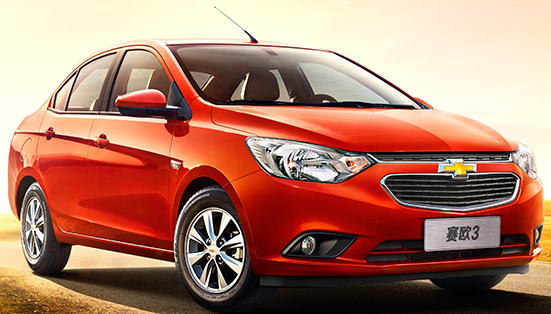 Exhibit: Chevrolet Sail 3 sold in China. (Source: GM China)
At the higher end of the price range, the Chevrolet Malibu XL is listed at 179,900 Yuan (~ $26,148). (Source: GM China)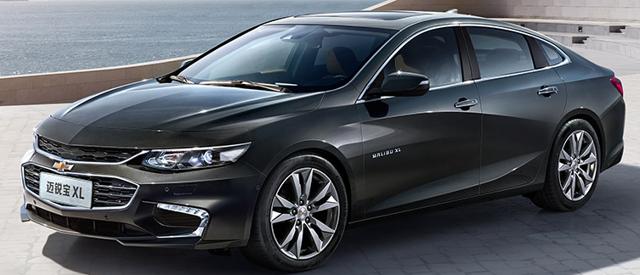 Exhibit: Chevrolet Malibu XL Sold in China (Source: GM China)
In India, the prices are even lower. A Maruti Suzuki Alto 800 LXI CNG is listed for Rs. 387,326 (Indian Rupees). That is approximately $5,709 at an exchange rate of 1 USD = 67.84 Indian Rupees. The Maruti is the best-selling car in India.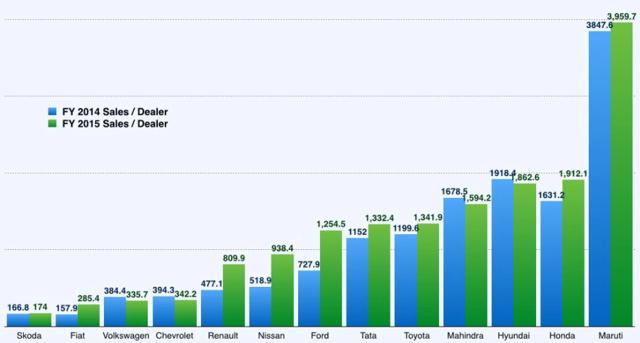 Exhibit: Car Sales Per Dealer in India for FY 2014 and 2015 (Source: India Auto Report)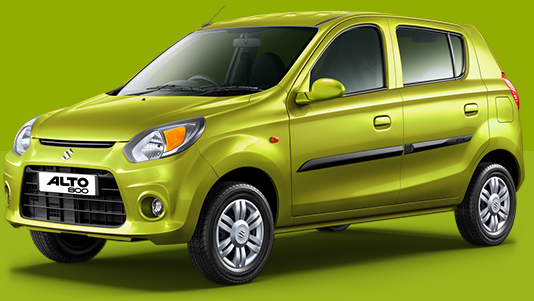 Exhibit: Maruti Suzuki Alto 800 (Source: Maruti Suzuki)
Given the low selling prices of cars, an automotive OEM in Asia - the largest and fastest growing market in the world - has to be price competitive. To be price competitive, they need depth of capabilities and enormous scale in each of their capabilities.
Magna's Growth Driven by Acquisitions
Magna understands the need for both in-depth product capabilities, range of products in each application area and scale of production. They have done a lot of acquisitions to quickly gain scale or product capability or both.
In 2016, Magna acquired Getrag, one of the world's largest suppliers of transmissions for approximately Euro 1.75 billion. Magna has acquired a number of businesses over the years to gain various capabilities in vehicle manufacturing and in supplying parts. Magna will make more acquisitions over the coming years to bolster and grow its business. Those acquisitions might be focused on gaining strength in the areas of ADAS and powertrain.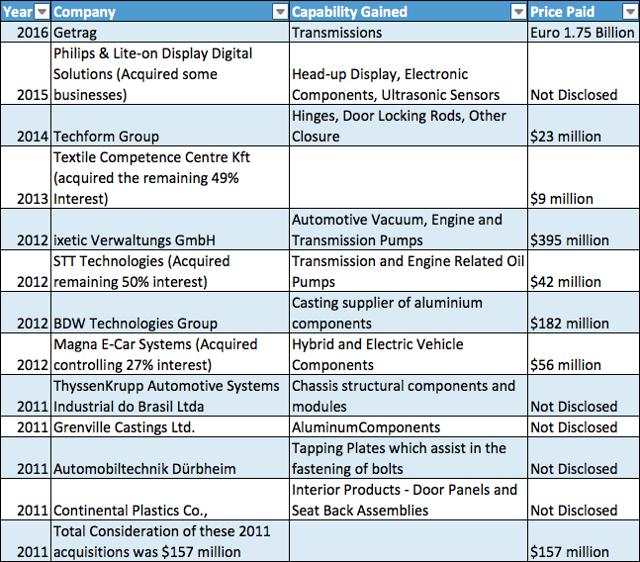 Exhibit: Magna Acquisitions 2011 - 2016 (Source: Company Filings)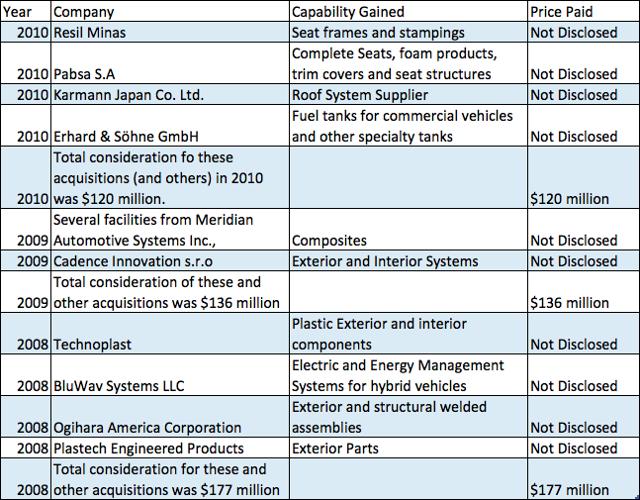 Exhibit: Magna Acquisitions 2008 - 2010 (Source: Company Filings)
On one hand, these acquisitions have increased revenue, but I am not sure one can derive competitive advantage by just having the capability of supplying vast array of products to an automaker.
In my opinion, there is no clarity on the organic growth of their various business units. Magna does not share revenue from various business segments in their annual reports. They report revenue in terms of geographical regions. It would be good to get organic growth numbers for each of their product segments. It is also important for investors to get a better idea on organic growth versus growth derived from acquisitions.
On the other hand, automobile manufacturers are increasing the range of vehicles built from a common, high-volume global platforms. The manufacturers realize economies of scale by maintaining a global platform. Auto suppliers like Magna will need global scale and scope of products to be relevant in this hyper-competitive market. Given the breadth of products, Magna can easily weather a loss of business from few of these global vehicle platforms or even withstand a global recession. It may be in their best interest to be a large global OEM. Whether they do it via organic growth or via acquisitions may not matter to investors.
Disclosure: I/we have no positions in any stocks mentioned, and no plans to initiate any positions within the next 72 hours.
I wrote this article myself, and it expresses my own opinions. I am not receiving compensation for it (other than from Seeking Alpha). I have no business relationship with any company whose stock is mentioned in this article.