When it comes to the future of retail, the odds are seriously against Target Corp. (NYSE:TGT). Amazon (NASDAQ:AMZN) is at the forefront, with Wal-Mart (NYSE:WMT) following the e-commerce champion closely.
Analysts at Wells Fargo recently said that Wal-Mart's title as the biggest brick-and-mortar retailer positions it adequately to benefit from the improving US consumer spending. In addition to that, they believe WMT's recent e-commerce, sharper pricing and store upgrade investments make WMT look attractive over the long haul. Despite so much optimism about the biggest private employer in the US, though, Wells Fargo could only give WMT a "market perform" rating just because they believe competition in the retail space hasn't peaked. In order words, it's yet to be seen how big an investment it'd take to be ever-relevant in the retail space.
If WMT, with its size, is rated so cautiously based on competition uncertainties, the outlook is bleaker for TGT's stock. Perhaps in confirmation of this, Goldman Sachs recently downgraded TGT's stock to a sell. The researchers are worried that the stiff competition in the e-commerce space will require "ongoing investment in price and operating cost."
That worry is well-founded considering that Target is currently behind its bigger competitors in terms of free cash flow.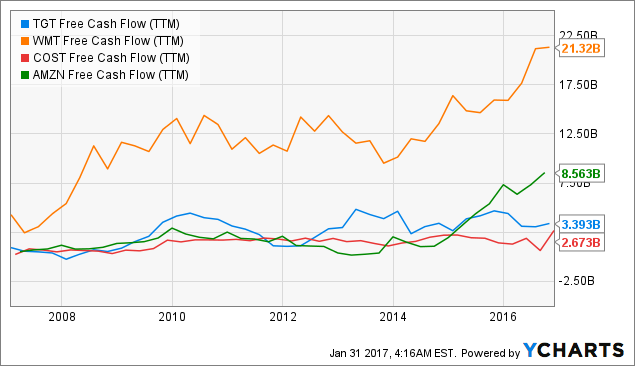 TGT Free Cash Flow (TTM) data by YCharts
What's worrying here isn't just that TGT is behind AMZN and WMT regarding free cash flow. The fact that it's grown its free cash flow the slowest over the past ten years is also a reason to worry.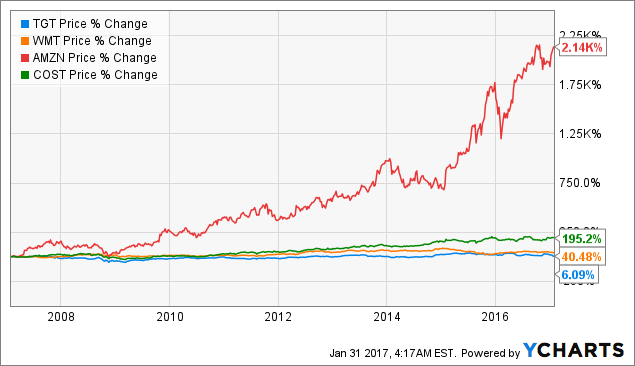 That's because, the company's relatively underwhelming free cash flow generation history makes one wonder how it would keep up with the ongoing investments that the retail space of today requires without putting too much weight on shareholders' equity. Unfortunately, shareholders' equity is dipping - it's down 17% over the past decade, 18.1% over the past five years and 20% over the past three years.
The effect of the underperforming free cash flow is obvious in Target's debt-to-equity ratio, which stands high above all of its competitors. This suggests that TGT has been funding growth and paying dividend by taking on more debt.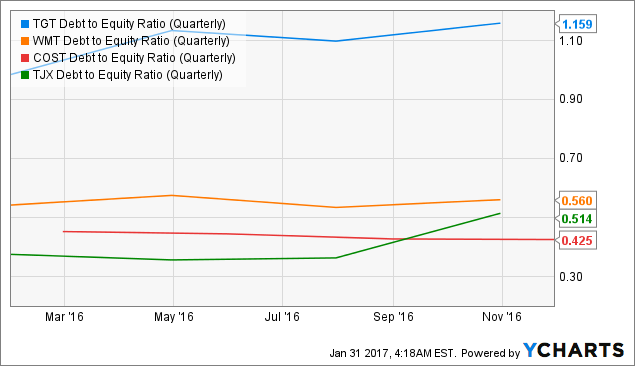 TGT Debt to Equity Ratio (Quarterly) data by YCharts
It's worth noting that YCharts calculates debt-to-equity ratio with the following formula: Debt to Equity = (Long-Term Debt + Current Portion of Long-Term Debt) / Total Shareholders' Equity, while calculating Shareholders' Equity at book value.
I believe this represents the truer nature of TGT's debt picture, since this calculation excludes current liabilities, which companies of their sizes should have no problem settling through their operations. Moreover, for a company like Amazon, which has the Prime subscription service, its current liabilities would include the monetary worth of the total number of Prime months that hasn't been earned, since many subscribers pay annually. AMZN records this as unearned revenue.
Therefore, TGT's debt-to-equity ratio here captures how the company is being burdened by its investments in the future.
Investments Haven't Been Yielding Impressively
As the debt to equity ratio chart above shows, Target has been heavily financing growth through debts over the last ten years, seemingly more than its competitors. One would expect that such level of debts would yield significant growth. However, TGT still underperforms its competitors in terms of revenue growth over the past ten years.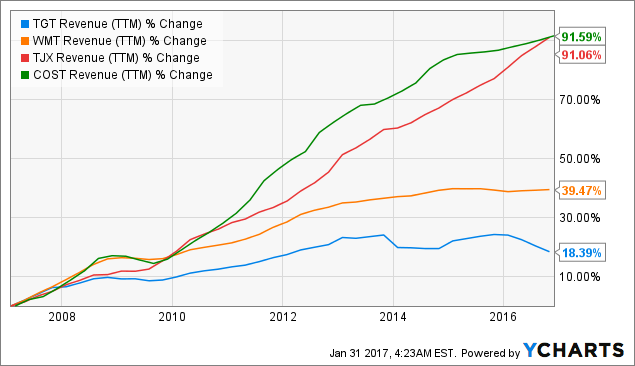 TGT Revenue (TTM) data by YCharts
The chart makes it seem as if WMT hasn't fared much better. However, you should note that Wal-Mart's 39.47% revenue increase over the past decade amounts to over $146.68 billion. At WMT's current levels, you simply can't expect astronomical percentage additions.
The problem with TGT underperforming its competitors regarding growth is most likely that management has misplaced priorities, according to TradePlus. This raises concerns as to if its current investments will yield competitive results over the long haul.
There's recent proof. The retailer invested about $1.3 billion on technology in 2015 to expand its e-commerce segment. CEO Brian Cornell predicted a 40% increase in e-commerce sales that year. Target ended up reporting a 31% increase. This isn't to extrapolate this into an eternal trend. The idea is to let investors know that the fact that it's investing so much doesn't guarantee huge results - well, as with most investments.
The biggest positive about Target's stock right now is its dividend history. It has increased payout consistently for 49 years. However, in terms of business growth, its recent history doesn't offer much hope.
Disclosure: I/we have no positions in any stocks mentioned, and no plans to initiate any positions within the next 72 hours.
I wrote this article myself, and it expresses my own opinions. I am not receiving compensation for it (other than from Seeking Alpha). I have no business relationship with any company whose stock is mentioned in this article.