Bulls would not have been put off by Advanced Micro Devices' (NYSE:AMD) fourth quarter numbers as the journey back to profitability finally seems very much closer. The pipeline has definitely been talked up and to a large extent, the hype has been validated especially concerning areas such as Ryzen and Vega. We still however have no idea how its strong pipeline will play out in the market but initial tests look very positive. GPU revenues drove the top line higher in the fourth quarter to reach $1.11 billion which was a 15% increase on a rolling year basis.
If you look at analyst EPS projections for 2017 and 2018, it is clearly evident that they are becoming more bullish. Just in the last six days, 2018 earnings projections have risen from $0.2 to $0.3. The current year should see flat to marginal earnings growth but it will be the following year where analysts believe its bullish fundamentals will really come to the fore.
The Ryzen processor is due to launch in early March and CEO Lisa Su has said that there will be widespread system availability straight off the bat. The Vega GPU will be after Ryzen so investors remain ultra focused on Ryzen right now. Furthermore Ryzen is expected to have follow-ons with much smaller nodes quite quickly after the Ryzen launch. This should get investors who have been sitting on the fence (as some thought Ryzen would have only been a stop-gap or temporary success) to now go long the stock. Su stated that the new technology in Ryzen chips will be quickly improved to ensure that top customers invest in the company's road map for this side of the business. The question remains whether this architecture will be able to compete with the likes of Intel (NASDAQ:INTC) over the next few years.
Initially I would say yes. But with the likes of the Core i7-7700K and its follow ups to come onto the scene quite quickly, we just wont know for a while. Margins for Ryzen are expected to be above average. However for AMD to really gain inroads in this market, it is going to have to be ultra competitive with its pricing. That sweet spot of value/price to market share has to be nailed. A lot of the projected earnings growth next year is down to Ryzen so its margins will have to please the market.
Furthermore how much of this perceived growth is already priced into the share price? Since earnings have been negative since 2011, we can go on sales and AMD's sales multiple is presently 2.0 which is much higher than its historic average but much lower than the Industry's average of 3.9. Does this mean that AMD has plenty of room to run (versus the industry) or is it already over valued as it now enters un-chartered territory at least with respect to its sales multiple over the past decade?
If we look at the chart below, we can see that the Semiconductor ETF (NASDAQ:SOX) is trading well above its 200-week moving average (historic mean) after a significant rally in 2016. In fact last year, AMD's rally was in no way isolated. You had the likes of Intel, Micron (NASDAQ:MU) and Nvidia (NASDAQ:NVDA) all enjoying significant rallies in their respective share prices. This sector could easily go parabolic but sooner or later the index will come back down to at least test its 200-week average which would be a 30% drop. That is when one doesn't want to be in AMD.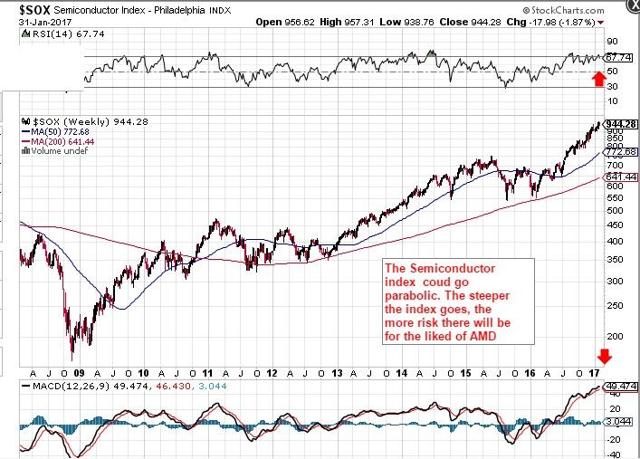 I use long-term sentiment readings in Intel to spot tops in this sector. Why Intel? Because it has followed the semiconductor index closely (actually underperformed the index) and has a low beta, meaning it is not volatile compared to its smaller counterparts. When medium or long-term sentiment gets too frothy in Intel, it usually is a sell signal. We are not there yet but definitely heading that way.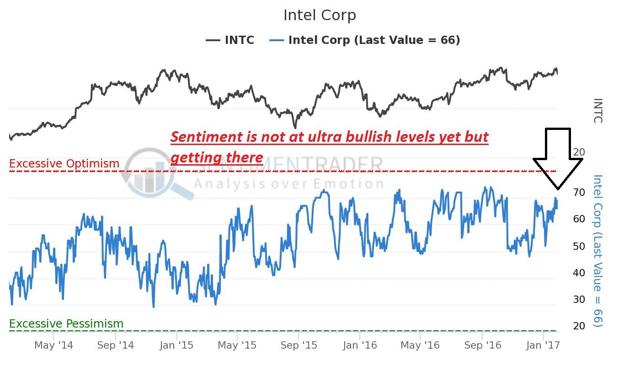 Source: Sentimentrader.com
Thus stock could easily go to $20 a share or higher but I feel its bullish fundamentals have to come good quickly. I also would encourage investors to monitor the macro picture here to ensure that one doesn't get caught in a potential downdraft.
Disclosure: I/we have no positions in any stocks mentioned, and no plans to initiate any positions within the next 72 hours.
I wrote this article myself, and it expresses my own opinions. I am not receiving compensation for it (other than from Seeking Alpha). I have no business relationship with any company whose stock is mentioned in this article.