By Parke Shall
We warned that more dilution was going to be on its way for Sphere 3D (NASDAQ:ANY) shareholders and boy, were we right. ANY announced just last week a financing that would, in effect, cut in half the value of shares already outstanding by nearly doubling the company share count.
It is a desperate financing that looks as though it was undertaken by a company desperate for funding. Last week, the company announced the following deal:
The Company issued a total of 16,906,666 "Units," as further defined below, at a purchase price of U.S. $0.30 per Unit. Each Unit consists of one common share and one warrant from each of two series of warrants. The first series of warrants is exercisable to purchase 16,906,666 common shares in the aggregate and has an exercise price of U.S. $0.40 per share, a one-year term, and is exercisable in whole or in part at any time prior to expiration. The second series of warrants is exercisable for 16,906,666 common shares in the aggregate and has an exercise price of U.S. $0.55 per share, a five-year term, and is exercisable in whole or in part at any time prior to expiration. For purposes of clarification, assuming that both series of warrants are fully exercised, such exercise would provide an additional U.S. $16.06 million in gross proceeds to the Company.
For those banking on the "additional $16.06M in gross proceeds" we wouldn't get your hopes up. These warrants are likely just included for upside coverage for the financiers who likely have already, or will, short ANY stock prior to the dilution. This looks to simply be $5M raised on very onerous terms for the company.
Sphere 3-D has been unable to perform as a public company in any manner that would resemble a legitimate cash generating operating business. The company's only "promise" was supposed to come from its Glassware 2.0 product, a product that was supposed to help create virtualization environments in order to run applications of different types designed for different platforms on "any" platform. Glassware has failed to materialize in any commercial manner and has yet to be adopted on a large scale by anyone.
While the business continues to stagnate, this most recent financing puts into hyper drive a dilution machine that has been at work at the company for the last couple of years, as you can see in the chart below.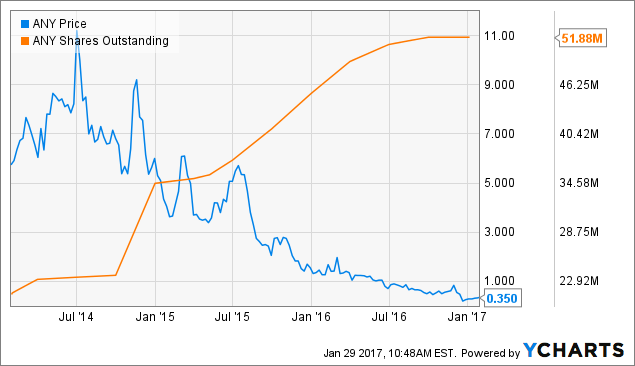 Don't think that because the company has raised some money that the worst will be over with once the share price is again cut in half, which will be the likely scenario. There are always future financing and reverse splits to worry about, both of which we expect to see from the company if it wants to try to continue to "operate."
Not surprising to us would be the company calling a special shareholder meeting to increase the authorized shares and potentially take a vote on whether or not the company should be allowed to perform a reverse split in the near future. Keep an eye out for these proxy materials as without them we are not sure what the company is going to do to remain listed and operating.
We estimate internally that these funds will only allow ANY to operate for less than six months into 2017. Unless the company has a plan that we are not aware of to generate some revenue within the next six months, there is nothing for us to believe aside from that the company will be in the same exact spot six months (maybe slightly less) from now.
If you remember, late last year we stated the following about the company:
We think the more likely scenario is that the company is either just going to give up or it will have to issue equity. The question then becomes how do you issue equity in a private placement for a stock that is trading at $0.60. Usually, from our experience, those types of deals come with dilution of derivatives such as warrants for convertibles that will hammer and already ugly share structure. They also sometimes come with reverse splits that cause shareholders to wake up one morning with a fraction of the shares they once owned.

Either way, whether it is dilution or just outright business failure, we still expect ANY's share price to move even lower from here.
Our thoughts on the company's need for cash remain. We felt that the company wasn't far off from bankruptcy six months ago and we feel as though the company will be even closer to bankruptcy six months from now. We reminded readers the last time we wrote about ANY that the company would need to issue equity to survive and if the company wants to make it to the end of this year, they will need to do the same.
Remember that a loss, even if it is from $0.05, $0.10 or $0.50 per share, can still be 100% and in the case of ANY, there is no equity in the business that would lead us to believe that this share price has any bottom aside from $0.
Disclosure: I/we have no positions in any stocks mentioned, and no plans to initiate any positions within the next 72 hours.
I wrote this article myself, and it expresses my own opinions. I am not receiving compensation for it (other than from Seeking Alpha). I have no business relationship with any company whose stock is mentioned in this article.
Editor's Note: This article covers one or more stocks trading at less than $1 per share and/or with less than a $100 million market cap. Please be aware of the risks associated with these stocks.