Adamis Pharmaceuticals (NASDAQ:ADMP) shares are down 35% over the past year, having reached a peak of almost $11 before receiving a CRL (complete response letter) from the FDA for its epinephrine pre-filled syringe.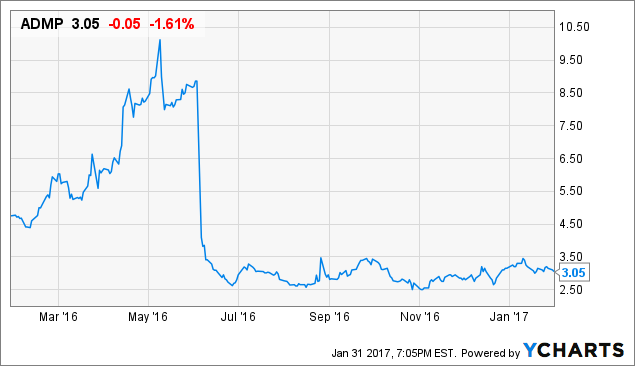 Mylan (NASDAQ:MYL), currently at the center of a political firestorm for unjustified price hikes of its EpiPen, is currently denying that it illegally tried to prevent competition. The company is facing an antitrust investigation, and has also agreed to a $465 million settlement with the US department of Justice for paying much less than it should to the Medicaid system. In my mind whether or not they are guilty is rather obvious, but I will leave it up to readers to make up their own minds.
Moving on, following his get together with big pharma executives Donald Trump has stated that drug prices must come "way down" for the sake of patients and government assistance programs. He also wants to take away obstacles that would impede smaller companies from bringing treatments to market, as well as plans for a much more efficient drug approval process.
It is my belief that Adamis Pharmaceuticals could be a big winner in the next few months, albeit with plenty of risk involved. This tiny biotech is developing and trying to commercialize a lower cost alternative to the EpiPen, the Epinephrine Pre-Filled Syringe.
In its prior CRL the FDA stated that the company needed to expand its human factors study and reliability study. Thankfully, the company was able to completely resolve other issues raised in the initial CRL, including volume delivery issue.
Even with the direct offering the company made in mid 2016, with proceeds of $11.1 million, I expect they'll need cash in the near future. As of the last quarter the company has a bit over $8 million in cash, though I expect that number is significantly lower with the company posting an operating loss of $6.5 million for the quarter ended September 30th.
On January 19th the company announced the resubmission of its new drug application (NDA).
While we are focusing on the most advanced pipeline candidate, the company is advancing three other assets as well.

Figure 2: Pipeline (source: corporate presentation)
Currently at a share price of $3.10, I consider the company a strong if speculative buy in the low to mid 3's.
In the US alone, Mylan estimates EpiPen gross profit for 2016 to amount to $825 million, while Adamis' market capitalization is around $65 million or so. Even in a market with plenty of competition, including Mylan launching the generic EpiPen for a 50% discount, there's still plenty of opportunity for a small company of Adamis' size.
Fueled by the Donald's comments and Mylan's political troubles, I wouldn't be surprised to see speculative money flowing into Adamis stock, fueling gains in the near and medium term. The stock is what I call a "runner of the month", one which could work out very well as a trade in the next few months.
However, I caution current and potential investors that when the hype is priced into the stock, it's time to sell. When you see excessive optimism and future sales baked into the price, it's time to search for the exit.
Risks to this story include namely regulatory risk, as well as competition that is much better funded with more resources to retain or gain market share. Dilution via a secondary offering is also a concern.
Disclosure: I/we have no positions in any stocks mentioned, but may initiate a long position in ADMP over the next 72 hours.
I wrote this article myself, and it expresses my own opinions. I am not receiving compensation for it (other than from Seeking Alpha). I have no business relationship with any company whose stock is mentioned in this article.
Editor's Note: This article covers one or more stocks trading at less than $1 per share and/or with less than a $100 million market cap. Please be aware of the risks associated with these stocks.