It's been a volatile start to the week in the gold (NYSEARCA:GLD) sector, but not in a good way for New Gold (NYSEMKT:NGD) shareholders. The company reported excellent 2016 operating results, but unfortunately this was overshadowed by the delays and increased capex at their Rainy River project. The project is expected to be delayed by 3 months, and it's likely going to cost them $195 million more than they initially budgeted for. This is extremely unfortunate for the company as they have been doing an excellent job with operations at their other mines. Full-year 2016 production came in at 382,000 ounces which was above the mid-point of their guidance of 360,000 to 400,000. In addition to this, all-in sustaining cash costs (AISC) were $692/oz, nearly 20% lower than their projected AISC of $800/oz.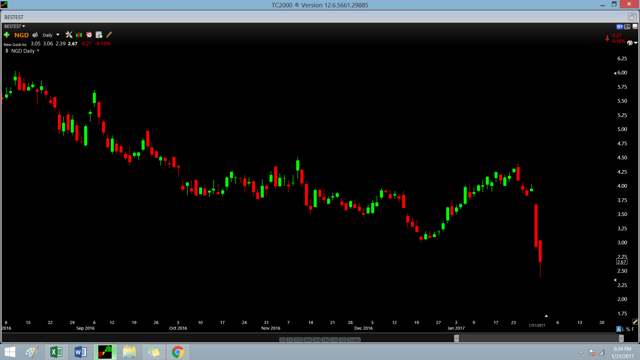 (Source: TC2000.com)
Unfortunately the market is forward-looking, and New gold's stock was flooded with sell orders this week. The stock is down 32% for the week, and as of yesterday I am no longer a shareholder. I initially bought the stock at $3.30 (US) in late December, but was stopped out of the stock yesterday for break-even. I do not believe this news to be a company-killer like the Primero (NYSE:PPP) saga, but I also have no interest in jumping in front of a falling knife here. While New Gold is beginning to look very interesting from a value standpoint here, I'm waiting for the technicals to firm up before making any moves. This means that no matter how much of the company's market capitalization is erased by this fall, I want to have a buy signal before nibbling.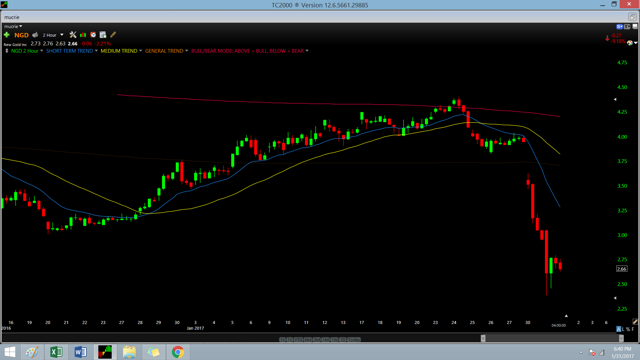 (Source: TC2000.com)
Taking a look at my short term trend system above, I want to see the blue line (short term moving average) make a bullish cross-over above the yellow line (medium term moving average). Right now both of them are sloping down and following price, and I do not expect to get a buy signal before Friday earliest based on their current slope. This does not mean that I will be buying New Gold Friday, it simply means that the earliest this signal could occur if it does is on Friday. To give an idea of what this type of setup looks like, I have shown a chart of Teck Resouces (NYSE:TECK) below.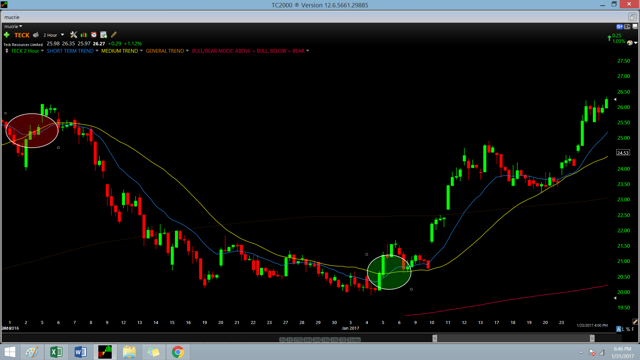 (Source: TC2000.com)
In early December Teck saw a bearish crossover as the blue line crossed below the yellow line on my short term trend system. This warned that one should trim or exit longs, and the stock preceded to fall nearly 25%. This bearish cross-over is shown by the circle that is shaded in red at the beginning of December. In early January Teck's chart began to improve, and the blue line managed to close and hold above the yellow line. This signaled to me that the correction could be over, and provided a trade based on a bullish crossover. I did not take this trade in Teck, but this is an example of how bottoms form on my short term trend system.
What if New Gold gaps up by 10% tomorrow and I miss my chance of buying it at $2.66? That is completely fine with me. As a trend follower I have no interest in sticking my neck out until I have a buy signal of some sort. My number one rule is to not lose money, and I would rather miss an opportunity than front-run my system and pay the price. For investors in New Gold I sincerely hope this is the bottom, as I hate seeing investors lose money. The company has been instrumental the past year in making significant progress at their producing mines, and it's a shame this was overshadowed by the Rainy River news.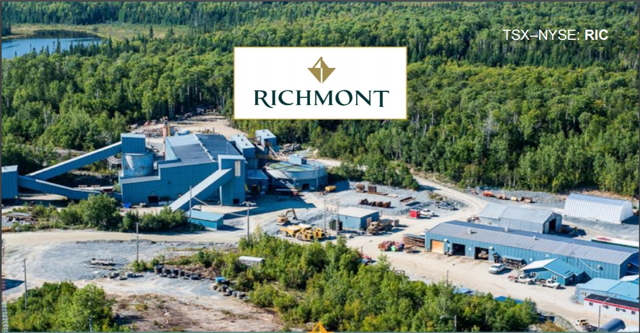 (Source: Company Presentation)
Meanwhile on the other side of Ontario, Richmont (NYSEMKT:RIC) investors are celebrating a significant jump in the company's shares today. The stock rose by nearly 11% in today's session and was one of the top performers among all gold equities. Richmont released news that it's flag ship Island Gold Mine's reserves had increased by 34%, and at a higher grade. This is a very positive development for the company as it equates to an increase of 190,000 ounces of gold at an average grade that is 0.9 grams per tonne higher. This should result in an extra 2.5 years of gold production which is quite material for Richmont.
In addition to today's news, last week the company strengthened its board by announcing the appointment of Robert J. Chausse as CFO. Mr. Chausse brings with him significant experience as he was previously VP and CFO of Aurico Gold (NYSE:AUQ), as well as a VP of Finance and Operations at Kinross (NYSE:KGC).
Meanwhile south of the border, OceanaGold (OTCPK:OCANF) has finally brought its Haile project online, and poured its first gold last week. Haile is a world-class gold project located in South Carolina, and is a transformational asset for the company. The mine will add nearly 200,000 ounces per year to its production profile, which will result in year over year production growth of 40% this year. In addition to this, the high-grade open-pit ounces at Haile will also bring down the company's all-in sustaining cash costs. Haile is expected to produce gold for $525/oz which is 20% below the company's 2016 all-in sustaining cash costs.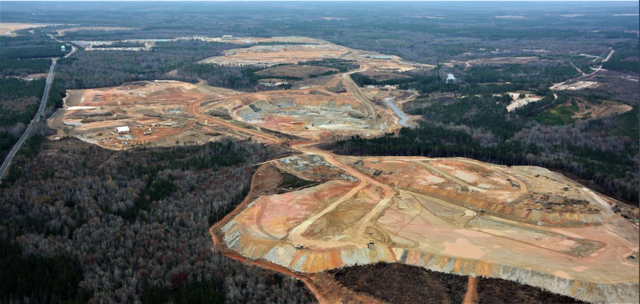 (Source: Company Presentation)
This is a significant development for OceanaGold, and a reason it remains one of my favorite producers in the world. I had previously ignored OceanaGold as it had the bulk of its operation in less favorable jurisdictions, and was nowhere near a cost leader. The company's Haile project acquisition from Romarco Minerals was a massive turnaround for the company and has changed the stock from an avoid to a must-own for me. For those interested in a more in-depth analysis of Oceana, I wrote about them last month when I unveiled my new long position here.
So what can precious metals investors expect as we close out the first month of 2017?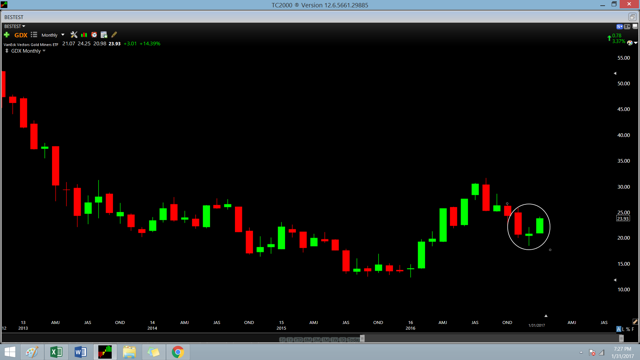 (Source: TC2000.com)
Taking a look at the Gold Miners Index (NYSEARCA:GDX), the stock has registered a very impressive monthly candle for January. December closed as a 'doji' for the GDX, which often represents indecision between bulls and bears. This indecision came to a screeching halt at the beginning of this year, as the index closed the month up 14.4%. This has left the index with a pattern that is reminiscent of a morning star pattern, which is one of the most bullish patterns there is. Morning star patterns are typically bullish reversal patterns, and monthly patterns like these are extremely rare. While this is by no means a 'textbook' morning star pattern, it does share a lot of the same characteristics. Below is an example of the pattern.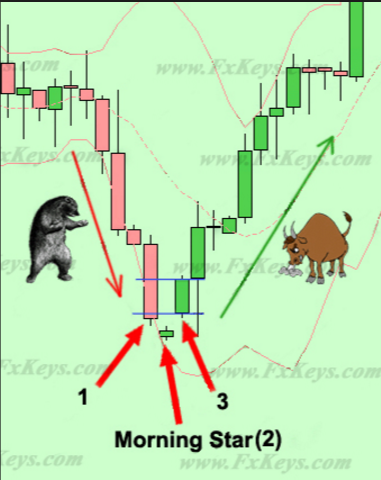 (Source: FxKeys.com)
Zooming into a daily chart of the GDX, it's hard to find anything bearish about the chart. The index continues to base above its descending channel that it was stuck in for over 4 months. In addition to this, the index has made short work of the resistance level at $22.50. The $22.50 level is now support again as it was for most of 2016, and the index looks like it wants to clear the base it's been building over the past 3 weeks.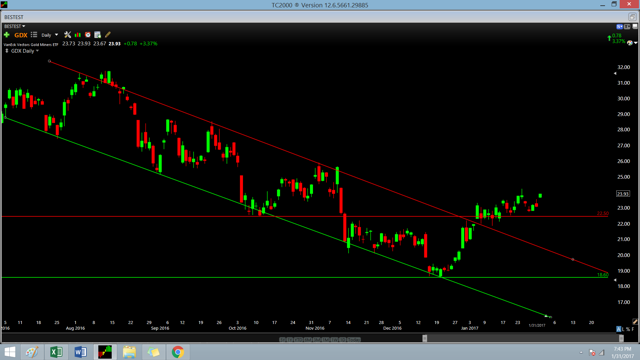 (Source: TC2000.com)
From a trend following perspective, the 50-day moving average has flipped from down-sloping to rising. This is a very positive development for the bulls, and I expect this level to be support on any dips. The 50-day moving average currently sits at $21.50 and is gaining ground at a pace of $0.05 per day. The only potential resistance I see ahead for the GDX is the 200-day moving average which sits at $24.98. Having said that, the 200-day moving average is flat, and flat moving averages typically are not very meaningful. A close above $25.00 would be a clean break of this level, and I see only blue skies above there. The bears are going to need to defend the $25.00 with their life, as they're already on thin ice as we speak.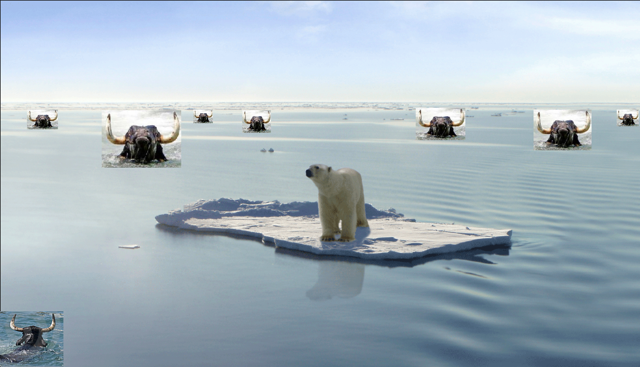 In summary, I am taking a 'wait and see' approach on New Gold, and am not rushing in to buy just yet. I will update readers if I do take a position in the comments section in the coming days. Richmont is on my watchlist, but I currently have no position in the company. Finally I have averaged up on OceanaGold and believe the company remains a potential mid-tier takeover target. If Haile can operate as anticipated, the company is set to become an industry leading mid-tier gold producer.
Disclosure: I am/we are long GLD, OCANF.
I wrote this article myself, and it expresses my own opinions. I am not receiving compensation for it (other than from Seeking Alpha). I have no business relationship with any company whose stock is mentioned in this article.
Additional disclosure: If you liked this article and found it useful, please feel free to follow me by clicking on the orange button next to my name at the top of this article. I also invite you to follow me at www.twitter.com/TaylorDart01 where I routinely share my entries, exits, and stops on new positions, as well as updating followers on sentiment data on markets I am following.
Editor's Note: This article discusses one or more securities that do not trade on a major U.S. exchange. Please be aware of the risks associated with these stocks.