Synopsis: We can invest in lithium to profit from future electric car demand.
Demand is currently down for electric cars due to low gas prices.
However state regulations will force car makers to sell electric cars at a loss to be regulation-compliant. In addition, government emissions demands and MGP (miles per gallon) regulations also will force more sales of electric cars. Last, foreign governments are passing pro-electric car laws that will increase the demand for lithium. Thus, investing in lithium is the way to capitalize on the forced state and government requirements.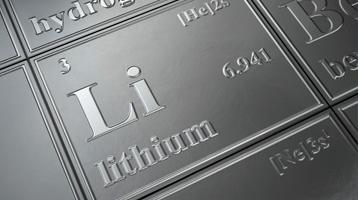 Lower Demand Due To Gas Prices
Short-term demand for electric cars is down due to low gas prices. Per Detroitnews.com Jan 2016:
"Battery-powered vehicles' share of the market last year dropped to just 2.4 percent, a 20 percent decline from 2014."
However, gas prices will not remain low forever. Once they recover we can expect to see an increase in electric car sales.
State Laws Are Driving Electric Car Sales
California passed a Zero Emission mandate, "Section 177," which nine other states copied. Per Autonews.com:
"Under California's zero-emission vehicle "ZEV" mandate, a certain percentage of an automaker's sales must be ZEVs. Automakers have been able to use partial credit from sales of hybrids and low-emissions conventional vehicles toward their ZEV quotas. But the regulations are slated to tighten in 2018 in a way that limits the impact of those partial credits and requires more sales of actual ZEVs."
Car makers are aware that due to current low demand for electric cars and unrealistic sales demands per the states, they will be forced to sell electric cars at a loss to avoid being negatively impacted by state laws. Of the total automotive sales of 17,188,971 units in the United States the 10 "Section 177" states accounted for 4,886,090 units sold or 28% of sales. This presents a block that the automakers cannot ignore. They will be forced to reduce electric car prices (to the point of taking losses) on each unit sold in order to sell the profitable traditional automobiles.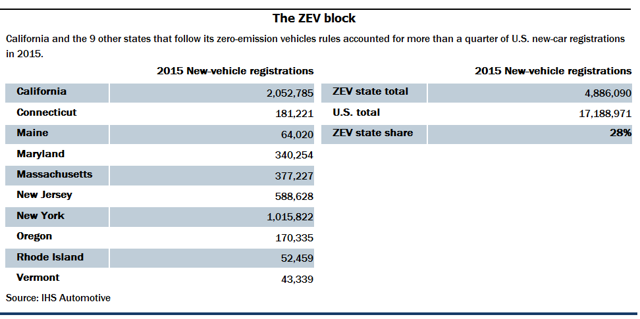 California Might Make Laws Tougher
Of course to throw some gas on the ZEV fire, California is looking to update its regulations:
"California's Air Resources Board has projected 15.4 percent market share for zero-emission vehicles, or ZEVs, by 2025. But because so many credits have flooded the system, automakers may now be able to fulfill their requirements with as little as 6 percent of their fleets consisting of electric or fuel-cell vehicles," said Dan Sperling, a professor of civil engineering and environmental science at the University of California at Davis. To bring those figures back in line, the state may increase its ZEV requirement, said Sperling, who serves on the board. "If anything, the inclination here is to make the mandate tougher.''
This bodes well for artificial electric-car demand thus forcing the automakers to research, produce and sell electric vehicles at a loss in order to meet regulations. We can profit off this artificial demand - but we will get to that soon.
Foreign Nations Actions
Several foreign nations have taken steps that will increase lithium demand such as:
China - According to Forbes: "By 2018, China's annual automobile production should be around 28.5 million units, if the 8% growth targets set by the country's planners hold, which they usually do. 8% of that number would amount to some 2.3 million battery-electric, plug-in hybrid and fuel-cell models, cars subsumed in China under the "new electric vehicle," or NEV, moniker.
Norway - The small country has taken some controversial steps to ban combustion engine automobiles by 2025.
Germany - They have taken steps to go 100% electric cars by 2030. That is quite some time from now, but it shows the intent.
Investing In Lithium
Given the catalysts (pointed out above), the way to play the government demands and state regulations is to invest in lithium. Currently several plays exist, but we favor Lithium Americas (OTCQX:LACDF) and on the Canadian exchange (LAC), Galaxy Resources (OTCPK:GALXF)/(GXY), and Orocobre (OTCPK:OROCF)/(ORL).
Top Pick
Lithium Americas is our current favorite pick. It is very easy to find several miners that have property but simply do not have the capital or resources to build the infrastructure required to extract the lithium.
(LAC South American Lithium Operation)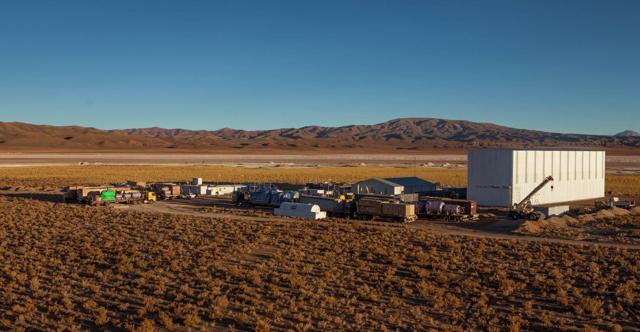 Ponder the costs - Acquiring and moving the equipment in, building roads, shelters, all the various logistics such as food and medical, legal hurdles, extracting, processing, and getting the lithium to market. To achieve these things, a company is going to need capital and that is what we seek: Companies that have deep pockets and relationships with larger (more experienced) companies.
Lithium Americas meets all these requirements. Let's look at the deep pockets and who is funding them:

(See additional reading for sources of data)

Looking at the funding per the table above, we see total cash provided is 112 million (where the debt facility that the company can tap is 174 million.) In addition, Sociedad Quimica y Minera de Chile S.A. (NYSE:SQM) brings experience to the table as they have a rich history of lithium mining and have entered into a joint venture with Lithium Americas for the mine in South America. Main idea - the company has adequate funding to build the needed infrastructure for its South American joint venture.
Risks and Concerns
For a micro-cap stock, it goes without saying that risks can be great. Given the funding, backers and the joint venture we are not too concerned with any cash-centric problems. However, big picture risks (however unlikely) are what could potentially impact Lithium Americas (or even other lithium producers). These include:
1. Currency fluctuations (if buying the Canadian stock). Currently, the dollar-to-Canadian ratio is very favorable at $1 to 1.302 Canadian. This, of course, could fluctuate for better or worse and would be a factor to consider if buying the Canadian stock over the US-traded version. However, looking at a 10-year chart, it appears to be a pretty good bet that over time the Canadian dollar will strengthen if the charts are any indicator. If this happens we might profit on the stock and on the currency exchange from CAD back to USD. Forex people - feel free to chime in.
(10 year USD to CAD history)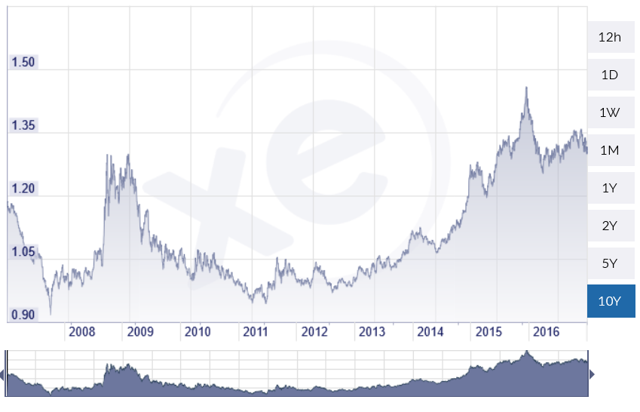 2. Changing local regulations via the Argentinean government are a possibility. Given the amount of mining in the region, we would be surprised if they go overboard and nationalize the industry or take drastic actions. Thus the risk is low.
3. President Trump (however unlikely) could institute tariffs of lithium from foreign nations. This will hinder domestic battery producers. It could also impact prices of lithium and hinder the United States operations for various lithium companies.
However, state regulations (Section 177 as noted above) will still apply. The Federal government does not have absolute dominion on state imposed regulations. Thus, the automakers will still be forced to sell electric cars in the 10 states that have adopted Section 177.
4. Lithium prices could decrease as more mines start producing to keep up with lithium demand. Prices have risen significantly over the year due to global demand and as of now many new mining companies are entering the fray.
Wrap Up
We view Lithium Americas as a good speculative play based on government and state imposed artificial electric car demand. It will take a few years before Lithium Americas pans out but it could be very profitable when it does.
In our follow-up article, we will give detailed explanations and a more in-depth view of these lithium plays. However, if you cannot wait, please read the most excellent contributor, Matt Bohlsen's, two articles - Lithium Americas and Galaxy Resources. He gives very good justifications why both need to be in your portfolio now.
If you liked the article remember to follow us.
Additional Reading
Various state and Federal governments also offer tax breaks.
Funding sources: Banchak Petroleum, Ganfeng Lithium, and SQM
Disclosure: I am/we are long LAC.TO.
I wrote this article myself, and it expresses my own opinions. I am not receiving compensation for it (other than from Seeking Alpha). I have no business relationship with any company whose stock is mentioned in this article.
Editor's Note: This article covers one or more stocks trading at less than $1 per share and/or with less than a $100 million market cap. Please be aware of the risks associated with these stocks.