Yesterday, I published an article where I mentioned that today's ISM index would beat estimates once again. Today's ISM index beat indeed and came in at 56. A full point above estimates.
Article: ISM Index Is Going To Beat Estimations Again
The ISM index is the most important leading indicator. This means that this index is telling us what we can expect in terms of economic growth over the next 1-3 months.
If you want evidence and more information about indicators, feel free to read my article about this very topic.
Article: Establish A Solid Macro View Using The Top-Down Method
Let's start with the ISM index and the average of regional surveys. The ISM index is confirming an extension of a massive growth acceleration rally that started in August/September of 2016. This growth rally is a massive tailwind for the US economy and should push coincident indicators like industrial production and durable goods orders much higher over the next months.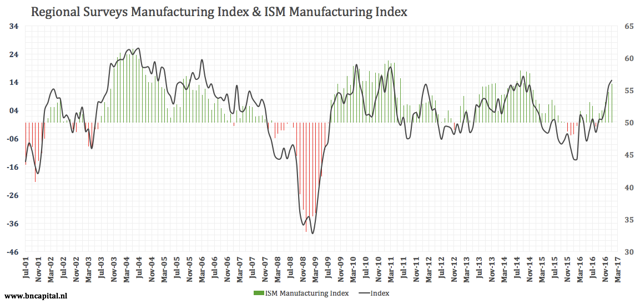 The stronger ISM index is supported by a 0.1 new orders increase. New orders hit the highest levels since 2014 after going vertical in the fourth quarter of 2016. Note how well regional new orders have predicted this new orders rally.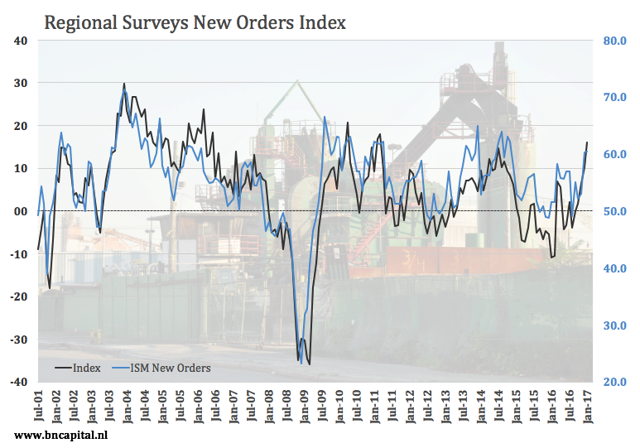 Prices soared another 3.5 points in January to 69. This is the highest level since 2011. This makes sense since 2011 has been a multi-year commodity peak. 2016 has been a bottom. Although, I am not sure if prices should rally this fast.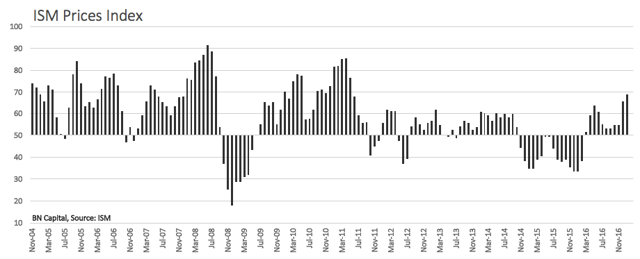 Below, you see all the numbers. The most important numbers are all accelerating. New orders, production and even employment is picking up. Employment is something I have discussed in previous regional articles. It seems like we are witnessing an employment growth bottom.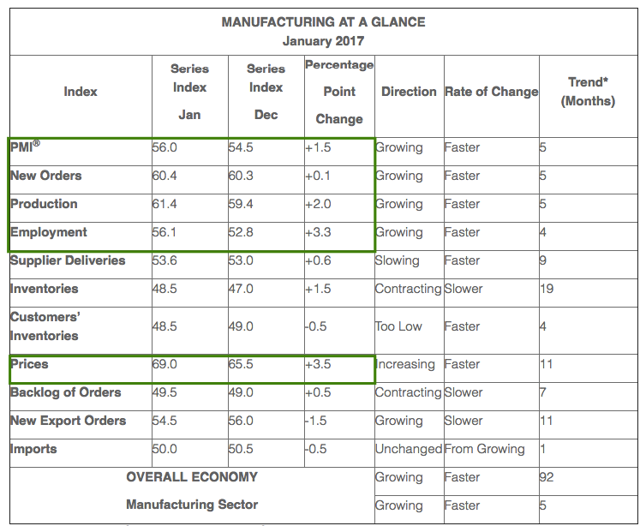 Source: ISM
Below, I made a complete breakdown of all manufacturing industries. Cyclical industries like machinery, primary metals and transportation equipment are growing again. I am especially happy to see better transportation equipment numbers after a few bad months despite higher US growth.

Conclusion
Today's ISM number showed us two things. First of all, my regional indices did their job again, predicting another ISM print correctly. Second of all, the US economy is accelerating further. This rally is supported by higher new orders, production, prices and even employment seems to bottom. I will use this data to dig deeper into a few industries and guide you through the next coincident numbers.
Many thanks for reading my article. Please leave a comment below if you have questions or remarks.
Disclosure: I/we have no positions in any stocks mentioned, and no plans to initiate any positions within the next 72 hours.
I wrote this article myself, and it expresses my own opinions. I am not receiving compensation for it (other than from Seeking Alpha). I have no business relationship with any company whose stock is mentioned in this article.