As retail stocks continue to struggle, I have become excited as some quality names have been approaching accumulation territory. Last month, I made a case for L Brands (NYSE:LB), owners of Victoria's Secret, Bath & Body Works, Pink, Henri Bendel, and La Senza, due to its artificially high dividend yield caused by the overall decline in retail. I proceeded to purchase shares soon after.
With the ending quarter and annual results due in the coming weeks, I've compiled an analysis of L Brands reviewing its value compared to competitors, equity levels, and strength of its cash flows.
The PEG
To evaluate L Brands' earnings and growth, I have compared it to a similar mall retailer, Gap (NYSE:GPS), and a high growth retailer, Lululemon (NASDAQ:LULU), to emphasize the opportunity present in L Brands shares prior to the release of annual results and 2017 forecasts. Clearly these retailers have different target customers. The comparison with Gap is common and due to its relationship to retail and foot traffic; Lululemon is due to future synergies as Victoria's Secret expands into athleisure. Overall, current trends have made all three companies attractive potential investments, and a worthwhile comparison to understand L Brands as a long-term investment.
(Source: LB 10K & 10Q, GPS 10K & 10Q, LULU 10K & 10Q)

With its P/E of 13.7, Gap looks like the favorable investment; lower than that of L Brands at 14.8, and considerably lower than Lululemon's 32.5. However, if we anticipate future growth, L Brands becomes the more attractive opportunity. The PEG (Price/Earning to Growth) ratio, as the acronym implies, takes the Price to Earnings ratio and factors in growth. If a company has a PE of 10 and an annualized growth rate of 10%, the PEG ratio would be 1; alternatively, if the same company had a growth rate of 5%, the PEG ratio would be 2. Generally, the lower the PEG, the more undervalued the security, as it signifies higher growth potential.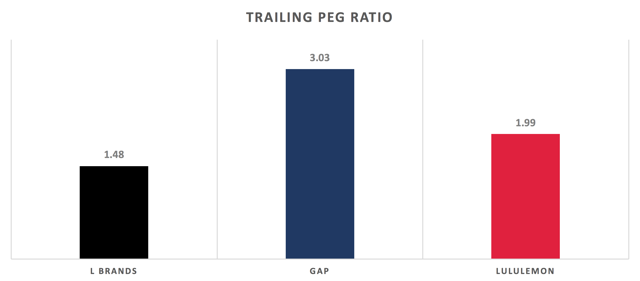 Per Yahoo Finance, an average of 28 analysts covering these companies anticipate growth rates for L Brands, Gap, and Lululemon at 10%, 4.5%, and 16%, respectively. In the chart above you can see the PEGs of these stocks, applying the growth rates to the trailing twelve months of earnings. L Brands is clearly undervalued in this regard.
(Source: LB 10K & 10Q, GPS 10K & 10Q, LULU 10K & 10Q)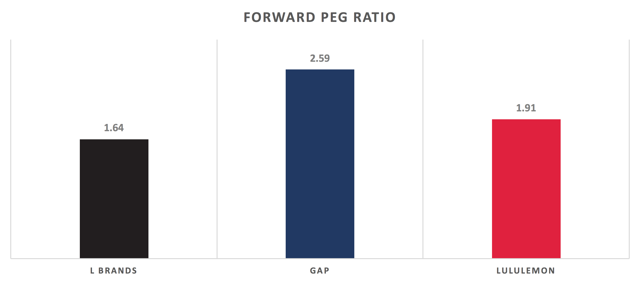 The forward PEG displays a similar conclusion. Based on growth projections, L Brands presents a favorable investment opportunity.
Free Cash Flow to Equity
The bulk of L Brands' income comes from the holiday quarter. Free cash flow is not always positive during the subsequent quarters. With a 4% dividend yield, questions of dividend and buyback security is a sensible one. Rather than overall free cash flow, a review of the Free Cash Flow to Equity (FCFE) displays how much cash is left in the business after debt has been paid and after any reinvestment needed to sustain the firm's assets and future growth.
(Data: L Brand 10Q, 10K; Table: Self)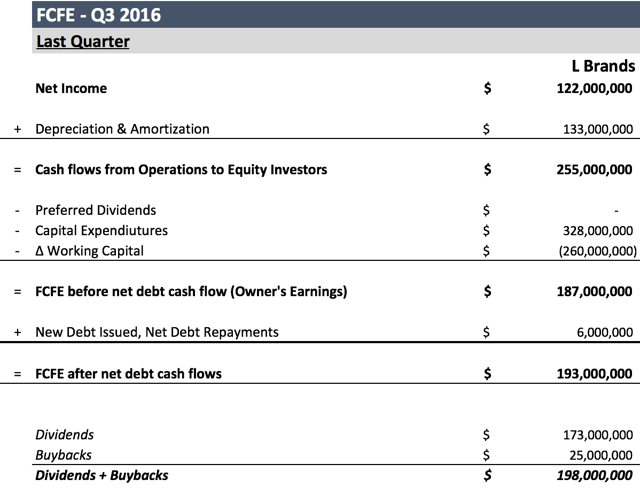 While dividends and buybacks totaled $198 million in Q3, $5 million over the available FCFE, L Brands is able to sustain these dividends and buybacks through its holiday sales period. Below is a look a the FCFE over the last twelve months, period ending 10/30/2016.
(Data: L Brand 10Q, 10K; Table: Self)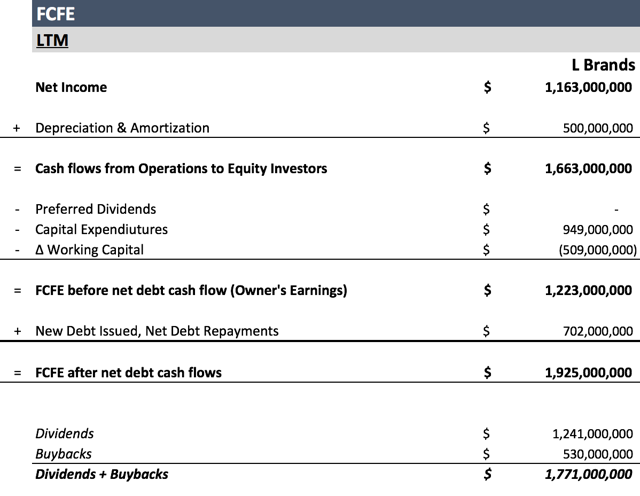 You will notice that without the issuance of new debt, L Brands would not be able to meet its current levels of equity return through quarterly earnings alone. Note, however, that the dividend presented above also includes the $2 per share special dividend issued last year. While it is not uncommon for companies to leverage debt to finance buybacks, especially during periods of low interest rates, it is not something most long-term investors like seeing.
L Brands' SEC filings show the new debt acquired is being used to repay old, higher interest rate debt. Being an investment year for the company, capital expenditures are also 37% higher year-to-date, contributing to the gap between capital return and Owner's Earnings. To finance the difference, management has been using cash on hand; cash that is replenished during the holiday quarter. Regardless, this is a figure investors should be prudently monitoring in 2017.
Equity Risk?
(Source: L Brand 10Q)

L Brands has run on negative equity levels for the better part of the decade, perhaps benefiting from the overall bull market. Value investors tend to shy away from companies with negative net equity. Negative equity, while unattractive, is not always worrisome. In theory, it displays that shareholders would "owe" money if the company ever went bankrupt; which in L Brands' case is unlikely. Rather, it is often an effect of accounting methods used to allocate prior losses; an effect "on paper" rather that affecting the company's ability to operate or raise capital.
In L Brands case it is a result of repurchasing treasury stock. Per Investopedia: "When treasury shares are repurchased by the company, they are carried on the balance sheet as a contra-equity account with a negative balance in the equity section."
Looking forward, with stable increasing revenues, I anticipate equity levels to gradually increase as Bath & Body Works outperforms, Victoria's Secret proceeds in its transition, and the Victoria's Secret and Bath & Body Works International segment continues to trend positive.
Additionally, with shares in the $58-61 range, barring a significant earnings miss, I expect a more aggressive share repurchase initiative. The share repurchase price on L Brands' $500 million buyback programs in 2015 and 2016 averaged $85.88 and $77.75, respectively. Capital return will undoubtedly be discussed during the Q4 earnings call in the coming weeks.
Conclusion
Overall, in its current price range, L Brands is a very attractive investment. Retail headwinds may continue to bring the stock down, but patient investors will likely get rewarded in the long run with stable revenue and earnings growth, while also receiving a quality 4% dividend yield, 7% including the special dividends distributed over the last three years.
Disclosure: I am/we are long LB.
I wrote this article myself, and it expresses my own opinions. I am not receiving compensation for it (other than from Seeking Alpha). I have no business relationship with any company whose stock is mentioned in this article.