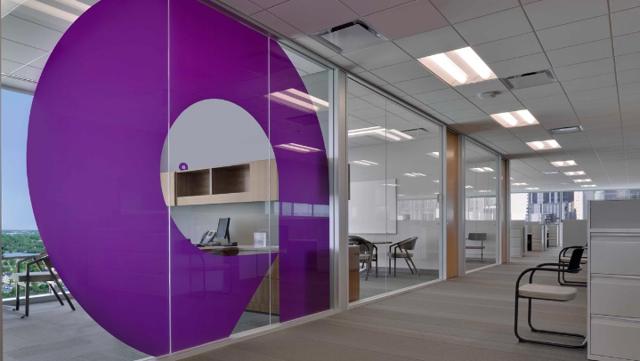 Ally Financial (NYSE:ALLY) has largely been left behind in comparison to other large financials in the past year or so as fears about Ally's business remain overblown. The stock, however, is up huge and is breaking out off of the stellar Q4 report, and it seems sentiment is turning. That's a sizable positive, and given the enormous progress the bank is making - including now returning capital to shareholders - there is a lot to like. The stock is still well below its tangible book value and is going for just 1X its EPS growth rate, meaning that despite all of the growth initiatives it is delivering on, it's still one of the cheapest financials in the entire market.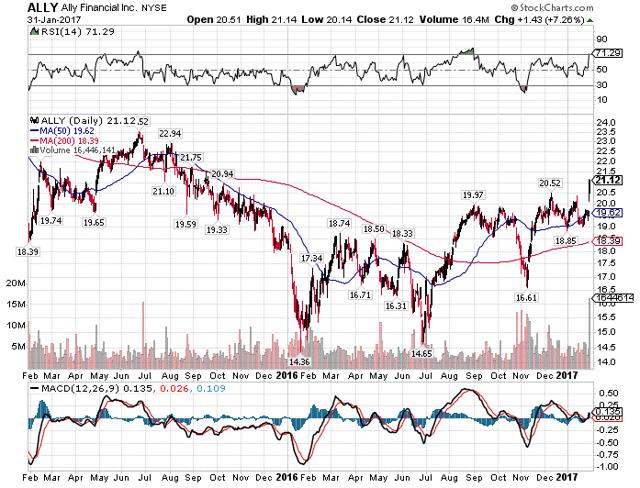 Ally's multiple has been held back by the fact that it is currently an auto finance business with some offshoots that produce a small amount of additional revenue. The thing is that management is aggressively - but prudently - chasing down growth in other areas that complement the core business. That core business, of course, involves raking in deposits from consumers via its online banking business, and it is functioning beautifully. Ally's transition from an auto lender with a very high cost of funds to a diversified financial services provider funded by deposits is well underway and that makes the stock very cheap.
Ally grew its deposits by $12.5B last year with retail deposits making up almost all of it, up 20%. The company has made big marketing pushes to attract people to its platform, and to say that it is working is an understatement. The deposit business is as important to Ally's future as anything else, and I couldn't be happier with its growth. Ally's funding transformation is working very well and it began with the collection of low cost deposits. The next phase was retiring all of its preferred stock - which it did last year - and now it is focusing on its $12B in unsecured debt that is coming due now through 2021. That debt is at almost 5%, and given that Ally grew deposits by $12B last year alone, there should be no problem replacing that debt with deposits and then some. That will drastically lower the cost of funding and boost margins as a result, and the beautiful thing is that it just needs to keep doing what it is already doing. Ally's cost of funds provides some really terrific growth potential and Q4 as well as the full-year results prove that out. When the more expensive legacy financing is finally gone, Ally's margin potential will be unleashed.
NIM was up 6 bps in 2016 to 2.63%, so Ally is sort of between the money center banks and the regionals in terms of margins. However, as I said, we should certainly see that number rise in the next few years irrespective of any rate hikes we see. The fact that funding costs are going to move so much lower in the next few years is a huge driver of margins, and given that rate hikes are coming as well, Ally looks to be one of the most interest rate sensitive stocks in the market. No other large bank that I know of has the ability to lower its cost of funds the way Ally does and that's a huge draw.
Apart from that, have a look at the growth initiatives Ally is working on in this excerpt from the press release: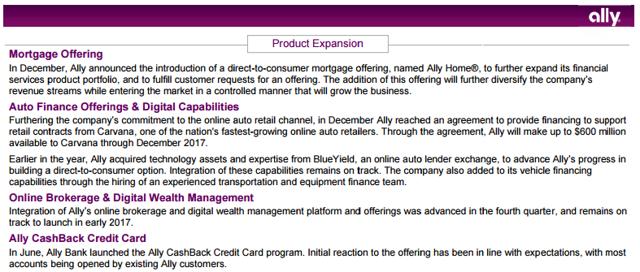 Ally's digital capabilities are well known, and indeed, are at the core of its success. But it is now moving into mortgages, its new CashBack credit card as well as brokerage and wealth management. All of these businesses line up well against its core deposit offerings and will allow Ally to take one customer and sell them several things. We are very early on with all of these, but the potential is huge. And given that its deposit business is so successful with millions of customers, there exists a huge base that the company can sell to very quickly without having to invest in marketing the new products. That will surely come with time, but again, potential here is huge.
Ally is also now returning lots of capital to shareholders and will for the foreseeable future as it bought back 3.5% of the float just in the back half of 2016. That sort of run rate probably isn't sustainable, but given the very low valuation, Ally's buyback will have more bang for the buck than other large banks. I certainly wouldn't be surprised to see 6% or more in buybacks this year and beyond. Ally doesn't really need another source of growth, but it doesn't hurt, either.
At just 9 times this year's earnings, Ally is still very cheap despite its rally. The earnings report sent it flying, but there is still much potential. Nine times earnings used to be a normal multiple for large financials, but that number has moved to more like 13 or 14 so against competitors, Ally appears even cheaper. It is also trading well below its adjusted tangible book value, so there is a lot to like to be sure. And if that's not enough, long-term growth rates around 15% have been promised by management, even if this year doesn't turn out to be quite that good due to investments in new products.
I couldn't be happier with Ally's progress, and I'm still convinced this is a long-term growth story unlike virtually anything else in financials. Margin expansion is coming in a big way, and new growth initiatives should help fuel top-line growth as well. At 9 times earnings, Ally is way too cheap, and I bet it will be much higher next year at this time.
Disclosure: I am/we are long ALLY.
I wrote this article myself, and it expresses my own opinions. I am not receiving compensation for it (other than from Seeking Alpha). I have no business relationship with any company whose stock is mentioned in this article.