I believe the best way for equity bulls to navigate this market is to be long individual stocks that are much cheaper than the relative indexes. In fact, preferably stocks that did not partake in the stock market advance up to now should be preferred choices. One of my stock screeners unearthed Federated Investors (NYSE:FII) today which definitely on the surface looks that it has upside. The company is cheap, has excellent fundamentals and has a strong dividend backed by an even stronger balance sheet and further earnings growth is on the horizon. First of all let's look at the stocks key fundamental metrics over a 10-year period. I would be looking at Federated as an income play with its stock currently at just under $26 a share.
Dividend
Federated has kept its quarterly payment at $0.25 but has paid out special dividends of ($1.51 and $1.25) in 2012 and 2016 - Pass
Free Cash Flow
$245 million (10-Year Trend Is Up) - Pass (Very Important For Dividend Investors - Dividend Currently Is 3.85%)
Revenues
$1.14 billion (10-Year Trend Is Up) - Pass
Profit Margins
29.9% - (10-Year Trend Is Down) - Fail
Price History of the stock
Down 26% in the last 10 years excluding dividends - Fail
Healthy balance sheet
Total assets = $1.16 billion (10-Year Trend Is Up) - Pass
Competitive Advantage

Intangible Assets
Switching Costs - Pass

Resistant to recessions?
Sales hardly affected during the recession of 2008 - Pass
As the table shows, the stock over the past 10 years falls down with respect to its share price performance and its profit margins. If you invest in a BlackRock, Inc. (NYSE:BLK) for example, all of these metrics would have passed with flying colors. However regarding Blackrock which is a much bigger asset manager, you would be buying a more expensive stock. So what do you do? Invest in the bigger "safer" company or go long the cheaper and smaller Federated Investors?
Presently Federated is trading with an earnings multiple of 13.5 which is a solid 4 points below its 5 years average. In fact all of its critical valuations metrics (price to cash flow, price to book, price to sales) are well below where the company traded in the recent past. Scenarios like this happen in good companies when the company in question undergoes a contraction in revenues or sales. This happened to Federated between 2008 and 2011 and again between 2012 and 2014.
These down years definitely impacted the share price but projections look good going forward. Although more or less growth projections by analysts look flat in the near term, long term expectations are much more bullish which should ease investor's fears towards this stock. Long term, analysts are looking for almost 9% annualised growth rates. However even if this growth did not materialize, Federated would still trade up near $35 a share if it just returned to its historic earnings multiple. Heck it would only need an earnings multiple of 15 to get the share price back to $30. $30 a share would still be a nice 16% gain from present levels.
Last year, Federated investors paid out a yield of $2 a share which based off today's share price would equate a 7.7% dividend yield. Now that yield was made up of a special dividend of $1 and these specials usually are only paid out once every four years or so. However despite this extra payment, the yield at present is 4% which again is more attractive than Blackrock's 2.67% offering.
Technically one could wait for a weekly swing here as weekly swings have been usually accurate in the past concerning upside movement. The stock remains oversold on the RSI momentum indicator and sentiment is at bearish extremes. With the S&P500 (NYSEARCA:SPY) continuing to march forward, Federated one would think should rally from its current levels.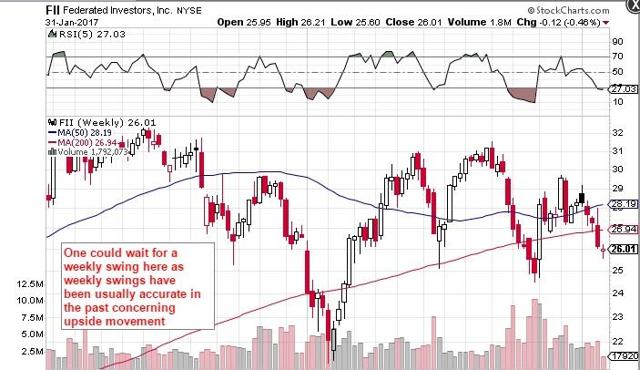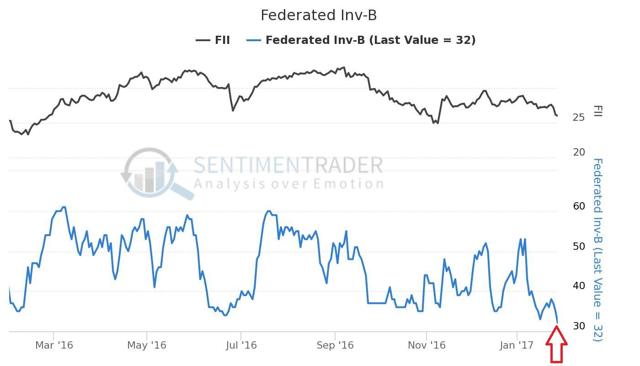 Source : Sentimentrader.com
To sum up, Federated Investors continued to grow its managed assets in the fourth quarter and on a rolling year basis. As rates keep on rising, fee waivers over time will be done away with which should boost profitability. Eventually when the market turns, passive ETFs vehicles should become less popular than they are now. Federated funds (especially in fixed income and stocks) have had strong returns in recent years. If this trend continues, the company should be one of the first in line to attract fresh capital who will be looking for active management.
Disclosure: I/we have no positions in any stocks mentioned, and no plans to initiate any positions within the next 72 hours.
I wrote this article myself, and it expresses my own opinions. I am not receiving compensation for it (other than from Seeking Alpha). I have no business relationship with any company whose stock is mentioned in this article.