Siemens (OTCPK:SIEGY) continues to power forward. After raising earnings estimates twice in fiscal 2016, the European conglomerate, while announcing first quarter 2017 (October-December 2016) results once again raised earnings estimates for fiscal 2017. Keeping in mind that management is almost always conservative in providing guidance, the company's 6% increase from previous guidance is significant.
Since CEO Joe Kaeser took over SIEGY in 2013, the company's stock performance (in euros) has been strong. Performance in the last twelve months has been particularly gratifying. Following first quarter 2017 earnings of €1.91 billion, up 25% over the previous year and the company's upbeat earnings guidance, SIEGY stock closed at $129.97, up 6.2% since the start of 2017 and almost 15% since the US election (both in USD).
Siemens (euros)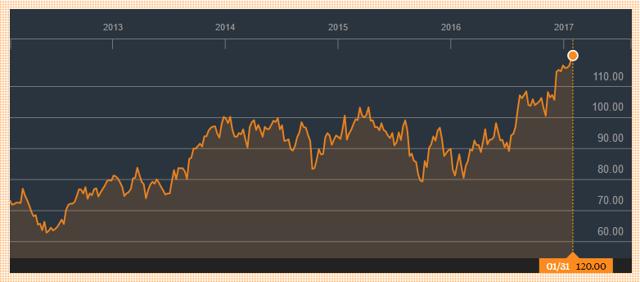 Source: Bloomberg
Unfortunately, due to the strong US dollar, American investors have not seen quite the same performance.
Siemens (USD)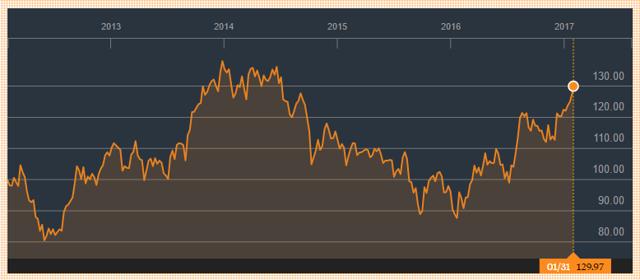 Source: Bloomberg
Q1 2017
With revenue up only 3% (on a comparable basis) in the quarter, the company's ability to grow earnings 25% to €2.35/share from €1.89/share demonstrates impressive margin expansion and cost control.
The first quarter results and expected performance through fiscal 2017 are a continuation of SIEGY's 2020 plan, focusing on execution, continuous improvement and simplicity.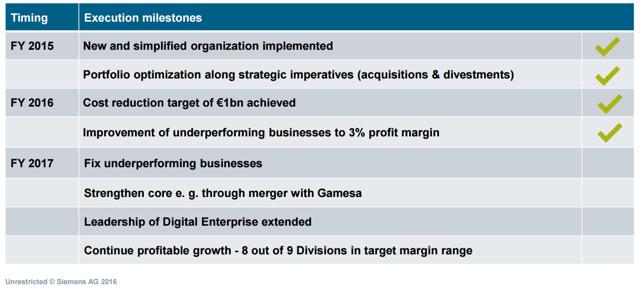 Stock Target
In Q4 2016, I put a $135 price target on SIEGY shares for 2017 with fair value at $140 ("Siemens - $135 Price Target And 16%-20% Return In 2017"). With the recent run-up in shares, the 2017 opportunity is less than it was at the end of the year. Including the 2017 dividend of $3.89/share, SIEGY's target return is between 7% and 11%.
Trump Hedge
Though SIEGY has extensive operations in the US, it can be considered a Trump hedge. First, the company reports earnings in euros, so the stock could benefit if the president succeeds in "talking down" the US dollar. Second, given all of the "America First" rhetoric coming from Washington, there are high odds of overseas retaliation against US companies. SIEGY stands to benefit from anti-American sentiment when in competition with companies like General Electric (NYSE:GE), Honeywell (NYSE:HON) or United Technologies (NYSE:UTX). I have GE in my portfolio and feel SIEGY is not only a fine company but a bit of a hedge (on the GE position).
Earnings Growth + Dividend Growth + Share Buybacks
SIEGY has steadily (in euros) increased its dividend. With 2017 expected to be a strong year, a strong increase in 2018 is highly likely.
The board approved a €3 billion share buyback program that began in February 2016. Through August 2016, only a little over €0.2 billion has been spent. At today's prices, full use of proceeds would reduce the share count by an additional 3%.

Buyback Shares through August 2016

Source: Siemens
Summary
I am pleased that often overlooked (in the US) SIEGY is executing and starting to get the positive attention this "European GE" deserves. Though recent stock increases have cut some of the upside, I continue to hold SIEGY and am optimistic about the near and medium-term future of the company (and stock).
Disclosure: I am/we are long GE, SIEGY.
I wrote this article myself, and it expresses my own opinions. I am not receiving compensation for it (other than from Seeking Alpha). I have no business relationship with any company whose stock is mentioned in this article.
Editor's Note: This article discusses one or more securities that do not trade on a major U.S. exchange. Please be aware of the risks associated with these stocks.