Welcome to the January 2017 edition of EV company news. December 2016 global EV sales exceeded 100,000, making it the best month ever.
Global EV sales - as of the end of December 2017
Global EV sales finished 2016 at 774,000 for the year, up 40% on 2015, and representing 0.85% of the global market share. We can see from the chart below that EV sales are growing very strongly each year, typically around 40-50%pa. According to EV sales, "Norway EV performance continues to be the poster-child for the EV scene, with the market share ending 2016 at 29.5% vs 23% in 2015. Netherlands is also leading with 6% market share, followed by Sweden with 3.6%." Overall the European countries are leading on market share, with China leading on volumes.
Global EV sales 2011-2015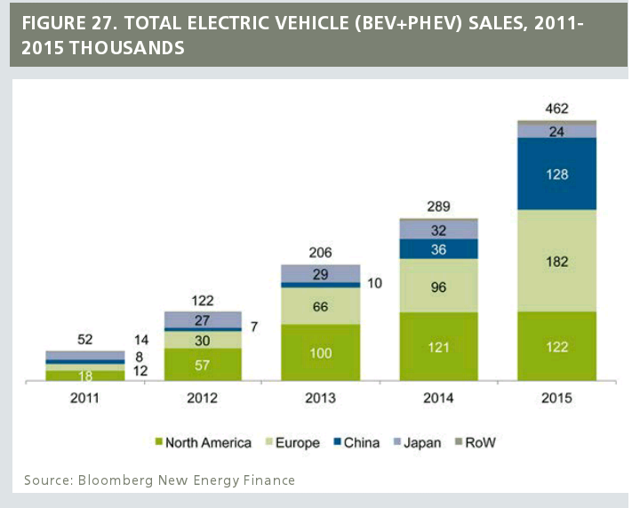 Source:Bloomberg New Energy Finance, page 35.
China led the way again with 44,874 sales in December 2016, up 27% over the same month last year. Chinese EVs now have 1.45% market share. Chinese EV sales for 2016 were 351,861 EVs, or 46% of total global EV sales. Current subsidies are now being phased out, reducing by 20% in 2017, by 40% in 2019, and 100% by 2021.
China EV sales 2014-2016

Europe performed reasonably with 30,000 EVs sold in December 2016, 11% lower than the same period in 2015 (a period when subsidies boosted sales).
US had a great December with "over 24,000" EV sales, up 81% on 2015 levels. US EVs now have 0.91% market share. December was a record month for 9 models. This should be a sign of what is to come in 2017 from US EVs.
Global EV sales by manufacturer - to end December 2016 and for 2016
Source:EV Sales
NB: Tesla (NASDAQ:TSLA) sales are estimated each month by EV Sales, and are then updated quarterly as Tesla does not release monthly sales.
Global EV sales by model - to end December 2016 and for 2016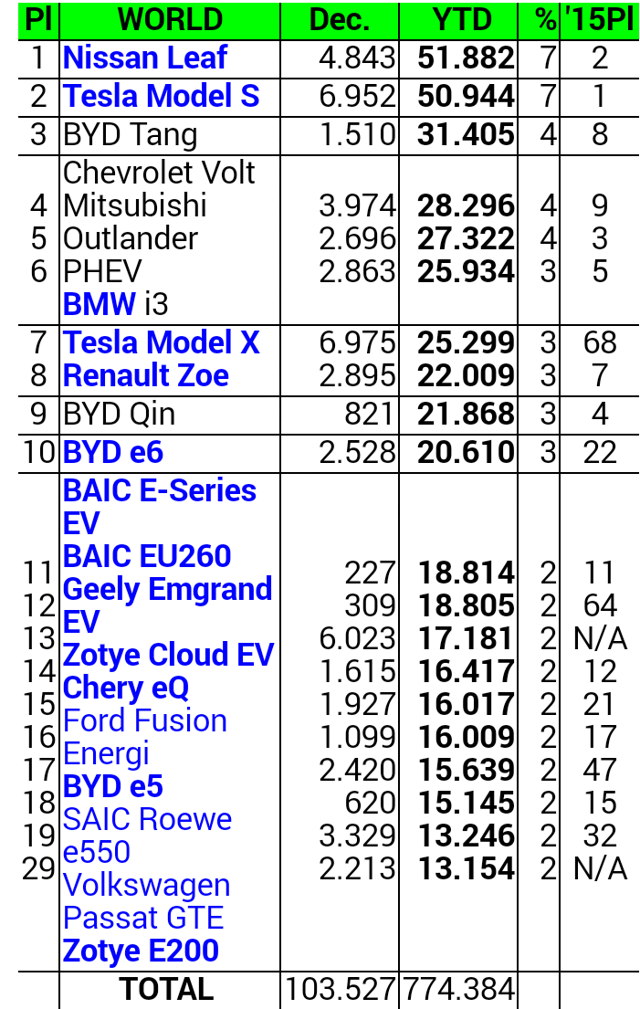 Source:EV Sales
EV market news for January 2017
Green Car Reports recently ran a very interesting survey asking - When will you buy your last-ever gallon of gas? Poll results were:
35% - Already happened.
34% - By 2020.
25% - By 2030.
6% - By 2050.
Despite it being only a small poll, the results are quite interesting. Perhaps readers can give their comments below when you would buy your last ever gallon of gas.
I thought I would include the graph below to remind investors of the big picture. Li-ion battery prices are falling and EV sales are rising. At US$ 200kWh a 60kWh EV battery costs US$12,000, however at US$150kWh a 60kWh EV battery costs US$9,000. GM and Tesla are approaching the US$150Wh cost level in 2017/2018, meaning an EV battery cost of US$9,000 (or US$7,500 if a 50kWh), which is getting very close to the ICE car costs for an engine (around US$5,500). Also the EV does not need a fuel tank, exhaust system and many other parts. It is now expected that EVs can be the same purchase price as an ICE vehicle before 2020. My previous forecast was for EV/ICE cost parity by 2020-2022, which you can read here and here. Note the graph below is across all industry participants, noting Tesla and GM are ahead on lowering battery costs.
Li-ion battery - Falling costs and rising demand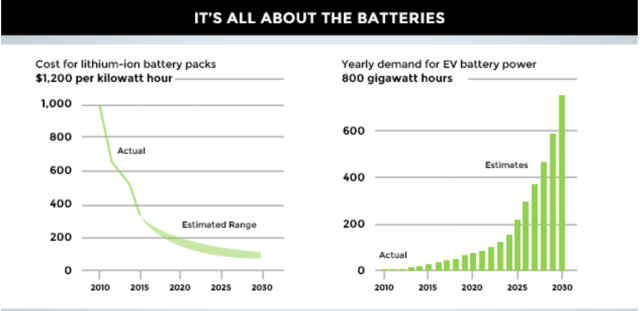 Source: Bloomberg New Energy Finance
In 2016 Panasonic said they expect (battery) cell sales to more than double in three years.
On January 10, CNBC reported: "Samsung (SDI) shows off electric car battery that gives a 310 mile (500 kms) range on a 20 minute charge." Full range would be closer to "600 kms". And that "mass production of the cell is slated for 2021." No details were given on the cell chemistry. One to follow.
On January 24, Reuters and Automotive News Europe reported, "Paris launched a new color-coded sticker scheme to restrict car use in its latest attempt to reduce air pollution." And, " the "Crit'Air" system bans all diesel-fueled cars registered between January 1997 and December 2000 - identifiable by a grey sticker on the windscreen - from the capital." This will make people think carefully when purchasing a car, as they may be locked out of their city one day if they buy a diesel or polluting vehicle.
EV Company news for January 2017
BYD Co. (OTCPK:BYDDY) (OTCPK:BYDDF) (HK:1211)
BYD finished 2016 as the leading global and China EV manufacturer with 100,183 EV sales, 13% global market share, and 28% China market share.
On January 6, Ejiinsight reported, "BYD, ADL (Alexander Dennis Ltd.) win London order for 14 e-buses." This adds to the 51 e-bus order from July 2015. According to EV Sales, BYD sold 14,903 e-buses in 2016, with most of them selling in China. 2017 may see a fall in e-bus sales with the new subsidy arrangements. BYD's home city of Shenzhen plans to be fully electric with 15,000 e-buses by end 2017.
On January 24, South Sudan News Agency reported, "BYD Company Ltd, through its electric mobility business arm BYD Auto, is eyeing the opportunities for pure electric mobility vehicles and the upcoming light rail projects in India."
Tesla Motors
Tesla finished 2016 as the leading EV manufacturer in the USA with 29% market share, and the number two global manufacturer with 76,243 sales. The Tesla Model S finished 2016 with 50,944 sales, and was the global number two selling EV model.
On January 4, Tesla announced: "Battery cell production begins at the gigafactory. Tesla and Panasonic begin mass production of lithium-ion battery cells, which will be used in Tesla's energy storage products and Model 3. By 2018, the gigafactory will produce 35 GWh/year of lithium-ion battery cells, nearly as much as the rest of the entire world's battery production combined. "
On January 12, Tesla announced: "One of our top priorities this year is to significantly increase capacity of our Supercharger network." And, "Tesla Model S and Model X cars ordered after January 15, 2017 will receive 400 kWh (kilowatt-hour) of free Supercharging credits (roughly 1,000 miles) annually on the anniversary of their delivery."
On January 21, Green Car Reports reported: "New Tesla Model S 100D version rated at 335 miles (536 kilometers) of electric range....That makes it the highest-range battery-electric car on the market." Awesome range.
BMW (OTCPK:BMWYY)
BMW finished 2016 as the leading EV manufacturer in Europe with 17% market share. BMW were the number three leading manufacturer in 2016 with 62,148 global EV sales.
In January, Reuters reported, "BMW eyes 100,000 electric car sales in 2017." They currently have the i8 hybrid and the fully electric EV, the i3. In 2017, the BMW i3 will be selling for around US$42,400 in the US. It has a range of 114 miles. BMW is also increasing the battery range of its i3 city vehicle by 50 percent this year.
BMW plans to sell 15-25% EVs by 2025.
Renault Nissan (OTC:RNSDF) (NSANY)/Mitsubishi (OTCPK:MSBHY) (MMTOF)
The Renault Zoe finished 2016, as Europe's highest selling EV with 21,735 sales, and 10% market share in Europe. The Mitsubishi Outlander finished in second place in Europe with the Nissan Leaf in third place. The above three models managed to grab 29% of all European sales in 2016.
The Nissan Leaf finished 2016 with 51,882 sales, and was the global number one selling EV model. Nissan was the global number four selling EV manufacturer. Nissan still have the 2017 Leaf with just 30kWh battery (range of just 107 miles) starting at US$30,680, which should be upgraded in hopefully 2018 to a 60kWh Leaf with 200+miles of range. Perhaps the next Nissan Leaf will look similar to the 2015 concept EV Nissan Sway. Personally, I think it looks great.
Nissan Sway concept EV
In 2017, Renault has the Zoe with a 41 kWh battery pack and around 200 miles of range.
In December Reuters reported, "Nissan, Renault and Mitsubishi will combine their electric vehicle platforms in an effort to slash prices down to levels comparable to conventional gasoline cars."
BAIC (OTC:BCCMY) (HK:1958)
On January 6, the PR Newswire reported, "Baidu partners with BAIC on advanced intelligent vehicle technology. Under the new strategic partnership, Baidu and BAIC will cooperate on two key projects: to launch car models in the first half of 2017 with telematics solutions provided by Baidu, and to road test the BAIC Level 3 autonomous driving car by the end of this year. The companies will also explore broad cooperation in Level 3 autonomous driving technology including high definition (NYSE:HD) maps and learning map, and Baidu will provide BAIC with intelligent vehicle OEM solutions including CarLife, CoDriver, and MapAuto."
The 2017 41.4kWh BAIC EU260 is expected to have a price of US$37,500, and a range of 162 miles (260kms), and be available in China. The EU260 has been China's top-selling EV model the past few months. Well done BAIC.
On January 13, CarNewsChina.com reported, "the new Beijing Auto EC180 will be launched on the Chinese car market on January 18."
Volkswagen group, Audi (OTCPK:AUDVF), Porsche (OTCPK:POAHF)
Volkswagen finished 2016 as the second ranked manufacturer in Europe with 15% market share.
On January 23, Hybrid Cars reported, "Volkswagen plans to combine its new I.D. electric vehicle lineup with 5G connectivity and vehicle-to-everything (V2X) communications to prepare for autonomous driving by 2025. The first model in the I.D. family, a concept launched at the Paris auto show in October (2016), will be a compact-sized hatchback scheduled for a 2020 launch. The next I.D. model will be an SUV following soon after the compact hatchback, and a microbus MPV should be launched in 2022."
On January31, Electrek reported, "Audi tells dealerships to get behind electric vehicles because it will dominate the market within 10 years." Audi America President Scott Keogh said: "We have to look at alternative channels and start to make money. These cars are going to have to be fixed less. But you're going to have a host of opportunities around the battery and helping the customer in their home. You have the customers, you have the scale, you have the (marketplace) presence. You need to become the 1-stop shop (on electrification). You need to be a part of their whole electric ecosystem." Wise move by Audi management.
Volkswagen I.D at CES 2017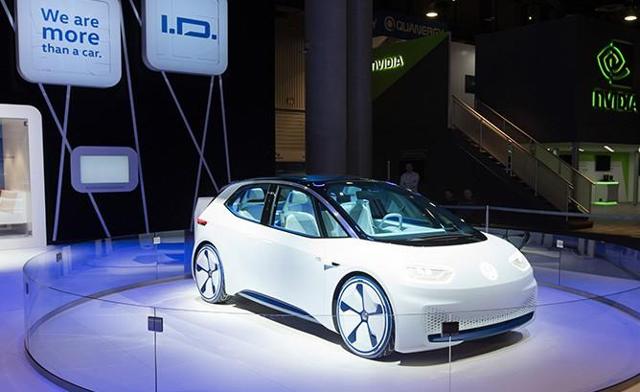 General Motors/Chevrolet (NYSE:GM)
The Chevy Bolt is now for sale in the US, and should soon be outselling the Chevy Volt. The Bolt will be sold in Europe as the Opel Ampera-E. Last month I reported that Motor Trend magazine awarded the Chevy Bolt as the "car of the year". I think the Bolt will be a big winner in 2017, and in the top three highest selling EV models in the US in 2017.
Ford (NYSE:F)
In January, BusinessWire reported: "Ford confirms seven of 13 new global electrified vehicles coming in the next five years, including F-150 Hybrid, Mustang Hybrid and Transit Custom plug-in hybrid. Ford to launch fully electric SUV with an estimated range of at least 300 miles and two new electrified police vehicles. Ford is canceling plans for a new $1.6 billion plant in San Luis Potosi, Mexico, and investing $700 million in the Flat Rock, Michigan, plant's expansion." Well done Ford.
Geely Automobile Holdings Ltd (HK:0175) (OTCPK:GELYY), Volvo (OTCPK:VOLVY), Kandi Technologies Group (NASDAQ:KNDI)
On January 26, Kandi announced, "that the Geely Global Hawk electric vehicle ("EV") model JL7001BEV18 (the Kandi Model K11) developed by Kandi Electric Vehicles Group Co., Ltd. (the "JV Company", a 50/50 joint venture between Kandi and Zhejiang Geely Holding Group) has been included in the Ministry of Industry and Information Technology of the People's Republic of China's (the "MIIT") Directory of Recommended Models for Energy Saving and New Energy Vehicle Demonstration and Promotion (the "Directory of New Energy Vehicles") in its first public announcement of 2017.
Great news for Kandi and also Geely.
UiSee
UiSee has developed the Urban Mobile Box, a fully electric and autonomous vehicle designed for semi-closed environments such as universities, theme parks, factories, and resorts.
China's UiSee Autonomous Urban Mobile Box at CES 2017
Conclusion
2016 EV sales grew 40% on 2015, with December global EV sales as the best sales month ever. US December sales were up 81% on 2015 levels, which bodes well for 2017.
2016 saw numerous Governments (Germany, Norway, Netherlands) ban ICE vehicles from 2025 or 2030, as well as many cities (Paris, Mexico City, Madrid and Athens) place various bans including bans on diesel vehicles. This will become more common going forward, as Governments try to clean the air pollution in our cities.
2017 will herald the arrival of the new affordable long range EV. You can read more in my recent article: "Electric Vehicles Set To Electrify The Market In 2017." You can also read about some of the new EV models coming in 2017 at EV Sales, or a list of EVs available in the US in 2017 here.
2017 may see some more consolidation amongst the ICE car companies as they seek to slash CapEx to transition to EVs, similar to what Renault/Nissan/Mitsubishi have already done. We have also seen collaboration to build a high speed charging network in Europe by BMW, Daimler, Ford, Volkswagen, Audi, and Porsche, that will start building 400 charging stations sites in 2017.
By end 2017, I think global EVs should move from 0.85% market share now to around 2% market share, and the 81% increase in December US sales supports strong 2017 growth, as several affordable new EV models hit the market. Also later in 2017 we should see the much awaited Tesla Model 3 commence production and deliveries. 2017 promises to be an epic year for EVs, and perhaps the year when EVs go from "niche" to "trendy', and by 2020 "mainstream".
As usual, all comments are welcome, and if you have some EV news from January that I have not covered, feel free to add it in with the link.
Disclosure: I am/we are long BYD CO (HK:1211).
I wrote this article myself, and it expresses my own opinions. I am not receiving compensation for it (other than from Seeking Alpha). I have no business relationship with any company whose stock is mentioned in this article.
Additional disclosure: The information in this article is general in nature and should not be relied upon as personal financial advice.
Editor's Note: This article discusses one or more securities that do not trade on a major U.S. exchange. Please be aware of the risks associated with these stocks.