By Parke Shall
When we last wrote about Banc of California (NYSE:BANC), we concluded that there were far too many unknowns to try and be a buyer of the stock after fraud allegations were made by a short seller here on Seeking Alpha.
Since then, a lot has happened, and we want to reiterate that we believe BANC is still uninvestable, but we also want to update our reasoning for maintaining this conclusion.
It came to light over the past week that BANC was now being formally investigated by the SEC. This came at the same time as the CEO resigning. Usually, this isn't a good sign when these things happen together. Bloomberg reported:
Banc of California, Inc. tumbled the most since October after Chief Executive Officer Steven Sugarman resigned and U.S. regulators opened an investigation into whether the firm misled investors in its fight against a short seller.

A team of executives will temporarily take over Sugarman's duties while the firm searches for a replacement, the Irvine, California-based company said Monday in a statement. Robert Sznewajs, the current chairman of the joint audit committee, was named chairman of the board.

Since Sugarman helped recapitalize the bank in 2010, the lender's assets have soared more than 10-fold. It was riding high enough to pay $100 million for the naming rights on Los Angeles's new soccer stadium, although shareholders raised concerns about deals that benefited his family members.

Banc of California's stock plummeted in October after an anonymous short seller published a report alleging ties between the bank's leadership and Jason Galanis, a California financier incarcerated in New York. The bank responded with a press release saying it was conducting an independent investigation. It now admits the statement was inaccurate and says the SEC subpoenaed related documents.
This investigation confirms that regulatory agencies are interested enough in the company to go into further detail and investigate. The ramifications from such an investigation have a wide range, from nothing, to paying a fine, to potential fraud charges. Any one of these outcomes is possible at this point, and investors who are buying BANC here need to understand that they are going to be facing at least one binary event in the future with the company.
For those unfamiliar with the story, it was just a couple of months ago that SA contributor Aurelius came out and began to allege ties to fraud at BANC. Since then, the company has commenced an internal investigation, and for the most part, the stock has rebounded. Here is a chart showing what the stock has done over the last few months. You can see the rebound in shares from late 2016 to present: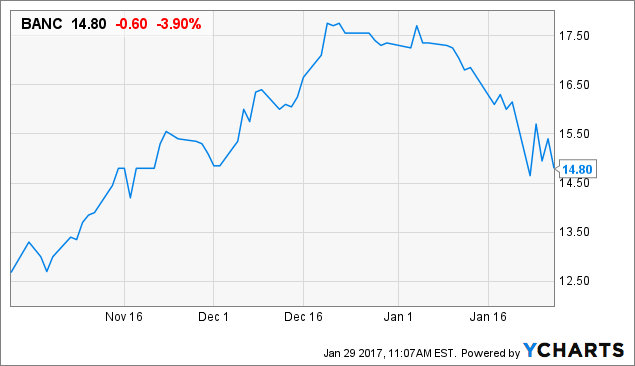 But don't mistake the rise in share price for a reason to go out and get confident about the stock again. Many of the original questions raised in late 2016 still hang over the head of the company. Whether or not the company has ties to Jason Galanis remains to be seen and flushed out by an independent third-party entity. In addition, a new blog published by Aurelius last week launched new allegations against BANC, including widespread mortgage fraud that could potentially cost the company billions:
We believe that the Board has not come clean regarding Galanis because of the risk that the FDIC might interpret this as a violation of the Federal Deposit Insurance Act (which prohibits felons from having either direct or indirect ownership or control). The act states that a knowing violation could result in fines of up to $1 million a day (an amount now above $1 billion which would obviously render the bank insolvent).
When we keep in mind all of the outstanding questions that are still up in the air, combined with the fact that regulators are just now starting to take interest, we have to reiterate our stance to avoid BANC. In addition to new allegations brought forth last week, the valuation does not look compelling for a company that we believe has a higher-risk profile the most. For instance, the company trades right around book value still, which is in line with most names in the banking sector that don't face what could be substantial regulatory risks.
BANC Price to Book Value data by YCharts
As you can see in the chart above, the P/B is relatively in line with most of its larger peers.
While rising rates traditionally are good for banks, Banc of California has a questionable base of assets that we believe needs to be discounted a bit more than most banks. At this valuation, we are simply not confident enough that the worst is over for us to believe that BANC is a good investment here.
While we will continue to monitor the situation and adjust our thesis accordingly, today we reiterate that we would be avoiding BANC.
Disclosure: I/we have no positions in any stocks mentioned, and no plans to initiate any positions within the next 72 hours.
I wrote this article myself, and it expresses my own opinions. I am not receiving compensation for it (other than from Seeking Alpha). I have no business relationship with any company whose stock is mentioned in this article.