Every month, I write an article about the nonfarm payroll expectations. As most traders know, we get employment numbers on every first Friday of each month. These numbers cause by far the most volatility among various asset classes.
However, let me say one thing before I give you Friday's outlook. NFP numbers are not leading. You don't get any employment numbers on Friday that tell you where the US economy is heading.
on Friday, you get to see what the US economy is currently doing. These indicators are called 'coincident indicators'. They tell us what the US economy is currently doing.
I am looking at one number on Friday: employment growth. I want to know whether the year-on-year growth rate of employment is going up or not. We have seen a downtrend for quite some time now. These downtrends are typical late-cycle patterns and should reverse any moment. Why? Because the US economy is accelerating since the third quarter of 2016.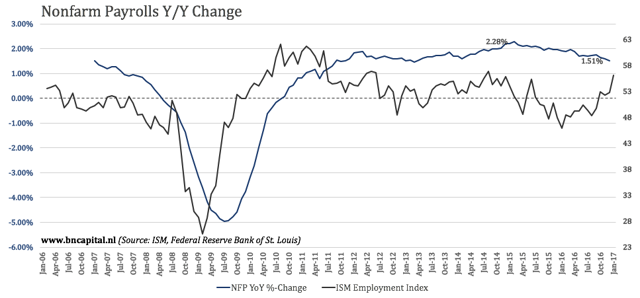 The graph above shows the ISM employment index. This index is leading employment index and should tell us what we can expect in terms of growth. The correlation between ISM employment and the month-on-month NFP change is even bigger than the one above.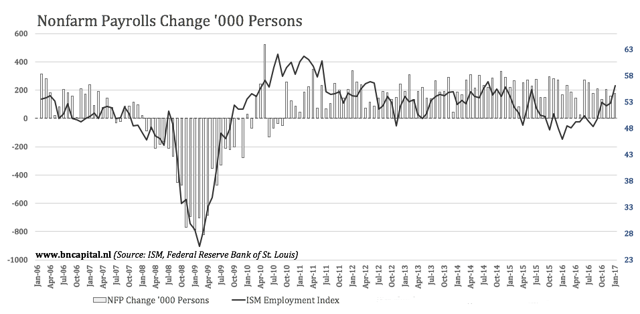 Note that I already added tomorrow's expectation of 175K new jobs. Based on strong manufacturing employment, I believe that we are going to see a slightly higher number.
The next graph contains the average employment index from five major regional indices. This index is also leading. During the last two weeks, I discussed every single regional report and mentioned that it looks like employment is bottoming. The average on the graph below confirms this. Based on this upswing, it is very unlikely to see a low NFP number. Numbers close or above 200K are common in times of a strong employment rally.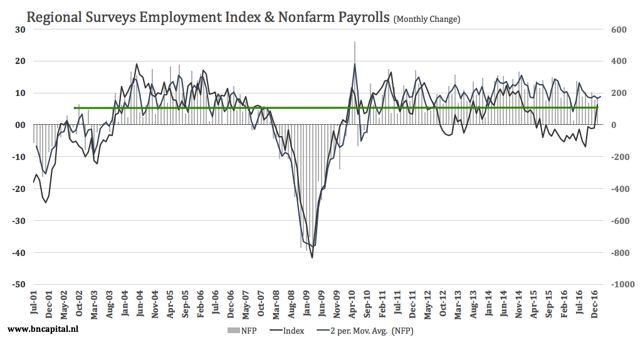 The FED's employment indicator is slightly down in December. Note that there is no January value. The labor market conditions index is a coincident indicator and can be adjusted every single month.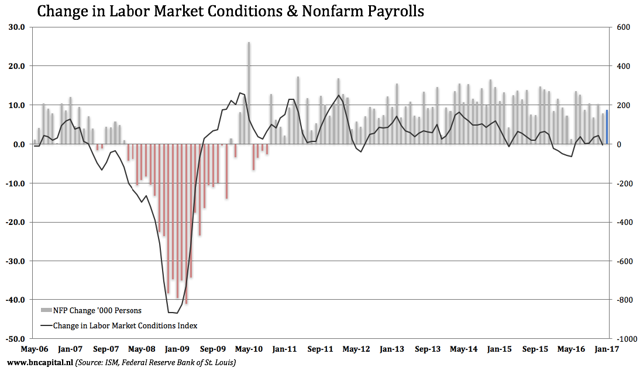 I use this indicator as a tool to see where employment is trending. I believe that both the labor market conditions index and official employment (year-on-year) growth will bottom in the first quarter of this year.
This Friday, I am not betting on an NFP outcome. I am sticking to my current portfolio (bullish bias). I do this because of the reasons I just explained. The market will overreact after the numbers. Many people will try to get a macro view by analyzing Friday's noise on the media. My advice is to analyze Friday's data carefully. Where is employment growth headed? Are there any surprises we didn't expect? Etc. And keep in mind that it is very likely that we will see a better number than expected due to very strong leading indicators.
Many thanks for reading my article. You can of course expect a full employment breakdown next Friday. Please leave a comment below if you have questions or remarks.
Disclosure: I/we have no positions in any stocks mentioned, and no plans to initiate any positions within the next 72 hours.
I wrote this article myself, and it expresses my own opinions. I am not receiving compensation for it (other than from Seeking Alpha). I have no business relationship with any company whose stock is mentioned in this article.