Starting this year gold (NYSEARCA:GLD) and stocks (NYSEARCA:SPY) started moving together again. It's a sign the reflation trade is placing its claws in markets.
Gold And Stocks

Source: Interactive Brokers
Ahead of this year the S&P 500 and gold diverged. Starting in 2017 gold and stocks started moving up together.
Typically gold is a safe haven. When markets go down gold goes up.
Moving together is meaningful.
Reflation Or Safe-Haven
Reflation is a term used when bouncing back from a downturn.
Today the term has been used to expect an inflation pickup led by more aggressive fiscal policy.
The expected pickup in inflation may have started to move gold higher.
That pickup in inflation as long as the rate remains below 2% also is good for stocks.
As inflation picks up closer to 2% gold can do well along with stocks.
Stocks in this case don't need to take a hit for gold to go higher.
If stocks were to see downside though gold would benefit there too.
But After 2% Inflation...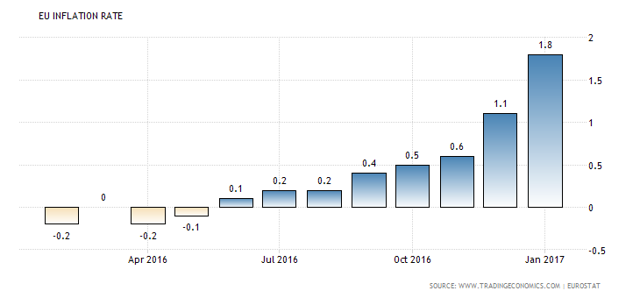 Source: Trading Economics
The EU has seen an acceleration in the rate of inflation.
When inflation jumps pass 2% the ECB will have to more strongly consider halting their bond buying initiative. They may need to consider moving off of flat rates. They would need to reverse and tighten.
At that point bond rates would jump. Investors would likely sell non-yielding gold in favor of higher rates.
Until then inflation should benefit gold. It's a tightrope though, but for now there is visibility for gold to move up.
Same For Stocks
Inflation is good for stocks but higher rates work against equities. Higher interest rates also give investors an alternative asset class to invest.
For now low but rising rates of inflation are good for stocks but when inflation skips pass 2% and central banks need to aggressively tighten, stocks would have risk.
Conclusion
Gold and stocks moving together tells us inflation is picking up but not strong enough yet for central banks to ruin the festivities.
Premium Service price rise March 1. Lock in the lower price.
Pro Trader on Seeking Alpha is designed to enhance your trading performance and skills. Our daily calls should help enhance profits in SPY, Gold, Oil and more.
Click here for a free trial of Elazar's Pro Trader on Seeking Alpha.
If you liked our work scroll to the top and click "Follow."
Disclaimer:
ETFs reported by Elazar Advisors, LLC are guided by our weekly and monthly methodologies. We have a daily overlay which changes more frequently which is reported to our premium members and could differ from the above report. Portions of this article may have been issued in advance to premium members. All investments have many risks and can lose principal in the short and long term. This article is for information purposes only. By reading this you agree, understand and accept that you take upon yourself all responsibility for all of your investment decisions and to do your own work and hold Elazar Advisors, LLC and their related parties harmless. Any trading strategy can lose money and any investor should understand the risks.
Disclosure: I am/we are long S&P 500 BUT THAT CAN CHANGE OR REVERSE AT ANY TIME.
I wrote this article myself, and it expresses my own opinions. I am not receiving compensation for it (other than from Seeking Alpha). I have no business relationship with any company whose stock is mentioned in this article.