The shares of Dollar Tree Inc. (NASDAQ:DLTR) represents excellent value at these prices. It seems that the Dollar General acquisition as of July 6, 2015 is definitively showing benefits and the current 12% discount to the overall market represents an opportunity that investors should pounce on.
It is a sustainable and recession-proof business that is more than just a recession-proof business. On both sides of the border, these retailers have grown their share of the retail dollar and now offer up market products in addition to the standard deep discount fare. The result is that companies like Dollar Tree deliver results in good times and bad, and for that reason, investors should strongly consider purchasing shares.
Revenue Growing, Net Income Growing Faster
The first 39 weeks of 2016 had revenue almost exceed the entirety of 2015 and generated net income approximately double that of the prior year. Admittedly, much of this is the result of a short-term jump in SG&A expenses, but the results are still impressive in my view. It is unsurprising in light of the fact that selling square footage has ballooned after the Dollar General acquisition. There are two implications of this.
First, it seems that the company is generating higher revenue. More importantly, net income is growing at a faster rate, which is a sign that this is a scalable business. Such a business doesn't deserve to trade at a discount to the overall market. Rather, it's reasonable to suggest that such companies should trade at a premium.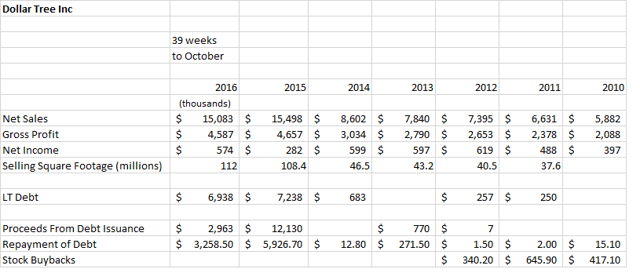 The Capital Structure
Long-term debt ballooned in 2016 to finance the Dollar General acquisition, so the risk to the capital structure has certainly elevated. That said, the company seems to be paying down debt aggressively. During the first 39 weeks of 2016, debt declined approximately 4%. This relieves some of my usual trepidation about excessive leverage. In addition, 43.5% of long-term debt is due in the year 2020 or later (33.5% of it is due in the year 2023), which indicates to me that a short-term liquidity crisis is unlikely.
Technical Snapshot
We have identified what we like to call an 'extreme support level' for DLTR at the $73.00 level. An extreme support level is a price point at which buyers have repeatedly rushed in to scoop ups shares of a company sparking a bullish run. The chart below shows that over the last twelve months, DLTR shares have rallied significantly on three occasions after touching $73.00.
The shares touched $73.00 once again on January 30. Yesterday we bought the 17MAR17 75 Call Options, which will provide us with approximately 11x leverage on our LONG trade. Our initial stop-loss exit signal for the trade will be a daily close below $73.00.
We expect the shares to rally to $83.00 over the next three months.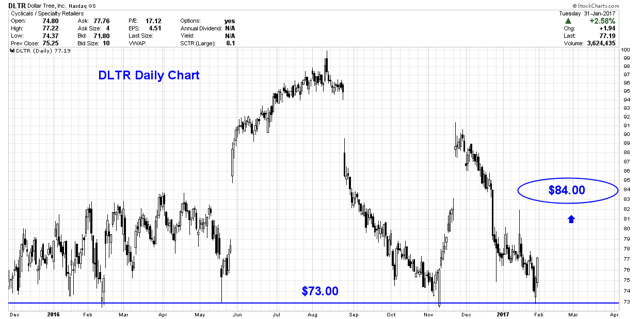 Conclusion
The shares of Dollar Tree trade at a discount to the overall market, and that makes little sense in my view. This is a company that is quickly improving its capital structure after the Dollar General acquisition, and that acquisition seems to be paying off quite well, as revenue and net income are both up fairly dramatically. In addition, this is not only a recession-proof business, but one that can deliver results in good times also. Selling square footage is expected to increase, which will drive net income, and book value growth, which is why I am recommending purchasing the shares at these (discounted) levels.
Disclosure: I am/we are long DLTR.
I wrote this article myself, and it expresses my own opinions. I am not receiving compensation for it (other than from Seeking Alpha). I have no business relationship with any company whose stock is mentioned in this article.