Overstock.com (NASDAQ:OSTK) started out the month of February with a 20% jump in early trading. Investors seem jubilant over the Q4 and FY2016 results. A twenty plus percentage uptick is unwarranted when looking at some details of the company filings.
First off, Overstock is not an investment. At best, the equity can be used as a vehicle for day trading and short term trades aimed at riding the massive swings in the stock price month-to-month. In each of the past ten years, the stock price has swung by more than 50% in any 12-month time frame. For long-term investors, the equity price is essentially unmoved from its levels 10 years ago in February 2007.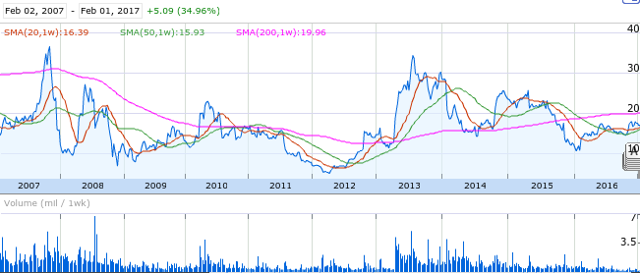 Source: Google Finance
Overstock has been a horrible long-term investment. For a savvy trader, however, it has represented a great trading opportunity. For those wise enough not to make long term bets in this poorly run company, now would be a great time to get out given that these dramatic swings in pricing often dissipate quickly after materializing.
On a closer look at the earnings release, investors can see the underlying weakness in the company's overall business prospects. Top and bottom line numbers did bare solid growth. For the FY, revenues increased 9%, margins remained flat, and net income increased by $10.1 million. To get a 9% increase in sales the company had to increase marketing costs per customer by 29%. Marketing costs increased but didn't impact margins because the company is continuing to shift to higher margin merchandising. Despite the dramatic increase in marketing expenditures, the company actually saw a continuation of a multi-year decline in unique customers. Overstock, even with greater advertising, is still losing customers. Sales only continue to increase because of larger order sizes. Again, that is a reflection of the merchandising shift toward large items (furniture and household goods) rather than traditional organic growth one might have assumed.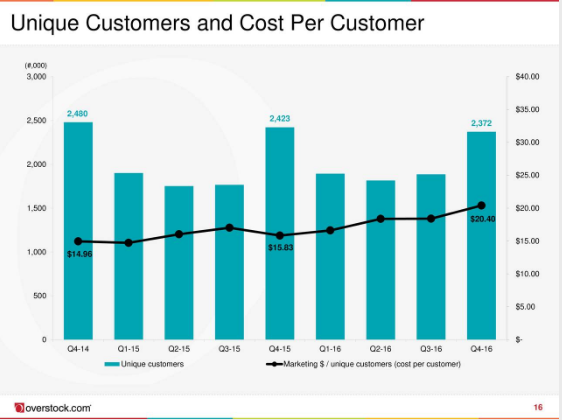 Source: OSTK investor presentation
As investors continue to analyze the numbers, they appear to be getting less optimistic. In early morning trading the stock was up as much as 24%. As the day progressed, the gains declined as investors, presumably taking a closer look, accelerated sell orders. Of course, some investors could just be taking profits as the equity was in the low teens for much of the past year. Those selling now are probably making a wise bet, as the share price tends to tank soon after these rapid pricing increases.
Overstock trades at a rich PE for a company with slow growth. With $0.49 for 2016, the company trades at 41x trailing earnings. That is double the S&P 500. Additionally, the FY earnings are almost entirely from a $20 million cash settlement booked in Q1 (Overstock really likes to sue people). In fact, if not for the hundreds of lawsuits brought by the company over the years, they would have rarely ever booked any material profits.
Overall, the business at Overstock remains weak and still doesn't appear to be entering any sustained improvement. Additionally, the company is still saddled with bizarre and unnecessary side expenses like the Medici projects and the massively overpriced headquarters. As a trade, Overstock can still be a fun bet (if you have luck in day trading), but long-term, it remains a poor investment.
Disclosure: I/we have no positions in any stocks mentioned, and no plans to initiate any positions within the next 72 hours.
I wrote this article myself, and it expresses my own opinions. I am not receiving compensation for it (other than from Seeking Alpha). I have no business relationship with any company whose stock is mentioned in this article.