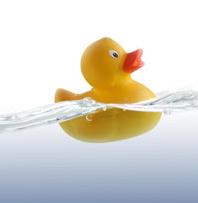 Back in January 2014, the U.S. Treasury began issuing a new kind of security: Floating Rate Notes, or FRNs, a 2-year investment with interest payments that rise and fall based on auctions of 13-week Treasury bills.
Because interest rates seem to be in an upward trend, should FRNs have a place in your portfolio? And how do they compare with other safe investments?
TIPS and I Bonds have a special place in portfolio allocation because they 1) are super safe, 2) provide a rate of return that usually is close to or better than nominal Treasurys of the same term, and 3) provide insurance against unexpected future inflation.
FRNs are also super safe and provide insurance against an unexpected future rise in interest rates. But will they outperform similar-term Treasuries or other safe investments of similar terms? That's the where FRNs get complicated.
The interest rate of an FRN changes, or "floats," until maturity. The rate - paid quarterly - is the sum of two components: an index rate and a spread. Here are the Treasury definitions:
Index rate. This rate is tied to the highest-accepted discount rate of the most recent 13-week Treasury bill. The Treasury auctions a 13-week bill every week, so the index rate of an FRN is reset every week.
Spread. The spread is the return higher than the 13-week rate. The spread stays the same for the life of an FRN. The spread is determined at the auction where the FRN is first offered.
In 2014, FRNs looked like an awful investment for a small investor. At the time, a 13-week Treasury was yielding 0.040% and the first FRN auction generated a spread of 0.045%, creating an overall current yield of 0.085%. Not even worth considering.
But now, in February 2017, conditions have changed. The 13-week Treasury is yielding 0.52% and the latest FRN auction on January 25 generated a spread of 0.14%, for an overall current yield of 0.66%. Not so bad as a cash alternative, but how does it compare to similar 2-year investments?
Money market. Vanguard's Federal Money Market Fund has a current yield of 0.41%, which will rise if short-term interest rates rise. It is a cash equivalent and can be sold at any time.
2-year Treasury. A nominal Treasury is currently yielding 1.19%, or 53 basis points higher than the FRN.
2-year bank CD. Best-in-nation 2-year CDs are yielding around 1.50%, 84 basis points higher than the FRN.
For a small investor, the 2-year bank CD is the best comparison, since it offers the best yield spread. Even if the Federal Reserve raises its Federal Funds Rate three times in 2107 - which would probably equate to 75 basis points - the 2-year CD would still outperform the FRN.
My first impression of FRNs back in 2014 was that they weren't really designed with a small investor in mind. (By small investor, I mean someone with less than $10 million in investable assets.) Although I find them more interesting in 2017, I still think they are best left to big money investors like insurance companies, corporate CFOs and hedge funds that need predictable, safe 2-year returns.
If you are interested in FRNs. The Treasury auctions FRNs every month, with new issues coming in January, April, July and October and reopenings in the other months. The next auction will be February 22, a reopening of CUSIP 912828V64 with a spread of 0.14%. In reopenings, the 'coupon' spread remains constant but you could pay above or below par if the market has shifted.
If you purchase an FRN electronically through Treasury Direct, the minimum purchase is $100 and there are zero fees. No big money needed.
Another option is to invest in the iShares Treasury Floating Rate Bond ETF (TFLO), which invests only in Treasury FRNs. It has an expense ratio of 0.15% and a current yield of 0.38%. On the plus side, it has almost zero interest rate risk, with an effective duration of 0.01. But with returns this small, the expense ratio takes a hit from the return: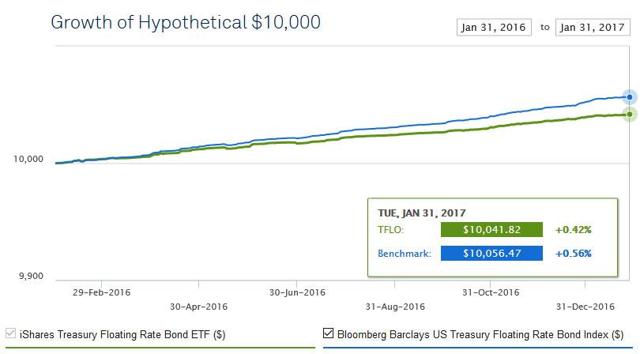 In this case, a direct investment in a bundle of FRNs at Treasury Direct - bypassing any commission or fees - looks like the best option.
Obviously, you won't get rich investing in FRNs, but they do offer protection against rising interest rates (but not rising inflation) and therefore complement investments in TIPS and I Bonds, which offer protection against rising inflation (but not rising interest rates.)
Disclosure: I/we have no positions in any stocks mentioned, and no plans to initiate any positions within the next 72 hours.
I wrote this article myself, and it expresses my own opinions. I am not receiving compensation for it (other than from Seeking Alpha). I have no business relationship with any company whose stock is mentioned in this article.