Note: This article was originally published January 19th on Value Investor's Edge, a Seeking Alpha subscription service.
Overview
Asia and Europe are becoming more interconnected. The latest development comes as the UK receives its first direct shipment from China via freight train which could dramatically alter trading patterns for land, air, and sea.
This new rail route, which directly connects 16 cities in China with 15 cities in Europe will traverse Kazakhstan, Belarus, and the EU before entering the UK via the Channel Tunnel.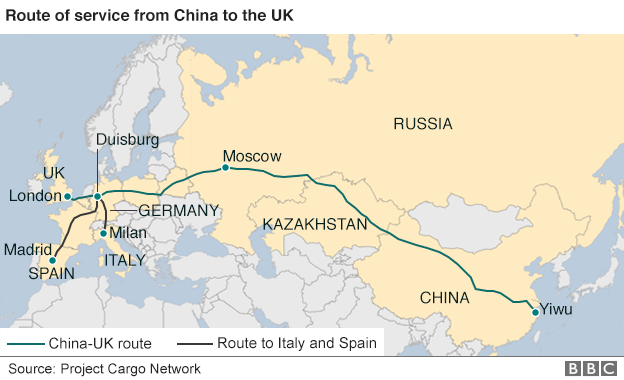 Source: BBC
It is part of a rapidly growing network that now consists of 39 rail lines. Russian Railways claims to be developing a high-speed rail freight train that can carry a full load of cargo at 300 kilometers per hour dropping the transit time to just two days.
This development could see some cargo diverted from containerships in favor of this new railway. Some of the containership companies traded in the U.S. market include Seaspan Corporation (NYSE:SSW), Costamare, Inc. (NYSE:CMRE), Diana Containerships, Inc. (NASDAQ:DCIX), Global Ship Lease, Inc. (NYSE:GSL), Danaos Corporation (NYSE:DAC), Box Ships, Inc. (NYSE:TEU), Ship Finance International Limited (NYSE:SFL), and Navios Maritime Partners L.P. (NYSE:NMM).
The Rail Advantage
The railway is a significant strategic development which is key to Xi Jinping's multibillion-dollar 'One Belt, One Road' strategy, which was launched in 2013. This infrastructure and trade network is designed to connect Asia with Europe along old Silk Road trading routes.
There are advantages as well as disadvantages of moving freight by rail from China to Europe. Those must be weighed when determining the proper way to ship specific freight.
Time-sensitive material will still see the use of air freight, though that method still costs twice as much.
Far less time-sensitive material will still utilize containerized shipping which holds significantly greater cost savings, approximately 50%, but represents about 200% greater shipment time.
But for expensive types of merchandise that need to be delivered fast, trans-Eurasian rail is becoming a real alternative to expensive air freight. Forbes notes that some of those items may include "electronics, fashion items, car parts, heavy machinery, premium agricultural goods, and fresh meat."
The BBC reports:
The UK's biggest supermarket, Tesco, doesn't have any goods on this particular (initial) train but does use rail to carry toys, electrical goods, homeware and clothing from China to European rail hubs such as Bratislava in Slovakia and Krasnaje in Belarus. Alistair Lindsay, Tesco's head of global logistics, says the supermarket prefers shipping its goods because this is the most environmentally friendly way, as well as offering the best value for money, but that "where we need to move products quicker we have that option to do it by rail."
But other factors could come into play explains Karl Gheysen, the CEO of Kazakhstan's dry inland port, Khorgos Gateway who told The Loadstar that "HP (HPQ), for example, manufactures more than 1,000km from a seaport. If you add inventory costs during transport, and first and final mile, sea becomes less cheap, especially for higher-value goods. It's [rail] the perfect middle ground. And there are different product groups that fit in that pitch."
This initial train carried clothes, socks, shoes, bags, suitcases, wallets, and various household items. Ten containers were taken off at the German cargo hub of Duisburg. The rest made up the first cargo train from China to arrive in London at Barking's Eurohub freight terminal.
Furthermore, The Loadstar reports that postal services are increasingly taking notice of the rail services, while Alibaba (NYSE:BABA) is thought to be "very interested."
While time is a key component in making a shift to rail, the ease at which supply chains can be altered is also something to be considered. Demand for inputs pertaining to manufacturing fluctuations could now be fulfilled through rail without resorting to expensive air freight and without waiting for a lengthy voyage by ship. A viable middle ground has emerged in the Europe-Asia supply chain.
Growth Potential
Karl Gheysen noted that currently "the capacity is 540,000 teu a year, but we could make it a million."
Plans are in the works for China to add an additional 20 European routes for rail freight.
While these routes were initially designed to increase China's ever-expanding global export presence, European companies hope that return trips may begin carrying European goods to China.
China is currently the European Union's second largest export market. Europeans are hopeful that when the train makes its return journey back to China, it may be carrying British goods such as produce, chemicals, cars, and machinery such as airplane components and car parts. Additional stops in other nations with significant exports to China such as Spain, France, Russia, and Germany could add freight cars laden with cheese, wine, beer, and food, and wood products - just to name a few.
The BBC reports:
Brand Avenue is a company that already exports British-made goods including cosmetics and jewelry to China, and chief executive Jody Jacobs says he's exploring moving to rail. "We deal a lot in goods which weigh a lot in comparison to their volume [which is] where airfreight becomes expensive, such as cosmetics and baby food. "So for us a service which is quicker than sea and cheaper than air is a great middle ground."
Impact on Maritime Trade
The container shipping segment has recently been under severe pressure from an oversupply of vessels which has caused freight rates to plummet and resulted in massive consolidation and restructuring across the industry. The recent collapse in this particular segment also resulted in the largest maritime bankruptcy ever recorded, Hanjin Shipping, which disrupted global trade and sent shock waves through the supply chain.
The short run for this segment continues to look bleak and this latest development brings more trouble over the long run to be certain.
The routes between China and the EU are among the most important globally for the container shipping fleet and the threat of stagnant, or now negative growth, in these vital lanes casts a shadow over the future for several companies which are already struggling.
The Loadstar reports:
Some estimates suggest the rail connection could take as much as 10% of sea freight volumes on the relevant tradelanes, but Mr Gheysen disputed this: "it could take maybe 3-5%. That would be the maximum."
But as noted earlier, more freight lines are planned to connect even more destinations, which could further disrupt maritime trade. Furthermore, if plans for a high-speed freight line come to fruition, more goods will likely find their way onto these trains, though that particular development would impact air-freight significantly more than maritime trade.
Hurdles
Of course, as with most things, there are always obstacles which stand in the way. In this particular case, the shift from shipping to rail could come at the expense of the environment. Some estimates place emissions from moving a 20-tonne container by sea at about half of that of rail. Though it is noteworthy that both sea and rail offer significant environmental advantages over that of air, so a rebalancing will occur and where those emissions level out has yet to be determined.
Another concern is that the technical specifications of the railway system and rail tracks are different between China, countries in Central Asia, and those in Europe. Trains need to change from one rail track system to the others when crossing the China-Russia border, entering Central Asia (countries such as Kazakhstan), and arriving in Eastern and Western Europe. Other times cargo must be shifted off one train and put on another. However, much of this logistical problem has already been addressed and should present very little problems.
Conclusion
The container shipping segment is struggling and bad news keeps piling up. This latest development threatens to divert cargo, which was once transported by box ships, over to railways which can provide a significantly faster transit time.
Furthermore, future expansion of this rail network looks to tap more markets and increase available cargo capacity making this a long-term story.
Drops in container shipping cargo over these trading lanes looks to be a given at this point, but the degree of the drops is debatable. Even a 3% drop would make a significant dent in the market, and a potential drop of 10% would be a major hardship for the container shipping segment, which is already near all-time lows in terms of freight rates and utilization.
Both the degree and rate of adoption of this new railway will now become a concern for those invested in the container shipping industry going forward.
Thank you for reading and I welcome all questions/comments.
If you would like to stay up to date on my latest analysis, I invite you to follow me on Seeking Alpha (click the "Follow" button next to my profile picture at the top) as I continue to cover all aspects of maritime trade.
Value Investor's Edge
Value Investor's Edge is a top-rated Seeking Alpha research service which focuses primarily on the volatile, and therefore potentially very profitable, shipping industry. Members receive a two week lead time on all reports by James Catlin alongside exclusive content by J Mintzmyer, a top tier deep value analyst who achieved a 75% accuracy rating in private speculative picks during 2016. This platform offers unparalleled coverage of shipping through Mr. Catlin's data driven macro analysis which often complements Mr. Mintzmyer's company-specific analysis. This combination frequently presents actionable trades and strategic income opportunities based on rigorous analysis and event-driven positioning. This winning team has developed a dedicated following of highly knowledgeable investors and industry professionals who also share their own thoughts and ideas on Value Investor's Edge.
Disclosure: I/we have no positions in any stocks mentioned, and no plans to initiate any positions within the next 72 hours.
I wrote this article myself, and it expresses my own opinions. I am not receiving compensation for it (other than from Seeking Alpha). I have no business relationship with any company whose stock is mentioned in this article.