We invest in businesses, which is challenging enough, but we must access the future cash flows of those businesses through the surrogate that supposedly represents the fortunes of the business, namely the stock. That exacerbates the problem considerably.
It's not a controversial statement to say that the stock is governed at least as much by crowd mania and panic as it is by anything relating to the ongoing fortunes of the business. As proof of this statement, consider the fact that companies release fundamentally relevant information relatively infrequently, yet the share price shows wild swings based on the mood of the market. The crowd forecasts what will happen to a given business at some future date, and our challenge is to remind ourselves that the crowd is often wrong - over some time referent at least. It's with all of this in mind that I'd like to examine Pentair (NYSE:PNR). My take on this company could be summed up with a dispassionate "meh." In light of that, the shares don't deserve to trade at the premium they do in my opinion.
Revenue and Net Income
I like surprises in some domains of my life, but when it comes to my investments, I like consistency and predictability. Pentair hasn't delivered either for some time. For instance, revenue has been up and down quite a bit over the past six years, and net income has been negative fully 50% of the time.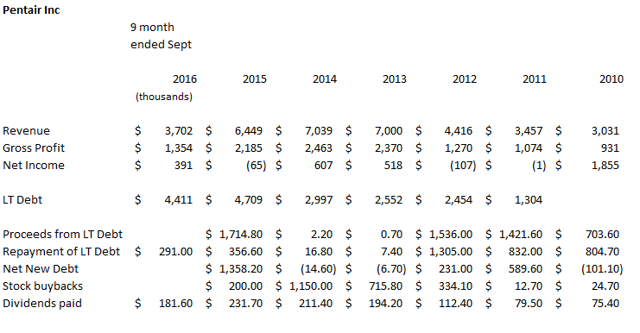 The Capital Structure
At the moment, the long term debt to equity ratio at Pentair is an eye watering 1.01. Those who have read my writings about debt loads know that I find this troubling. On the plus side, at least the company paid down some of the debt, as long term debt declined by a full 6%. This is, admittedly an impressive feat in my view. Additionally, most of the debt is due after 2019, which suggests there's little chance of an immediate liquidity crisis.
The Stock
In light of the high levels of debt here and the operational inconsistency, one might expect a stock that trades at a discount to the market. Perhaps a significant discount for taking on the risk of owning such an unpredictable name. It turns out the opposite is true. With a PE of 94.56 and an EV/EBIT of 48, with its implied earnings yield of about 2%, suggests a company with a history of strong growth, and the expectation of years of growth to come. But nothing in the past performance of this company points to such an optimistic future.
Technical Snapshot
As per our ChartMasterPro Daily Price Model the trend for PNR turned Bearish on January 31. After a false bullish breakout above the $61.00 resistance level on January 25 the stock reversed sharply to the downside. We see a downward price target of $54.00 over the next six months.
Today we will buy the PNR 17MAR17 60 Put Options which will provide approximately 12x leverage on our SHORT trade. Our initial stop-loss exit signal will be a PNR daily close above $60.00.
For investors in the shares we recommend you SELL to avoid any further price decline.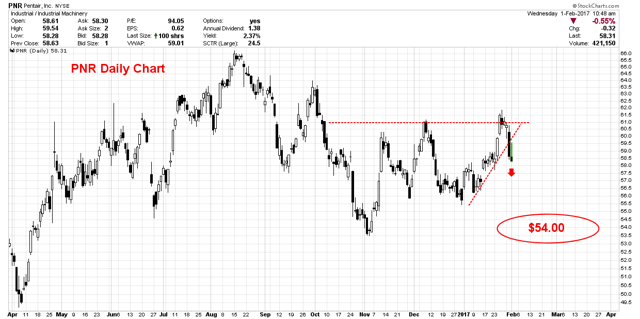 Conclusion
The problem with Pentair shares gets to the heart of one of the key challenges to investing in my view. There is an inverse relationship between the amount we pay for a dollar of future earnings and the return we make on that investment. When shares are expensive (especially when they trade at a 300% premium to the market), the underlying business must be excellent to warrant this kind of premium. Unfortunately, Pentair is barely adequate and far from excellent in my view. Although debt has been paid down aggressively, it remains troublingly high. The revenue has been choppy and net income has been negative at least as often as positive. Thus, I strongly suggest that investors avoid these shares.
Disclosure: I/we have no positions in any stocks mentioned, but may initiate a short position in PNR over the next 72 hours.
I wrote this article myself, and it expresses my own opinions. I am not receiving compensation for it (other than from Seeking Alpha). I have no business relationship with any company whose stock is mentioned in this article.