If any company has a lot to lose from anti-American sentiment in the wake of President Trump's actions on refugees and immigration, it's Starbucks (NASDAQ:SBUX).
The company markets heavily to urban elites - the term "latte-sipping liberals" is synonymous with Starbucks' customer base. The term may not please conservatives who like blended caffeinated drinks, not to mention progressives who prefer black coffee, but there's a certain ring of truth - Seattle-based Starbucks' corporate culture caters to progressives with its focus on diversity and inclusion.
But outside the United States, those distinctions may be lost, and it's a high-profile American company that's a target for activists. Trouble began last week in Mexico after Trump set in motion construction of the border wall. An #adiosstarbucks campaign started on Twitter and sales were reported down at some outlets. Starbucks has 565 stores in the country. These are owned by a Mexican partner, Alsea (OTCPK:ALSSF), which also serves other Latin American markets.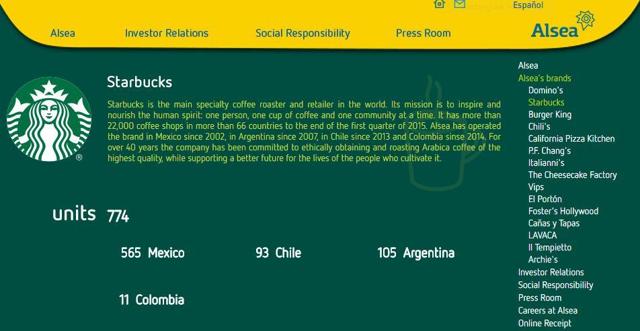 Source: Alsea website
Then came Trump's order Friday night halting refugee admissions. Not even waiting for a workday, CEO Howard Schultz wrote a letter to partners Sunday criticizing the order and vowing to hire 10,000 refugees in 75 countries in the next five years. That sounds like a lot, but it is only about one partner for every three stores.
Significantly, the letter included a section entitled "Building Bridges, Not Walls, With Mexico," highlighting the company's social efforts there and promising support.
We stand ready to help and support our Mexican customers, partners and their families as they navigate what impact proposed trade sanctions, immigration restrictions and taxes might have on their business and their trust of Americans. But we will continue to invest in this critically important market all the same."
Schultz's letter also included support for "Dreamers" (undocumented immigrants brought to the U.S. as children), a federal program in limbo.
The stance, about as subtle as black espresso, produced a movement to boycott Starbucks, which in turn produced a counter-reaction urging people to visit more often. (Seeking Alpha contributor David Pinsen wrote this week about the company's domestic political risk in what may become a "Cold Civil War.") Barron's noted the effect of a boycott is difficult to measure and could actually help sales.
International Political Factors
The main risk, though, is international. Starbucks has two key profit drivers - same-store sales and net store openings. While either domestic or international same-store sales could be affected by boycotts, store openings are also impacted by international events that could cause regulatory delays, while domestic store openings aren't really affected.
The company has more than 25,000 stores in 70 countries at present, including 13,000 in the United States. Some 1,300 of the company's 2,100 new stores this year are expected from outside the Americas. In fact, the company's China Asia-Pacific sales are growing more than twice as fast as in the Americas.
If U.S.-China relations deteriorate significantly as a result of a possible trade war, the potential impact on Starbucks would be far greater than in Mexico. Schultz has said he believes China will one day surpass the U.S. as the company's largest market. Its current goal is 5,000 stores by 2021, up from 2,400.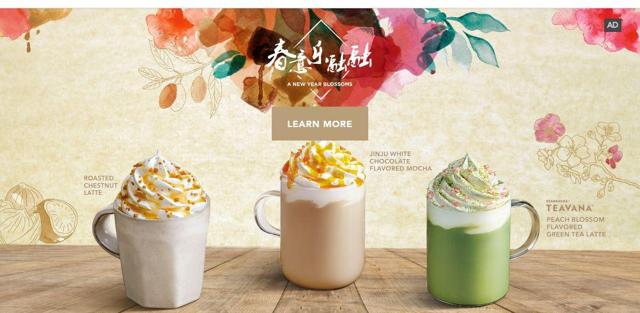 Source: Starbucks China web page
The company goes to a lot of effort tailoring a selection of drinks to tea-loving China, as shown in the beautiful web ad above.
A third way international politics can impact the company is tax policy. German Chancellor Angela Merkel mentioned Starbucks over the weekend in a speech about alleged tax avoidance by multinationals.
Starbucks has been in the cross-hairs of European Union regulators. The company is appealing a 2015 order by EU watchdogs to repay 30 million euros ($32 million) in taxes. EU Competition Commissioner Margrethe Vestager has prioritized the fight against special tax treatment for certain companies, arguing that it amounts to illegal state aid.
Anti-American sentiment in Europe makes the company an even more tempting target.
Conclusion: It's impossible not to make enemies when companies enter the political arena, but from a business point of view, Schultz is probably right to associate Starbucks with pro-immigration stances that could tend to lessen anti-American sentiment in international markets.
With no evidence a domestic boycott will have any effect, there's no reason for shareholders to sell, but they should watch closely for any international threats that might derail key expansion plans.
Disclosure: I am/we are long SBUX.
I wrote this article myself, and it expresses my own opinions. I am not receiving compensation for it (other than from Seeking Alpha). I have no business relationship with any company whose stock is mentioned in this article.