Preferences are a hard thing to change. President George H.W. Bush famously banned broccoli from Air Force One noting, "I do not like broccoli and I haven't liked it since I was a little kid and my mother made me eat it. And I'm President of the United States, and I'm not going to eat any more broccoli!" Preferences in my own family aren't entirely congruous with President Bush. My wife Cathy and I have tried everything to get our eldest daughter to eat any vegetables, let alone broccoli. Meanwhile our other two daughters love anything green and especially broccoli. And in all likelihood, those preferences will stick with them for decades, if not the rest of their lives. As I said before, preferences are remarkably difficult thing to change. And that can be a good thing, particularly of ETFs, or exchange-traded funds.
Last week, I attended the Inside ETFs conference, the largest ETF conference out there. It was the eighth year I've attended this conference and attendance seems to grow proportionally with interest in ETFs. Every year, there's a new record in ETF assets under management and flows. Yet even with the eye-popping growth of the ETF industry over the past couple decades, the consensus view is that we are still in the early stages of growth, i.e., the vast majority of ETF growth lies ahead.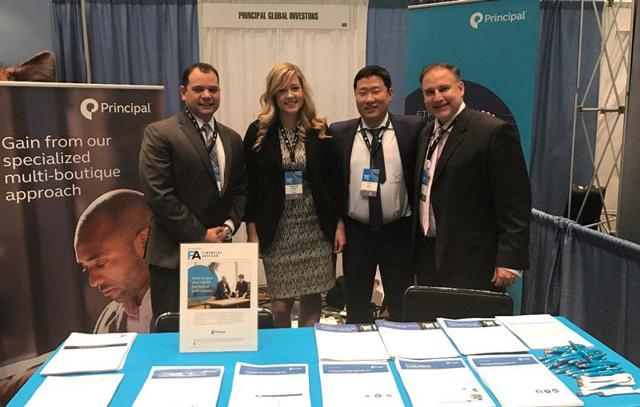 Principal's booth at Inside ETFs
What's behind this growth? The simple answer is investor preference. Investors have a preference for convenience, value for money, and choice - like practically all consumers. These are all qualities that ETFs typically display: the convenience and accessibility of an exchange-listed security, daily transparency, generally lower costs and potential tax and trading advantages relative to mutual funds, and a seemingly limitless menu of asset classes and strategies. There's also the ongoing shift from active to passive management, and 99% of ETFs are passive. In 2016 alone, investors moved nearly US$360 billion in assets out of actively managed funds and into ETFs and index funds. It's worth saying, though, that the benefits of convenience, value, and choice can apply to actively managed ETFs as well.
That gets us back to the idea of preferences. Sometimes, preferences lock in at an early age, as in the case of the Kim household's various relationships with broccoli. The relationship of interest here is between ETFs and the generational cohort known as millennials. This generation, known for a focus on convenience and an attitude of self-reliance, is an overriding megatrend that all industries. And millennials largely prefer ETFs.
In fact, millennials' investment portfolios have twice the allocation to ETFs than all other investors. As millennials get older, their earning power will grow, and their investments will increase proportionally. As that happens, the share of ETFs is likely to grow as well.
When it comes to looking for an ETF, it's important for investors to look for a partner that offers a demonstrated history in investment management and not just a large suite of funds. Keep in mind, the ETF is really just a vehicle to access an underlying strategy, so that strategy has to be sound and it has to fit into your investment goals. And while the early growth in the ETF marketplace was largely based on offering access to asset classes, i.e., cheap market exposure, we believe the next stage of growth will be built around better solutions. This means better investment outcomes and performance through efficient active management and smarter market exposure. As these options become more widely available, we're likely to see long-held preferences for convenience, value, and choice become more and more attached to a preference for ETFs. Indeed, ETFs could be the investment "superfood" of the new century…healthy and nutritious for investors.