The market is telling us it may be. A close below 2287 in the E-Mini S&P 500 futures today would be the second consecutive close beneath a previous day's low, generating a sell signal in the process. The talking heads on TV are blaming today's big selloff on the abrupt and wide-ranging immigration ban enacted by the Trump administration over the weekend. While this may be the catalyst, stocks have been way overdue for a meaningful correction.
The chart below shows just how expensive the market has become. As we mentioned in RMB's first blog of 2017, the market's Shiller PE ratio is approaching the 30 level that preceded the Crash of 1929. While that doesn't necessarily mean a top is nigh - market PE climbed as high as 43 just prior to George W's presidency - PEs are definitely in nosebleed territory. The bull market will also turn 94 months old on Wednesday - making it the 2nd longest on record - trailing only the last Bill Clinton rally which lasted 113 months.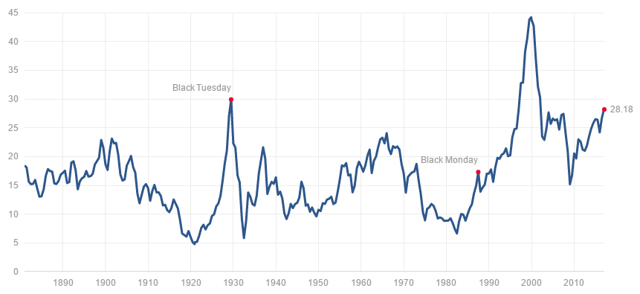 Source: Mutpl.com
We've been waiting patiently for a signal to fade the current rally and get short and, for the first time since the election, we believe we may have one - especially if the E-mini S&P 500 futures manage to close below 2287 today. Consequently we believe the time has come to take a low-cost short position. RMB trading customers may want to consider establishing a fixed risk bearish position in the using E-mini S&P 500 futures put options.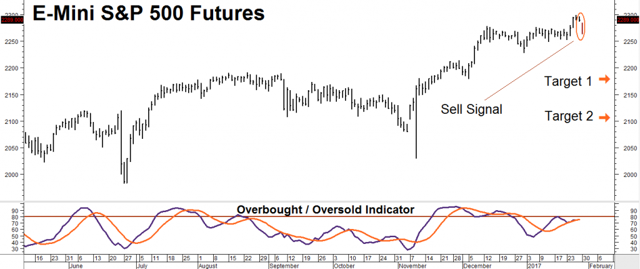 Data Source: Reuters/Datastream
Right now we are looking at two strategies: the first is a bear put spread using the March options that currently costs around $350 and has the potential to be worth as much as $2,500 should the E-Mini futures close at or below 2150 at the expiration of the March options on March 17, 2017.
The second is also a bear put spread using the June E-Mini options. It currently costs around $1,100 and has the potential to be worth as much as $5,000 should the futures close at or below our second target of 2100 at the expiration of the June options on June 16, 2017. This trade costs more but gives us more time to be right.
We are selling into an uptrend, so we are going to give this trade a short leash. Consider exiting either strategy should the E-Mini futures manage to close twice above the 2299 highs in the front contract futures.
The RMB Group
The risk of loss in trading futures and/or options is substantial and each investor and/or trader must consider whether this is a suitable investment. Past performance, whether actual or indicated by simulated historical tests of strategies, is not indicative of future results. Trading advice is based on information taken from trades and statistical services and other sources that R.J. O'Brien believes are reliable. We do not guarantee that such information is accurate or complete and it should not be relied upon as such. Trading advice reflects our good faith judgment at a specific time and is subject to change without notice. There is no guarantee that the advice we give will result in profitable trades.
Disclosure: I/we have no positions in any stocks mentioned, and no plans to initiate any positions within the next 72 hours.
I wrote this article myself, and it expresses my own opinions. I am not receiving compensation for it. I have no business relationship with any company whose stock is mentioned in this article.