Visa, Inc. (NYSE:V) has one of the best business models out there. Unlike some of their competitors they have no risk of default from the consumers that use the Visa branded cards. Rather, they take a small percentage of every transaction that runs across their network.
The business model has served them well over time and Visa is able to generate plenty of excess cash. Even better is that Visa's capital expenses are essentially the same whether they add 10 new merchants or 10,000 to their network. The cost to Visa doesn't really change meaning almost every dollar that they generate flows straight to the bottom line.
Let's take a deeper look at Visa the business to see what makes it such a great company and then look to see if there's a 1-foot bar to step over or if you're having to jump over a 10-foot bar with an investment in Visa.
Moat Style
Many companies are built upon several different moat styles to defend and grow the business. Visa is a combination of both a toll road and network moat style.
The toll road moat is when you have a essentially one or two options to take so you're willing to pay the toll. For just about every merchant out there Visa and MasterCard (NYSE:MA) are the only realistic options if you want to sell your goods. Many consumers, myself included, rarely if ever use cash or checks to buy anything. The convenience of using credit/cards is too much to pass up.
Visa's moat is also a network effect. While a true network moat deals more with having to swap to another network and the accompanying inconveniences of it, Visa's is a bit of a different flavor. Visa is the largest payments processor in the world and building a company from scratch tomorrow would require a huge undertaking of time and capital.
Just think for a second what that would entail. You would have to convince just about every major bank to use cards with your logo as well as convince retailers to accept a small scale payment processor that is lesser known than others, all while charging a smaller fee to do so or retailers wouldn't swap.
Dividend History
If I could only look at one thing to assess a company's quality the dividend history would be high on my list of potential metrics. Companies don't wander their way into a lengthy dividend growth streak; rather it takes the combination of a quality company that can protect its business and a management that instills a culture of rewarding shareholders with cold, hard cash.
The majority of the companies in my portfolio fall into the Dividend Contenders (10-24 years of growth) and Dividend Champions (25+ years of growth) that David Fish so graciously provides. While those companies are great and very much make up the core of my portfolio, I also realize the power behind getting to a 20+ year dividend growth streak in the early stages. These companies typically are still in the high growth phase and pay out very little of their cash flow as dividends meaning there's potential for a double dose of dividend growth from growing earnings and a rising payout ratio.
Visa has paid and increased dividends for 9 consecutive years giving them the title of Dividend Challenger. A full screen interactive version of this chart can be found here.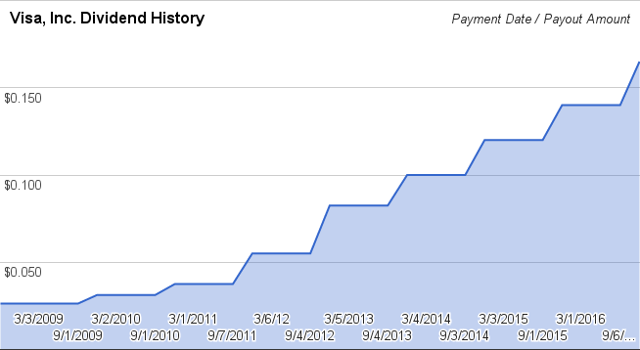 *Image Source: Author / Data Source: Visa, Inc. SEC filings
What Visa lacks in the length of their dividend history they more than make up for with the pace of growth. In fact the worst, if you can really even call it that, year over year growth rate has been 17.0%. A full screen interactive version of this chart can be found here.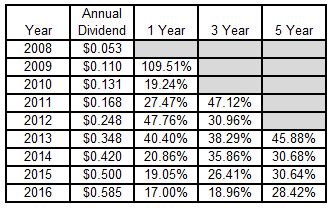 *Image Source: Author
Quantitative Quality
Luckily, investors aren't limited to using just one metric when analyzing companies. Determining the quality of a company is highly subjective and different investors prefer different metrics. My own preference is to examine companies through their cash flow to determine the strength of the company.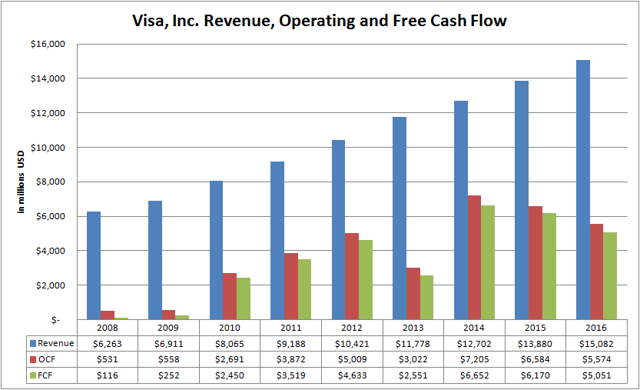 *Image Source: Author / Data Source: Visa, Inc. SEC filings
Visa has done a tremendous job building out their payment processing network which is the bread and butter of their business. From the end of fiscal year 2008 to the end of 2016 revenue had grown at 11.6% per year. That's good enough to increase revenue 2.5x in 9 years.
Even more impressive is that operating cash flow has exploded higher. Operating cash flow has grown 10.5x since 2008 which comes to 34.2% annual growth.
However, free cash flow growth has been truly astonishing. Annual free cash flow has increased 43.5x in total or 60.3% per year. The reason for free cash flow far outpacing either revenue or operating cash flow is that Visa's scalability borders on absurd. Capital expenditures have only grown at a 2.9% rate despite the business growing by leaps and bounds.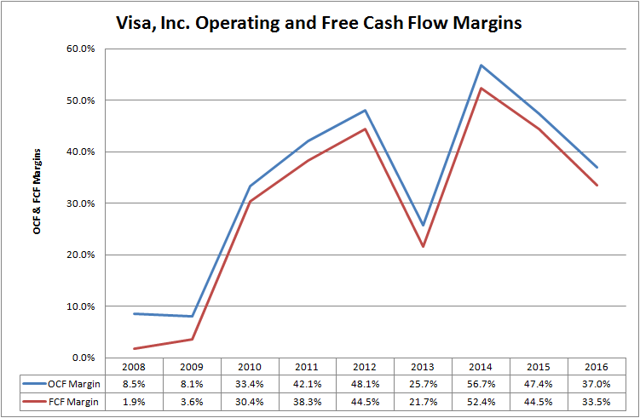 *Image Source: Author / Data Source: Visa, Inc. SEC filings
As expected Visa has seen massive expansion in their cash flow margins. Operating cash flow margins improved from 8.5% to 37.0% for fiscal year 2016. Visa's free cash flow margins have improved even more from 1.9% to 33.5%. Visa's required capital expenditures are routinely in the 3-4% of revenues range which is why there's very little difference in both operating and free cash flow margins.
Cash flow margins represent the cash flow generation with respect to the revenue that Visa generates. Looking at it from a different perspective I like to see how much cash Visa generates per dollar of equity and total capital invested in the business.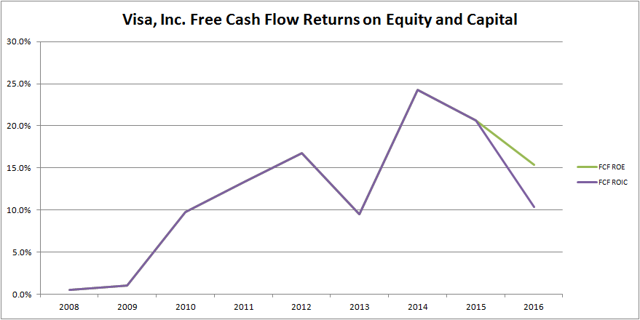 *Image Source: Author / Data Source: Visa, Inc. SEC filings
Much like free cash flow margins expanding there's been a similar rise in free cash flow returns on equity. The 10% threshold is a fairly standard qualitative measure that signifies a company being a cash cow. Visa is routinely well above that level although it does have a bit more variance from year to year than I would expect. From 2008 to 2016 Visa averaged a free cash flow return on equity of 12.4% which understates the real potential of Visa since they only earned 0.5% and 1.1% returns on equity for 2008 and 2009, respectively.
Visa had not carried any debt on their balance sheet until they purchase Visa Europe in 2016. Prior to that Visa's free cash return on equity and capital were the same. However, now that debt is on the balance sheet there's a divergence with free cash return on capital coming in at just 10.4% for 2016 compared to 15.3% for the return on equity.
Free cash flow is everything for a company. It's the excess cash above and beyond the required capital expenditures to both operate and grow the business. That surplus cash can then be used to build up the cash stock pile, reduce debt, repurchase shares or pay a dividend to shareholders. In order to understand how Visa uses their free cash flow I like to examine 3 variations of the metric.
Free Cash Flow (FCF) - The traditional calculation for free cash flow of operating cash flow less capital expenditures.
Free Cash Flow after Dividend (FCFaD) - FCF less the total cash spent on dividends.
Free Cash Flow after Dividend and Buybacks (FCFaDB) - FCFaD less net cash used on share buybacks.
High quality companies generate excess cash above and beyond what's needed to run, defend and grow the business. If a company is free cash flow positive across all 3 variations that signifies that there's plenty of cash to improve the balance sheet or further increase dividends and buybacks. Likewise, if a company is free cash flow negative at any of the 3 variations the company is having to fund that with cash on hand or by taking on debt which is unsustainable in the long run.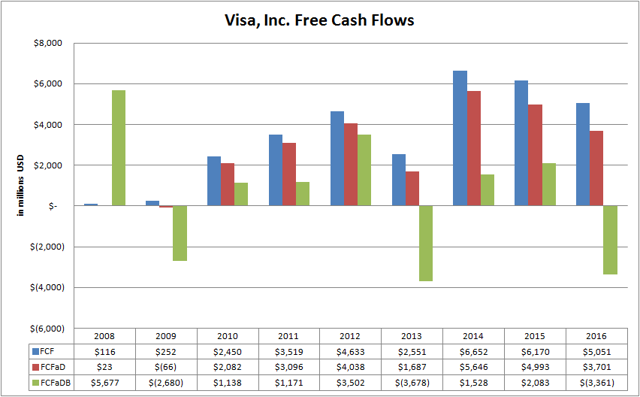 *Image Source: Author / Data Source: Visa, Inc. SEC filings
Visa's free cash flow variation chart isn't the cleanest that I've seen; however, there's still a lot to like here. For starters, traditional free cash flow has been positive every single year. That gives management the freedom to move further down the capital allocation chain.
FCFaD has been positive every year since 2010. The dividend is well covered by free cash flow with a free cash flow payout ratio of 19.1% and 26.7% for 2015 and 2016, respectively.
A positive FCFaDB is what you want to see from the companies you invest in. That means that the company is able to fully cover the growth and operations of the business, the dividend and share buybacks with excess cash to spare. A company that routinely has positive FCFaDB has room to increase the dividend or continue with share buybacks without having to access the capital markets.
Unfortunately Visa's FCFaDB isn't quite as stellar as both FCF and FCFaD. Over the entire period Visa has had 3 years of negative FCFaDB. Although when accounting for the entire time period, since cash saved one year spends just as well as cash earned in another year, Visa is still FCFaDB positive to the tune of $5.38 B.
Buy, Hold or Sell?
Unfortunately, investing is more complicated than just finding quality companies. You also have to find them trading at a discount to their fair value to truly make a great investment. Currently, Visa's TTM P/E ratio is sitting at a lofty 33.4x. Even looking forward to fiscal year 2017 the P/E ratio is at 25.1x and 2018 is sitting at 21.5x based on the average analyst estimate for the respective years.
One method that I like to use to determine a fair value is the minimum acceptable rate of return analysis. This requires estimating the future earnings and dividends and applying a reasonable expected future valuation. You then calculate the returns to determine whether they are adequate for purchase.
On average analysts expect Visa to earn $3.29 in the current fiscal year, $3.85 for 2018 and to grow earnings 16.2% per year through 2022. For the subsequent 5 years I've assumed that earnings will grow 7% per year.
The annual dividend payment for 2016 came to $0.56 with $2.48 of earnings supporting it or a payout ratio of 22.5%. Assuming Visa sticks with their dividend raise schedule, Visa's annual dividend for 2017 will come to $0.66 with $3.29 of earnings covering it putting the estimated payout ratio at 20.1%. I've assumed that Visa will grow dividends at the same rate as earnings to maintain a payout ratio of 20%. Dividends will be paid and increased based on Visa's historic schedule.
The following table shows the price targets assuming a purchase on February 2nd with varying P/E multiples and a 12% minimum acceptable rate of return. Returns are calculated as internal rates of return and include dividend payments.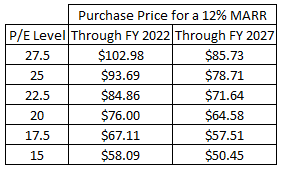 *Image Source: Author
The price targets show the most you could pay per share in order to generate a 12% internal rate of return through the end of 2022 and 2027, respectively. Returns include estimated dividend payments as well as earnings growth at the corresponding future valuations.
Currently the share price is sitting just over $82 and would only generate a 12% internal rate of return through 2022 if the future valuation is around 22.5x. Through 2027 the future valuation would need to be around the 26x level.
Of course with earnings expected to grow at 16% per year for the next 5 years the investment returns would far underperform the Visa's business growth by requiring a 12% MARR. That might be fine for some investors, but I want to capture as much of the growth of the company as possible.
I've re-run the calculations using a 15% minimum acceptable rate of return. The updated price targets are in the following table.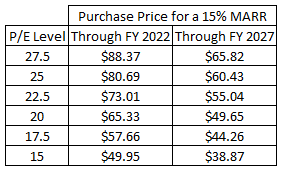 *Image Source: Author
With a higher minimum acceptable rate of return we intuitively see the price targets drop for the same corresponding future valuation levels. Even in the 15% MARR scenario the current share price would only generate a 15% rate of return assuming a valuation at the end of 2022 around 26x. Based on Visa's history that's certainly in the realm of possibility; however, I wouldn't want to stake my returns on the requirement of a high future valuation.
Conclusion
Visa is a truly remarkable company that I want to own for the long term. The trend in financial transactions is for a further move to a cash-less society which will work in Visa's favor. Visa has a clear path toward sustained 10%+ growth for the next decade. It's also one of the few Dividend Challengers with a great shot to become a Dividend Champion.
While the company is excellent and generates gobs of cash to return to shareholders the market is currently pricing Visa to perfection. In order to generate a 15% rate of return through 2022 investors would be banking on 16%+ growth in earnings as well as an elevated valuation at the end of 2022. For me that's too rich of a price to pay.
Since I currently have a position in Visa I'm willing to be more selective with additional capital to set myself up for success. As such I would not feel comfortable increasing my position unless the share price approaches the mid $70's. A purchase at those levels would allow investors to reap double-digit annualized returns through the next 5 and 10 year periods with a future valuation of 20x. An ideal purchase price would be sub-$70 although I don't expect to see that kind of valuation unless the overall market begins to enter panic mode.
Disclosure: I am/we are long V.
I wrote this article myself, and it expresses my own opinions. I am not receiving compensation for it (other than from Seeking Alpha). I have no business relationship with any company whose stock is mentioned in this article.
Additional disclosure: I am not a financial professional. Please consult an investment advisor and do your own due diligence prior to investing. Investing involves risks. All thoughts/ideas presented in this article are the opinions of the author and should not be taken as investment advice.