Friday and now Tuesday are days that PTCO (OTCMKTS: PTCO) shareholders will probably want to forget. Opening at $5.55 on Friday, January 27, and closing on Tuesday, January 31 at around $1.20 cannot be good. This was its price in early December before a dramatic move upward.
So now what? Let us take a breath and slow down. Let us take a look at this little company and what it intends to do and what it is doing. PetroGas Company became the surviving entity in a merger between its parent company in January 2016.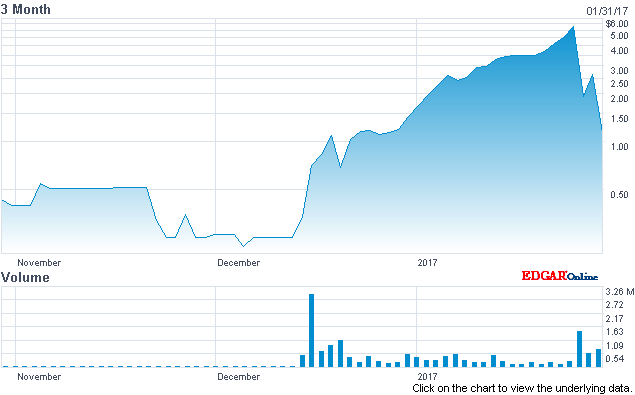 (Source: EdgarOnline)
PetroGas Company is involved in oil and gas exploration, and ultimately production. It is based in Houston TX and presently is focused on the acquisition and ownership rights of properties located in areas of proven and significant reserves. Its plan is to acquire oil and gas assets from distressed third parties at a discounted value, and develop the potential of selected investments that have not been fully exploited.
So what has the company done? Following is a listing of past and current acquisitions.
Owns a fractional royalty interest in approximately 60 wells located in Ellis and Harper Counties, Oklahoma.

Owns a fractional royalty interest in three producing wells in Hemphill, Texas.

Owns oil and gas leases totaling approximately 2,800 acres issued from the State of Utah and located in Emery County.

Owns the Snyder leases of approximately 950 Acres situated in Callahan County, Texas.

Has major working interest in three producing leases covering 714 acres situated in Atascosa and Frio Counties, Texas,.

Owns a fractional interest in 6 producing oil and gas wells located in Carter and LeFlore County, Oklahoma & Brazos and Fayette County, Texas.

Own 160 acres of oil and gas leases in Valley County, Montana from the Bureau of Land Management.

Owns fractional interest in wells located in Cherokee County, Texas.

Owns a fractional interest in four oil and gas wells, in Roberts County, Texas.

Owns a 161 acres of oil and gas leasehold in Lincoln County, Colorado.

Owns lease in Washington, and Monroe Counties, Ohio.

Own a stake in oil and gas well in Dewey County (Anadarko Basin), Oklahoma.

Own wells in Callahan County, Texas.
PetroGas Company is a new company, with a two year history of asset purchase, stock splits and consolidations. In the last year, it has aggressively ramped up its activity in the oil and gas sector. Also in the last six months of reporting, (ending September 30, 2016), it has dramatically scaled back its operating and administrative costs and substantially reduced its operating loss.
It seems the betting for PetroGas and shareholders is that the selling price of gas and oil will increase over time, and the company will be able to raise sufficient capital to develop its assets.
Its aggressive acquisition of properties and rights has left the company in a tenuous position of being asset rich and cash poor. Although not unusual for this industry, it is vulnerable to the whims of energy prices, and may make it difficult to raise the needed capital.
On the other hand, many of these assets are available for development, can provide some immediate cash flow, can be sold, or used in a partnering arrangement. Much depends on the short term and long term price of oil. The company's CEO has stated "Energy prices continue going up, making this (sic) investment more attractive by the day for the company. Once we have accumulated a sizable number of parcels in our portfolio, we will look at beginning a drill program to extract liquefied gas from our leases,"
If the company is able to develop some or all of its assets, alone or in partnership, its value will certainly increase substantially. However, much is depends on both the future price of gas and oil, and the capable guidance of the company in the raising of capital through fund raising, borrowing or selling off of some assets.
I believe that PetroGas could be an interesting short-term bounce play with the potential for long-term gains.
Disclosure: I/we have no positions in any stocks mentioned, and no plans to initiate any positions within the next 72 hours.
I wrote this article myself, and it expresses my own opinions. I am not receiving compensation for it. I have no business relationship with any company whose stock is mentioned in this article.
Editor's Note: This article covers one or more stocks trading at less than $1 per share and/or with less than a $100 million market cap. Please be aware of the risks associated with these stocks.