Millennial Value Portfolio: Q4 2016
Portfolio Changes
Exited Positions:
Time Warner Inc. (NYSE:TWX) (+20.1%) was the first sale of a position held in the initial portfolio. The divestment of Time Warner came shortly after a sharp appreciation in the share price driven by news of a $85.4 billion bid made by AT&T (NYSE:T) to acquire Time Warner.
This decision to unload the 6% stake in TWX was due to a fundamental change to my investment thesis as a result of the proposed merger. Had I continued to hold the position risk, it would have become a speculatory gamble on the approval of the deal.
"The individual investor should act consistently as an investor and not as a speculator" - Benjamin Graham
The above mentioned uncertainty surrounding completion of the AT&T-Time Warner merger led to a risk-on narrative for shareholders. Despite regulatory and political concerns, the market presented an attractive selling point consistent with my valuation range for Time Warner on a standalone basis. Should it be completed, the deal implies a payout of roughly $109 per TWX share - over $20 above my sale price of $87.
Looking back on my decision to make an early exit, I left a lot of money on the table. Shares now trade at ~$95 and the deal appears to have a good chance at going through. There is a lesson to be learned here: exiting or reducing a winning position requires emotional discipline. The idea of realizing a profit is attractive when faced with uncertainty. Heightened volatility was not only a result of regulatory concerns, but also the outcome of the recent presidential election. In hindsight, it would have been a better idea to reduce the position rather than exit and then make a better-informed decision as information became available.
Carnival Corporation (NYSE:CCL) (+18.3%) was another earlier than anticipated, but successful exit for the portfolio. Being the global leader in the global cruise industry presents a moat that is hard to match. That being said, once shares reached the low-end of my valuation range, it became time to reevaluate my thesis.
At current levels, the upside potential for Carnival appears to be muted. This is a factor of the ambiguity of passenger demand in markets like China, where the company plans to significantly increase capacity in 2017 and beyond. The company did recently launch an internally managed yield management program to avoid having to sell tickets at discounted rates, which has been an issue in years past.
There will undoubtedly be growing pains for Carnival as management looks to leverage expected growth of the global cruise industry and position Carnival to be a primary beneficiary. However, I expect that these will be somewhat temporary headwinds. These could stem from weakness in economies outside the United States where there is elevated uncertainty heading into 2017. Keeping CCL shares would expose the portfolio to an unintended bet on the macro environment, which I viewed as an unfavorable risk.
The total addressable global cruise market is predicted to double over the next 10-15 years, which is a long-term tailwind for the industry. I plan to continue following Carnival at a distance and potentially initiate a new position if shares were to go back on sale.

Position Increases:
CVS Health Corporation (NYSE:CVS) has been the greatest detractor from portfolio performance so far. The combination of a negative outlook for the industry and unexpected downward adjustment of management guidance for the coming year caused the stock price to fall like a moose off a cliff. Shares tumbled from over $100 to below $80 after management guided toward lower 2017 profits in their Q3 earnings release.
With shares trading down to the low-end of the $70 range, I took the opportunity to add to my position. Even after making adjustments to my initial expectations, the narrative supporting long-term value creation remained intact.
I began adding to the position in CVS at prices between $72 and $74. This reduced my cost basis to $89 from $96.
New Positions:
Allergan plc (NYSE:AGN), formerly known as Actavis, is a leader in the biopharmaceutical industry and one of the most notable underperformers in 2016. The stock fell over 30% in a decline that erased ~$40 billion of market value.
Healthcare stocks as a whole have been put through the ringer over the past year, causing stock prices to disconnect from the true value of the underlying business. Allergan's fall from grace began in April after the proposed $150+ billion merger with Pfizer (NYSE:PFE) (nearly $350 per share at the time) fell through due to changes in the tax code made by the Treasury Department.
After revising expectations for growth downward in 2016, preliminary guidance for the year ahead has been nothing to get excited about. Chairman and CEO Brent Saunders presented his outlook for Allergan in 2017, which I view as conservative. By setting expectations lower, there is more room to absorb any downward pressure stemming from unforeseen circumstances - which, in 2016, provided significant headwinds for the company.
In the face of lackluster Q2 and Q3 results, management has taken advantage of the decline in stock price to create shareholder value. It has completed $10+ billion of the $15 billion in accelerated share repurchase programs authorized.
"For now, we should just point out, the most accretive deal - overwhelmingly accretive thing we can do - is buy our stock" - Chairman and CEO, Brent Saunders
Investment Thesis
Allergan is focused on developing a portfolio of treatments in specialty markets that provide higher barriers to entry and a reduced level of risk from generic competitors. The company is known for its Botox franchise, but presents therapies in categories such as eye care, women's health, central nervous system and urology, where it has a number of viable revenue streams that have yet to materialize.
Recent acquisitions and divestitures have allowed the company to pave an attractive runway for growth over the span of the next several years. Proceeds from the Teva deal (roughly $36 billion after-tax) have been used deleverage the balance sheet and buy back shares, while also leaving ~$20 billion worth of dry powder to finance smaller deals that accommodate the company's intellectual property, R&D and commercial capabilities. I anticipate M&A activity for 2017 to be a mix of pipeline-oriented and immediately accretive deals.
From a valuation standpoint, the market is currently pricing Allergan shares at a level that represents the uncertainty surrounding near-term performance. This is understandable; however, my estimate of intrinsic value does not reflect the business of today. Investors are overlooking the value to be realized from a pipeline armed with revenue drivers that will create sustainable earnings growth for years to come.
Potential risks
Any added regulatory oversight negatively impacting the pharmaceutical industry. The unforeseen decline of already established revenue streams such as, but not limited to, Restasis and the Namenda franchise. Significant delays and/or failures during the experimental phases of development necessary for materialization of pipeline treatments.
My position in Allergan was established at an average cost of $214 and represents 12.5% of the total portfolio value
Commentary & 2017 Outlook
After months of having been fragmented by political rhetoric, on election night, the country stood together once again, trying to comprehend the reality of a Donald Trump presidency. Nearly every poll and data-driven model implied with a high degree of certainty, a Clinton victory. The outcome seemed to be written in stone.
"If you hear of a group forming to stop X, put your money on X." - Richard Nixon
Dow futures dipped by as much as 800 points as the final electoral votes were tallied and the official count was announced: 232 for Hillary Clinton and 306 for Donald Trump.
Investors were quick to put on their rose colored glasses, sparking the "Trump rally" in stocks that drove the Dow to 17 new record highs during November and December on the way to reaching the 20,000 mark for the first time.
I try to avoid over-analyzing noise created by the day-to-day headlines of financial and political news, which is much easier said than done. It seems almost as if everyday a new story breaks, one bigger than the next. This held especially true throughout the 2016 election. I found myself frustrated with the role that the media has come to play, not only politically, but also with respect to sensationalizing the news in a way that appeals to readers based on their ideological beliefs.
It wasn't until I took a step back to look at the big picture, when I began to understand that content is nothing more than a tool used to facilitate audience growth. Just like any other business, digital and print media companies have a top and bottom line they are looking to grow. Is performance of these firms compared from a credibility standpoint? No. It's all ratings based.
If readers preferred in-depth coverage of a middle school ASB election to the presidential race, outlets would scramble field reporters and journalists to report on whether or not Johnny can fulfill his promise to lower prices at the snack bar. In order produce earnings growth, content must adapt to the demand of its audience.
The fact of the matter is that we have an inherent preference to consume news when it is covered from a perspective that aligns with our opinions and/or beliefs. This is why CNN and Fox News don't bother reporting the argument being made across the isle; demand for media coverage has become increasingly fragmented by ideological affiliation.
While 2016 may have been record year for many mass media outlets from a numbers standpoint, there is no doubt that America's trust in the news has taken a severe hit.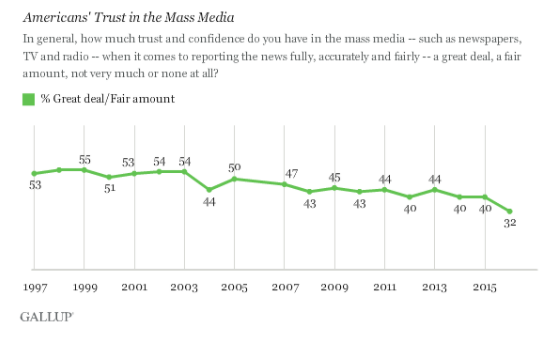 If there is one thing that I took away from the 2016 election it is this. When there is a noticeable chasm between both sides of an argument, the reality of the situation probably falls somewhere in the middle of the two. A similar approach is useful in an attempt to understand where to look in the market when some are doomsday prepping, while others look to ride the momentum from Q4 of 2016 into 2017.
To avoid speculating, I continue to approach the idea generation process with minimal consideration of the current state of the market. My cash position as it sits now remains around 75% of the portfolio due to a shortage of opportunities where both the valuation and the business itself are attractive.
"The market can stay irrational longer than you can stay solvent" - John Maynard Keynes
Watch List: Introduction
As promised in the last article, I will introduce you to a few of the names that are currently on my watch list.
Visa Inc. (NYSE:V): Visa is one of my favorite businesses on the market right now because of the opportunity in payments in both developed and emerging markets.
Ecolab Inc. (NYSE:ECL): Ecolab has a core operating business driven by reoccurring streams of revenue making it as close to recession proof as possible. The company has also gained significant traction for its water conservation solutions.
Markel Corporation (NYSE:MKL): Underwriting department remains profitable due to niche markets it provides coverage. Negative float in the hands of CIO and value investor Tom Gayner has materialized in long-term growth of book value.
Disclosure: I/we have no positions in any stocks mentioned, and no plans to initiate any positions within the next 72 hours.
I wrote this article myself, and it expresses my own opinions. I am not receiving compensation for it. I have no business relationship with any company whose stock is mentioned in this article.
Additional disclosure: Note this is a model portfolio tracked using a virtual market simulator