This article represents an extension to an SA article published December 30, titled "Antares Pharma: Drug Delivery to Multiple Fronts of Profitability". The current article will discuss further the prospects for the shares of Antares (NASDAQ:ATRS) to move higher in 2017. In summary, the December 30 article covered growth prospects for the following:
1.Continued growth in sales of proprietary Otrexup.
2. FDA approval and launch of VibexQST, likely the first weekly, self-administered testosterone replacement therapy.
3. Completion of the launch and growth of Vibex Sumatriptan, which is being marketed by Teva (NYSE:TEVA).
4. FDA approval and launch of Vibex Epinephrine.
5. FDA approval and launch of Exenatide (generic for Byetta), for which Antares is partnering with Teva in the treatment of Type II Diabetes.
6. FDA approval and launch of Teriparatide, (generic for Forteo which will be marketed by Teva), which is a generic for Lilly's drug Forteo that treats Osteoporosis.
7. Submission of an sNDA for Makena SC by partner AMAG (NASDAQ:AMAG) for a once-weekly, self-injection of Makena, a therapy to aid prevention of pre-term maternal deliveries.
Recent developments concerning item numbers 2 and 4 above have tempered enthusiasm for Antares, which have likely affected a pullback in the shares.
VibexQST
While VibexQST continues to offer major opportunity for Antares, the prospects for testosterone replacement therapies have been tempered by FDA action to limit use of approved drugs. According to new FDA labeling requirements, testosterone replacement drugs can only be prescribed for hypogonadism as quoted from the FDA website: " Testosterone is FDA-approved as replacement therapy only for men who have low testosterone levels due to disorders of the testicles, pituitary gland, or brain that cause a condition called hypogonadism." In other words, the label does not facilitate prescribing testosterone replacement drugs just for low testosterone levels, alternately described as low-T. The foregoing limitation was issued due to concerns that testosterone replacement drugs could increase the risks of heart disease or stroke. The FDA requirements limit the steep growth in testosterone replacement drugs experienced prior to the FDA ruling.
In spite of stricter FDA guidelines, testosterone replacement prescriptions have continued to grow, as evidenced from the graphic below. As shown, monthly testosterone replacement therapy prescriptions have increased from 477,824 at the beginning of 2015 to 514,907 near the end of 2016, for a cumulative increase of 7.8%. However, it should be noted that prescription for Gels and Solutions declined in the period covered, while injections increased 82,173, or 35%. The increase in prescriptions for injections appears to confirm that prescribing doctors have a higher level of confidence that injections provide greater efficacy and safety in restoring testosterone to normal levels.
Since VibexQST offers a self-administered auto-injector, it could likely achieve a preferred status with both prescribers and patients, and ultimately increase monthly prescriptions over current levels.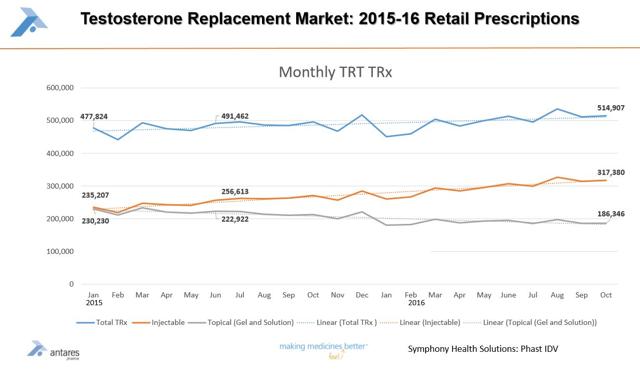 (Source: company presentation)
Vibex Epinephrine
Along with the Mylan debacle on EpiPen in 2016, which resulted in Mylan launch an EpiPen generic, there has been no shortage of EpiPen events which have caused the shares of ATRS to selloff. ATRS shares rallied to $2.45 earlier in January before selling off to lows near $1.80, largely due to EpiPen news. Earlier in January CVS Pharmacy announced that it would sell a generic version of EpiPen for $109.99 per 2-pack of Adrenaclick, a drug supplied by Impax Laboratories. However, Adenaclick is not AB rated, meaning that it cannot be substituted as a generic for an EpiPen prescription. In addition, Adrenaclick has been on the market over 6 years (with a branded version offered as early as 2004). While Adrenaclick has been offered for sale at prices much lower than EpiPen, it has been fraught with problems. Problems experienced with Adrenaclick have likely caused doctors not to prescribe the drug, which could continue for at least the near-term. In addition, Adrenaclick has never gained market share beyond single digits. While the CVS announcement caused a lot of media buzz in the EpiPen story which could be a useful PR tool to CVS, it may not boost the Adrenaclick product over the long term.
In addition to the foregoing, Adamis Pharmaceutical (NASDAQ:ADMP) is seeking its own version of Epinephrine to be administered outside traditional health care system, which is covered in a SA article, which may have caused some concern for ATRS investors. The Adamis version, however, is a syringe-filled product which requires intramuscular injection. While the Adamis product could expand the Epinephrine market, an Antares/Teva AB rated product would be differentiated well from the Adamis version.
To add further buzz to the EpiPen story, Mylan Pharmaceuticals announced January 30 that it is under investigation by the Antitrust Division of the Federal Trade Commission for potential antitrust violations concerning EpiPen. In addition, as reported in the Wall Street Journal today (February 1) Mylan could be placed under the ire of the Trump administration since 25 of its 40 manufacturing plants are located offshore. In view of the FTC investigation and Mylan's current positioning, it is reasonable to assume there is ample room for another reliable supplier of EpiPen.
In any event, Teva continues to seek approval of the Antares supplied, AB rated generic version of EpiPen and projects approval and launch by early 2018. The Teva/Antares AB version of EpiPen would be supplied by a much more reliable supply chain with proven marketing skills. Realistically, while the EpiPen opportunity for Teva and Antares has now been tempered with the Mylan generic and other potential limitations described above, it continues to be a significant opportunity for the Antares/Teva partnership.
Potential M & A:
While each of the items covered above could provide a significant catalyst to ATRS shares, the most significant boost could result from anticipation of a potential acquisition of the company. On October 31, 2016, the company announced the appointment of a new Senior Vice President - Chief Financial Officer, Mr. Fred M. Powell. As stated in the announcement, Mr. Powell previously held CFO positions at Celator Pharmaceuticals (2012-2016), OraPharma Inc (2011-2012), and BMP Sunstone Corporations (2005-2011).
Mr. Powell's most recent previously held positions resulted in each company being acquired. In May 2016, Celator was acquired by Jazz Pharmaceuticals for over $1.5 billion in cash. In 2012 OraPharma was acquired by Valeant Pharmaceuticals. And in 2011 BMP Sunstone Corp was purchased by Sanofi-Aventis for $520 million. In the last 12 years, Mr. Powell is batting 1000 in successful M & A completions. It does not appear that he took the position at Antares as a lifetime career and that his actions could result in the eventual sale of the company.
Interestingly, Fred M. Powell's LinkedIn account lists Mergers and Acquisitions as the "Top Skill" with 33 endorsements from associates. In view of the foregoing, it becomes apparent that Mr. Powell possesses the skills necessary to execute a successful buyout deal for Antares.
While it appears likely that Antares will secure an M & A deal sometime in the future, the company currently has a market value of only $341 million, which could be considered a fraction of its full realizable value in its pipeline. So it may be some time before an M & A deal is sought to realize its intrinsic value. It would be difficult to speculate on likely acquirers, however, two names that surface are Teva or Abbvie (NYSE:ABBV). Teva has several partnership deals with Antares in both approved products and those in the pipeline. Abbvie, a 2012 spinoff of Abbott Labs, sells Androgel, a testosterone replacement product. As indicated earlier, testosterone injection prescriptions are growing at the expense of other therapies, including gels and solutions. Further discussion on Abbvie can be accessed in SA articles and comments linked below under "speculative food for thought".
Speculative food for thought:
Through communications with Lokodude (Seeking Alpha member and a prolific contributor to SA comments) it was learned that Antares has other potential opportunities which have been dormant, but which may be in the process of reinvigoration. Quoting Loko:
"ATRS still owns 25% of any Libigel deal, plus royalties for the US, but still own ROW.... The revenues to ATRS will be monumental".
In addition, JustTheFactsMaam has written several articles covering Antares, Ani Pharmaceuticals (NASDAQ:ANIP), Abbie Pharmaceuticals , and Teva, two of which are linked here and here.
While the above is strictly speculative, it is presented here for those interested in checking out the story further and gaining some information on researching drug patents.
The stock today:
Since the recent selloff of ATRS likely due to news concerning EpiPen, the stock has rallied nicely, as shown in the chart below. In an impressive breakout Monday (January 30), ATRS broke out above its 50-day moving average on impressive volume nearly triple its average trading volume. In addition, it has continued support at higher lows and higher highs (since August) noted in the chart pattern. At a current market cap of $341 million it offers a compelling value when considering its robust, diversified pipeline.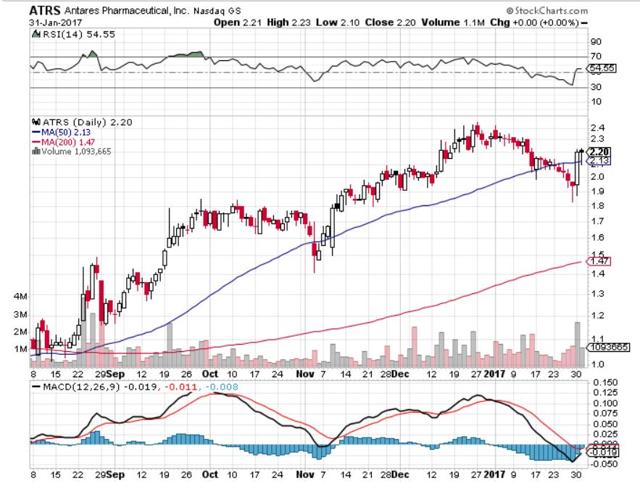 (Courtesy: StockCharts.com)
Conclusion:
The events described above are likely to dampen some of the earlier enthusiasm and near-term expected results for Antares. However, the totality of the seven items mentioned above offer a significant overall opportunity for the company. In particular, VibexQST, Vibex Epinephrine, and MakenaSC alone offer opportunities which will likely move the stock much higher.
Since Antares has not yet become profitable, it remains a speculative stock. However, due to increasing revenue in Otrexup and other approved products, as well as license/royalty payment opportunities, the company could eventually become profitable with the current lineup of approved drugs. However, given all the additional positives of a robust, diversified pipeline, along with a potential acquisition, Antares appears to be at the threshold of profitability and an upward trend.
Acknowledgement: The ideas presented in this article were advanced by Seeking Alpha members who have offered a wealth of comments in my articles and others. I would like to acknowledge them here. Lokodude, Jon20ABX, and JustTheFactsMaam were helpful in offering their knowledge of the biotech/pharmaceutical industry in comments, main body SA articles, and other input.
Disclosure: I am/we are long ATRS.
I wrote this article myself, and it expresses my own opinions. I am not receiving compensation for it (other than from Seeking Alpha). I have no business relationship with any company whose stock is mentioned in this article.
Editor's Note: This article covers one or more stocks trading at less than $1 per share and/or with less than a $100 million market cap. Please be aware of the risks associated with these stocks.