Chesapeake Energy (NYSE:CHK) is in a bit of a slump. Natural gas has been trading down for the last two months. At one point, the commodity was trading near $4/MMBtu but has shed nearly 25% and left CHK shareholders with a problem. So, how much downside is ahead and what are the factors that could turn the tide for this company? For CHK to see gains in Q1 2017, outside of positive internal developments, we're going to need to see decreased inventories and far more taxing weather conditions.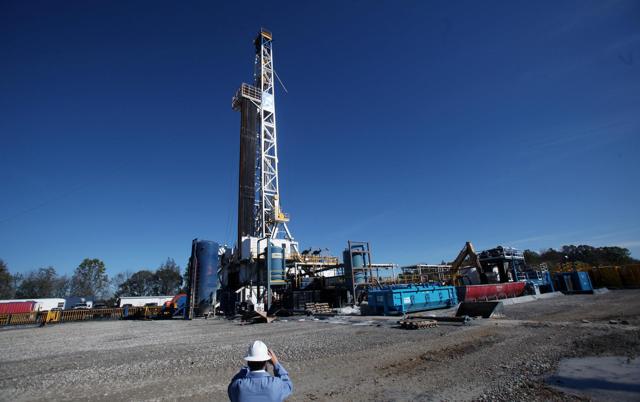 Source: Cleveland Media
Staying Long CHK
It's tough to watch the stock trend in the manner that it does from the long perspective. The stock is still on an uptrend over the last 12 months, but has really had trouble taking out higher resistance levels. The moving averages are starting to stall incrementally and we actually have a repeat of the same pattern that we saw three months ago: a run-up from $5 to $8 and then a decline back down. That's quite interesting, in my opinion, because it may mean that in the next couple of weeks, we could see CHK fall through $6 towards its 200 DMA, provided natural gas continues to trade down.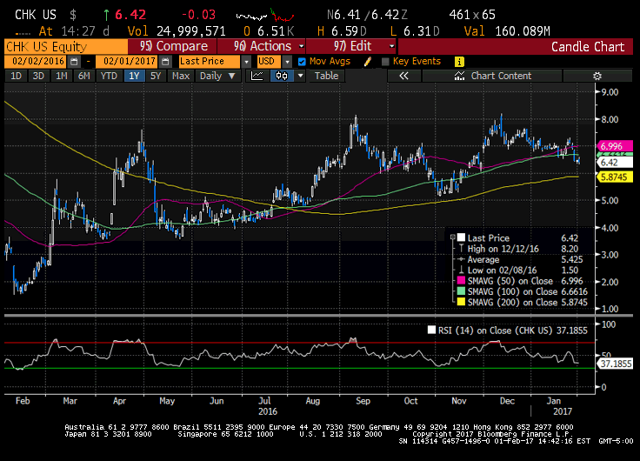 Source: Bloomberg
Right now, on its current downtrend, which has extended about two months, the stock is nearing oversold levels on the RSI. While this oversold indicator may help the stock stop its downtrend temporarily, it ultimately needs the support of stronger fundamentals, which will come from either retractions in storage or decreases in production. Both factors are highly difficult to achieve on a consistent basis, so we'll need a few reports over the upcoming earnings reports that heavily beat expectations in order for CHK to start breaking resistance levels. The next critical resistance level is $7.00, then $8.00, which it has tested twice in the last six months, but failed to breach.
With that being said, natural gas is a volatile commodity that has its above-average ebbs and flows, but it's really important to remember that this stock still has a highly favorable risk/reward scenario. Take a look below at the five-year chart of CHK. The stock used to trade at nearly $30/share, with the five-year average being $16.07. Should that latter figure be achieved within five years, shareholders will have witnessed a 149% capital gain, which annualizes to nearly 30% per year. That's quite the investment proposition to consider.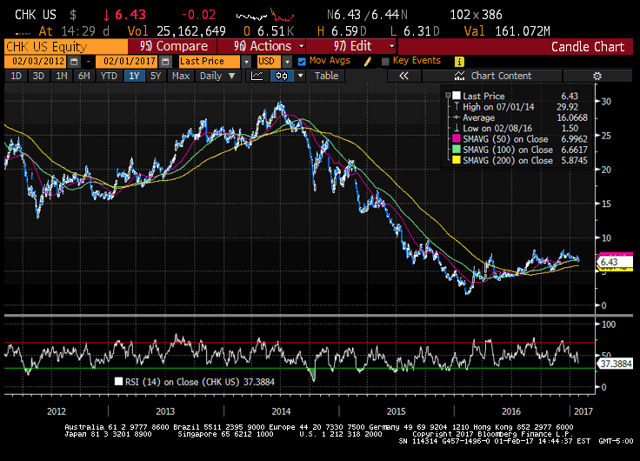 Source: Bloomberg
Gaining Traction On The Fundamentals
Natural gas is at a two-month low. If you had asked me six months ago whether or not this would be the case, I would have confidently said "No." Early weather predictions were showing that, in light of 2016's winter showcasing the moderation of El Nino, that 2017's winter would show a La Nina event, which would create extreme weather and one of the most precipitous winters in recent memory. While forecasts, naturally, have to be taken with a grain of salt, I was at least expecting above-average snowfalls for the tristate area. So, what's the problem here?
Natural gas traders primarily focus on very short-term weather forecasts and, interestingly enough, primary flow for natural gas futures comes from New York City. So, what's on the seven-day forecast? The lowest temperature I see is 21 degrees, with the highest being 51 degrees, and only one projected snowfall in this time period (chance: 51%). That's abnormal for this time of year. Just yesterday, the tristate area had its first real snowfall. I'm writing this from New York City and the sheer fact that I don't have to go outside in full snow gear is something to behold. "I'm not complaining," was the response of one of my friends, but someone who is likely complaining is Chesapeake Energy.
Now, I have seen weather forecast revisions thus far for colder temperatures over the coming weeks, but we're already into February and this past January was nearly a repeat of last year, so I don't expect inventory retractions to meet expectations in the coming weeks. Should this colder weather materialize, then perhaps, down the road, we'll see inventories reduce down towards the five-year average, but for the next couple of weeks, I don't see it being likely.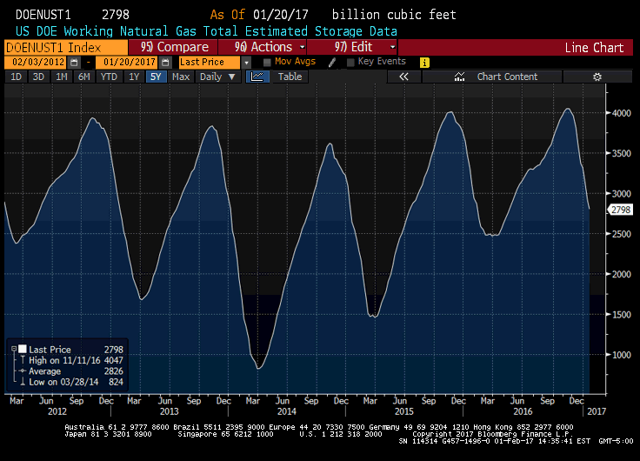 Source: Bloomberg
To provide more color, natural gas is still above the key support level of $3.00/MMBtu. It has remained above this level since the end of November and has yet to be tested since that time. Should inventory reports continue to show builds in storage, then investors can reasonably expect natural gas to fall through the $3/MMBtu level and likely down to the $2.90 or $2.85 mark. The specific impact on CHK would likely be that the stock falls to under $6.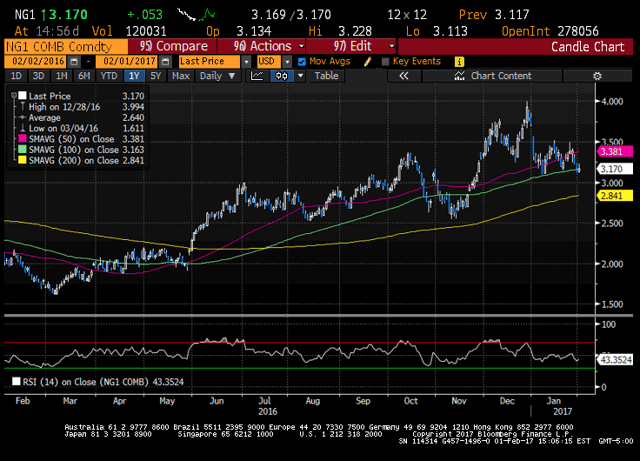 Source: Bloomberg
Then there are geopolitical factors to consider like President Trump potentially starting a trade war with Mexico and cutting off a vital source of demand for American natural gas producers. Mexico is one of the primary consumers of American-produced natural gas and should the trade war materialize, then I'd likely expect natural gas to plummet at least a dozen cents, if not more.
Conclusion
This time last year, the market was in a panic. China, commodities, and political risks were all flooding the market at the same time and causing abnormal volatility. Also, at this time last year was Chesapeake trading down to under $2/share, so we have to remember that this company has come a long way in the last 12 months. Some short-term pricing pressure is going to hurt on paper, but over the long run, we should largely expect this company to outperform the broader stock market. I would take this time to lower the cost basis on your position on CHK, if you purchased sometime over the last two months.
Disclosure: I am/we are long CHK.
I wrote this article myself, and it expresses my own opinions. I am not receiving compensation for it (other than from Seeking Alpha). I have no business relationship with any company whose stock is mentioned in this article.