The Trump administration formally put Iran "on notice" due to the country's recent actions of testing ballistic missiles on Sunday. Michael Flynn, Trump's national security adviser, said the ballistic missile launch on Sunday was in defiance of a UN Security Council resolution, and the agreement called for Iran to NOT perform activities including testing or design of weapons capable of launching nuclear weapons.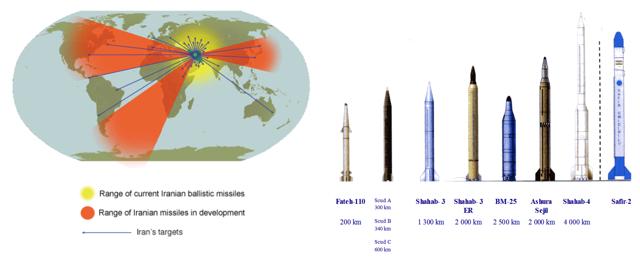 (Source: The Israel Project)
Geopolitically speaking, if the Trump administration were to impose the Iranian sanctions again, Iran's access to capital and its oil production would be affected, which would be bullish for the oil (NYSEARCA:USO) markets. But we must assess the impact new sanctions could have and what it means for Iran if the European Union does not impose sanctions again.
Since the news release, the European Union along with Russia have already publicly announced that they do not believe the recent testing of ballistic missiles was a violation of the 2015 nuclear pact. With the European Union not aligned with what the Trump administration believes, it puts a major hurdle of implementing an Iranian sanction that would be effective enough to stop Iran's recent boom in economic activity. The particular reason behind the hurdle is due to the items that were lifted after the nuclear pact.
Here are some of the primary items that were lifted in 2015. The lifting of the sanction called for the release of frozen offshore Iranian funds totaling an estimated $100 billion. Sanction relief also gave Iran access back to the global banking system, and it was allowed to once again export oil to other countries. Foreign oil companies were also allowed in to invest in Iran's oil industry.
The issue we see with the potential risk of implementing a unilateral Iran sanction is that if the European Union does not align with Trump, it would be an ineffective sanction. Be mindful that the nuclear pact did not lift sanctions previously imposed on Iran by the US dating back to 1995. As a result, if the Trump administration implements sanctions on Iran due to the ballistic missile testing, it would only result in more geopolitical conflicts between Iran and the US.
Geopolitically speaking, we view the risks of imposing sanctions on Iran again to be a lose-lose situation. We would also weigh the likelihood of imposing sanctions again at less than 10%. It's unlikely that the European Union, Russia and China will see eye-to-eye with the Trump administration, and we do not see evidence of that yet.
As a result, the oil markets won't likely price in a risk premium to the potential sanction of Iran. Iran's oil industry will likely flutter around 3.8-3.9 million b/d for most of this year as it courts foreign oil companies to invest in infrastructure and capex to drill.
If you are interested in reading our oil market analysis reports, you can sign up here.
Disclosure: I/we have no positions in any stocks mentioned, and no plans to initiate any positions within the next 72 hours.
I wrote this article myself, and it expresses my own opinions. I am not receiving compensation for it (other than from Seeking Alpha). I have no business relationship with any company whose stock is mentioned in this article.