Recent performance of small cap stocks may indicate investors' comfort with risk
U.S. small cap stocks, often a barometer of investors' risk appetite, surged after the election of President Donald Trump, while larger cap stocks also rallied, just not by as much. Part of the reason why small cap stocks outperformed is due to reinforced faith in the U.S. economy that may benefit these companies. Meanwhile, part of the reason why large cap stocks lagged is due to their perceived sensitivity to the U.S. dollar on their foreign earnings.
Large companies may be more sensitive to currencies than smaller companies
Speaking of the dollar first, according to Standard & Poor's, 44.3% of the earnings of companies in the large-cap S&P 500 come from abroad. This income is derived from local currency, which is then translated into dollars, at least for reporting purposes (it isn't necessarily repatriated into the U.S.). Since mid-2014, the ICE Dollar index, a measure of the currency against a basket of six major rivals, has already appreciated about 25% to hit 14-year highs, according to FactSet. This means each unit of currency abroad buys fewer dollars, reducing income. Smaller companies derive more of their revenues here, the thinking goes. So, you might believe that means the market might reward those companies more richly than bigger companies.

And you're right: small cap stocks have done better than bigger companies since the surprise election victory of Donald Trump. And investors believe that bigger companies will continue to underperform small cap stocks looking ahead, as seen in the below chart.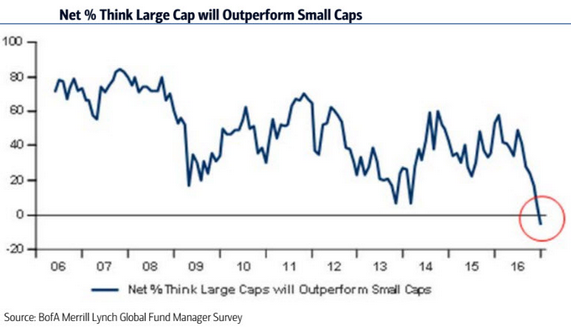 One factor behind the tilt away from large companies in favor of smaller ones comes from larger companies' own commentary, such as when reporting earnings or discussing issues with analysts. For the September-to-December quarter, executives at 72% of companies have discussed foreign exchange or currencies, according to a Credit Suisse analysis of the S&P 500 firms that had reported through Jan. 18.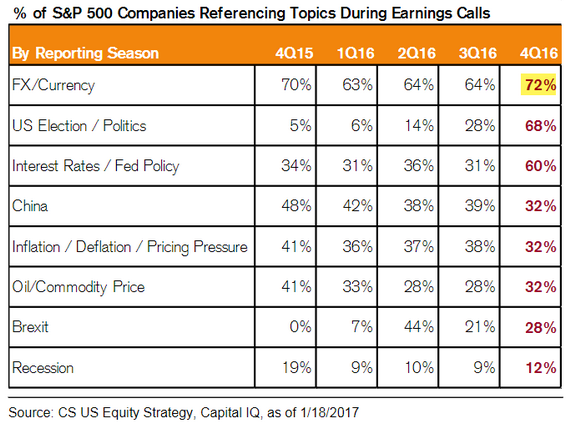 Of course, there are other concerns as well. Through January 18, 68% of S&P 500 companies providing earnings guidance have addressed issues surrounding what the new administration and its policies, known and unknown, might mean for their business, according to John Butters, senior earnings analyst at FactSet.
Investor complacency is itself an indication of potential risks
So far, our discussion has focused on an either/or scenario: Either small caps outperform large caps or it's the other way around. But this implies a positive performance scenario. It's extremely difficult to predict market returns, especially over the short term, so we won't even try. However, there are signs that one might be cautious, not least because other investors aren't.
It's often the case that market complacency about risks often paradoxically leads to risks surfacing. We've discussed small cap stock performance, with strong returns a signal investors are more comfortable taking on risk. There's another signal, too, and that is the market's "fear gauge," a measure of implied volatility embedded in the pricing of certain financial instruments, known as the VIX. When it is high, investors are fearful; when it is low, investors may be complacent, too complacent, possibly. Recently, the VIX plumbed lows not seen in years.
Curiously, however, the VIX touched a low point just as economic uncertainty spiked, as seen in the nearby graph. This is a puzzling development: we should see the two move in tandem. When the gap between the two was this large previously (in late 2012), the Russell 2000 fell by 11% from September 14, 2012 to November 15, 2012, according to data from the St. Louis Fed. We can't say that the past will repeat in the future, but we can say this is a reason to be cautious.

The market is pricey - and may be more dependent than usual on upcoming earnings results
All the more reason to be cautious is the fact that the market is pricey. The P/E ratio for the S&P 500 is currently 24.74, using earnings over the past twelve months, according to Dow Jones data. A year ago, it was 20.93. The long-term history for this measure is 16.7 since the 1870s. For shares to justify these multiples, investors may require seeing evidence of higher profits before paying up to own stocks. Having highlighted the risks above, earnings might eventually be a catalyst for a change in the market's direction.
Certainly, investors are pricing in quite a bit of enthusiasm. Whether economic data - and, importantly, corporate earnings - will justify these prices remains to be seen. In the meantime, there may be some reasons to be prudent about which risks to undertake now and which ones to delay.
Disclosures
Investing involves risk, including possible loss of principal, and investors should carefully consider their own investment objectives and never rely on any single chart, graph or marketing piece to make decisions. The information contained in this piece is intended for information only, is not a recommendation to buy or sell any securities, and should not be considered investment advice. Please contact your financial adviser with questions about your specific needs and circumstances.
The information and opinions expressed herein are obtained from sources believed to be reliable, however their accuracy and completeness cannot be guaranteed. All data are driven from publicly available information and has not been independently verified by United Capital. Opinions expressed are current as of the date of this publication and are subject to change, and they reflect those of the author and not necessarily United Capital. Certain statements contained within are forward-looking statements including, but not limited to, predictions or indications of future events, trends, plans or objectives. Undue reliance should not be placed on such statements because, by their nature, they are subject to known and unknown risks and uncertainties. Indices are unmanaged, do not consider the effect of transaction costs or fees, do not represent an actual account and cannot be invested to directly. International investing entails special risk considerations, including currency fluctuations, lower liquidity, economic and political risks, and different accounting methodologies.
© 2016 United Capital Financial Advisers, LLC. All Rights Reserved
Disclosure: I/we have no positions in any stocks mentioned, and no plans to initiate any positions within the next 72 hours.
I wrote this article myself, and it expresses my own opinions. I am not receiving compensation for it. I have no business relationship with any company whose stock is mentioned in this article.