Bed Bath & Beyond (NASDAQ:BBBY) has long frustrated investors with its opacity. Little is known of the company outside of its barebones SEC filings, which provide very little information about BBBY's operations. The company culture is very insular, with many longtime executives who were promoted from within the ranks. During good times this practice can preserve the values that make a company successful in the first place, but now this advantage seems to have turned into a shackle for BBBY. CEO Steven Tamares, 58, has remained in power for 14 years, despite presiding over a company whose stock price has seen a net increase of zero during his tenure. Co-founders Warren Eisenberg and Leonard Feinstein, now in their 80s, continue to exert influence through joint control of the Board. Aside from these two men and one other guy with experience in retail real estate development, the other seven members of the Board do not possess any retailing experience. Average tenure on BBBY's Board exceeds 14 years, and four out of ten members are over the age of 75.
Maybe the Board composition is a bit superficial, but I think it is emblematic of the company's resistance to change. For years BBBY failed to react to the seismic shifts caused by online retailing. Even today the company is way behind on e-commerce and other fundamental changes in the industry. While department stores such as Macy's (NYSE:M) and Sear's (NASDAQ:SHLD) have announced massive store closures this year, BBBY still plans to open new stores under its namesake brand as if nothing is amiss.
The financial results now reflect this inertia. Comparable store sales growth has fallen from over 5 percent five years ago to 1 percent last year, and it seems likely that this year will show no growth at all. Net income over the last twelve months is below the level achieved in 2011. Gross margins have deteriorated from 41.4 percent to 37.6 percent.
But despite this disappointing about-face, the company's strengths are still formidable. BBBY pioneered the "racetrack" format where customers must pass by a maze of goods before they reach the product that they came for. The idea is to encourage more impulse buying with lots of tempting merchandise. The chain also eschews the stock rooms found at many competitors, instead storing product on the sales floor by stacking it up to the ceiling. As a result, BBBY's sales per square foot far outstrip many competitors.
The company's buyers are notoriously ruthless in their deal-making, extracting many ridiculous concessions. A 2015 Racked article on BBBY quotes retail analyst Warren Shoulberg referring to the company as a "bully" and an "800 pound gorilla". BBBY has also mastered the use of coupons to drive sales. Although its products are generally more expensive than Wal-Mart (NYSE:WMT) and Amazon's (NASDAQ:AMZN), a generous flow of coupons keeps prices competitive. In order to sustain high margins, the company relies on some people who pay the full price. BBBY maintains an official policy of limited returns and expirations dates on its coupons, but store management rarely enforces it.
For many years the company operated with no debt and funded expansion from its initial IPO and subsequent cash flow. Excess earnings were plowed into stock buybacks, reducing the share count by almost 50 percent over the last decade. While other retailers sought out expensive real estate in prime locations, BBBY has always preferred cheaper property on the outskirts of major shopping areas. The conservative capital structure combined with retailing prowess gave the company an impressive run over the last 25 years and allowed it to weather the severe recession that bankrupted its main competitors.
Given these strengths and weaknesses, is the company's stock a buy? Aside from the flagship Bed Bath & Beyond brand, the company also owns Christmas Tree Shops, Harmon beauty supply, Cost Plus World Market, Buy Buy Baby, Linen Holdings, and a handful of online retailers. Unfortunately the company's annual reports do not break down results by subsidiary. Here I string together what little public information there is about all of these separate entities. Let's go through the company piece by piece.
1. Christmas Tree Shops (and That!)
Year of acquisition: 2003
The Christmas Tree Shops are a chain of discount stores originally concentrated in New England. The stores are very similar to chains like Big Lots (NYSE:BIG) and Ollie's Bargain Outlet Holdings (NASDAQ:OLLI). Think huge piles of really cheap closeout merchandise and assorted crap from China. BBBY acquired the privately held firm from its founding family for $200 million. At the time there were 23 stores in the chain with revenue of $370 million. In its announcement of the acquisition, BBBY disclosed that the new subsidiary would add $0.02 per share of earnings for that year. Since the deal was made in June, let's assume that a full year's worth of earnings would add $0.04 a share. This means that Christmas Tree Shops were raking in about $11.8 million in profit, so BBBY paid about 17 times earnings.
Today there are 78 stores in the chain, still mostly in the East. Assume, conservatively, that earnings per store haven't changed. Discount chains have thrived post-Recession, so this is probably a huge underestimate. To make up for it I assign a new multiple of 25 times earnings. That puts the value of Christmas Tree Shops at around $1 billion. Not too shabby.
2. Harmon
Year of acquisition: 2002
Harmon is a chain that offers discount beauty supplies. BBBY bought the company and its 27 stores for $24 million. At the time, Harmon reportedly earned $35 million in revenue. Earnings figures aren't available, but I will assume 4 percent margins which would mean that BBBY paid roughly 17 times earnings (as it did the next year for Christmas Tree Shops).
Today there are 51 stores in the chain, which isn't saying much after 15 years. But it seems that BBBY intended to fold the company into its flagship stores, many of which now feature in-store Harmon units. This makes valuing Harmon as a separate entity difficult, so I will assign a valuation of $45 million for the 51 stores based on what BBBY paid in 2002.
3. Buy Buy Baby
Year of acquisition: 2007
Buy Buy Baby is a chain offering merchandise for babies and young children. When BBBY bought the company for $86 million it only had 8 stores, but total revenue exceeded $107 million. Today the company has 135 stores, but it is tough to value. Competitor Toys R Us has struggled amid a poor economy and competition from the likes of Amazon and Wal-Mart. Estimates peg Toys R Us profit margins at a little over 1 percent. My guess is that Buy Buy Baby is making no more than 2 percent on its sales, assuming that revenue per store hasn't dropped substantially over the past 10 years. I don't know anything about baby products, so this one is outside of my circle of competence. With a conservative multiple of 10 times earnings Buy Buy Baby is worth $363 million, and I will leave it at that.
4. Cost Plus World Market
Year of acquisition: 2012
Cost Plus World Market once thrived as a retailer of imported goods, many of which are handcrafted or made exclusively for the company. But the recession and poor management decimated the company, and by 2008 many observers believed Cost Plus would soon cease to exist. The new leadership recognized that the chain had strayed from the model that made it so successful. The company ditched the "collections" strategy and returned to the single-item, "store of discovery" format. The turnaround was successful and BBBY bought the 260-store company for $500 million. By the time of the deal Cost Plus had swung from a $100 million loss to a $16.5 million profit, meaning that BBBY paid 30 times earnings.
As of 2015, Cost Plus had 276 stores. Assuming the same multiple, the chain is now worth about $530 million.
5. Linen Holding
Date of Acquisition: 2012
Linen Holdings distributes bed, bath, and table linens and other textile products to large customers including hotels, cruise lines, hospitals, and food service. BBBY bought the formerly private firm for $105 million. I don't know anything about this business, and I will assume that this purchase price was fair. In any case, BBBY said at the time that the deal would not materially affect earnings.
6. Other
In the last few years, BBBY has turned its gaze toward online retailers. In 2015 it bought Of a Kind, an online seller of indie jewelry, fashion, and home goods, for an undisclosed sum. Last year BBBY scooped up bankrupt flash sale site One Kings Lane for a "not material" price. And most recently the company acquired Personalized Mall, which sells custom wares online, for $190 million.
Valuing the Company
For those keeping score, the above subsidiaries sum to a value of $2.3 billion. That is nearly 40 percent of BBBY's $6 billion market capitalization. Taking out cash of $473 million, that leaves the flagship brand with a value of $3.3 billion. Even though the core Bed Bath stores only comprise 60 percent of the market cap, they generate about 84 percent of the earnings if we go by my estimates. Yet those earnings are shrinking. If overall same store sales growth has contracted to 1 percent as the company noted in the last annual report, then the flagship Bed Bath stores are probably already in negative territory. The market assigns a multiple of 8 times earnings for the whole company, which is probably fair for the flagship. But I think it is clear that at least a few of the subsidiaries are growing much more quickly. If we keep the 8 times earnings multiple and apply it just to the earnings attributable to Bed Bath, then that part of the company is worth $4.8 billion. This means that the entire firm could theoretically be worth $7.3 billion, which is 22 percent higher than the current valuation.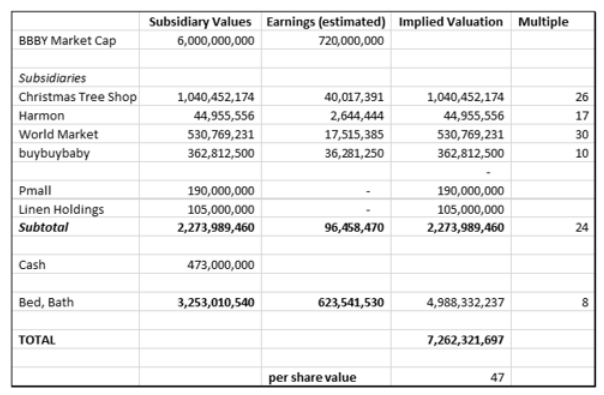 Given BBBY's continued decline, 8 times earnings may yet turn out to be too generous. Without a bold new strategy to drive growth, I don't see how BBBY can return to its historic valuation.
Management hasn't been forthcoming about how the new e-commerce acquisitions will be integrated, so we have no idea if there is a vision or a plan. Recently the company began piloting a membership program designed to compete with Amazon Prime. It also claims that online sales are growing rapidly, but won't provide specific sales figures. The most recent annual report contains a laundry list of initiatives, but none of them appear particularly groundbreaking. The new membership program sounds promising, so long as BBBY can get the distribution network working. Sometimes I think that BBBY continues to build stores because they want to emulate Best Buy's model of using the brick-and-mortar building as a center for both online shipping and traditional retail. But again, because management remains mum on matters of strategy, investors have no idea what the company plans to do.
One topic that management has been more concrete about is its plan to create more "experiential" shopping with more product demonstrations and in-store technology. Late last year the company unveiled a new concept in Brooklyn, NY that combines the Bed Bath flagship, Cost Plus, Harmon, BuyBuy Baby, and a food court into one connected retail space. The shopping center has received positive reviews and is a great example of innovative thinking and smart integration of acquisitions. I don't know to what extent this concept can be applied elsewhere, but it is a start.
I am especially bullish on the Christmas Tree Shops chain. A business that buys up closeout merchandise seems destined to thrive, especially since there is plenty of supply from big box chains shuttering stores by the hundreds. That said, I don't see how it helps BBBY reinvigorate its core brand. The other chains complement the flagship store, but Christmas Tree Shops occupies a different playing field. My first reaction is that BBBY should sell or spin off this subsidiary.
Occasionally I read speculation that BBBY could be acquired by private equity. I have no doubt that many firms would like to own the company. Whatever their current troubles, BBBY is still a cash cow with consistently high returns on shareholder equity. But I doubt that BBBY seriously entertains such offers given its corporate culture. An activist investor may eventually enter the picture, which could help shake up lethargic management.
For four years I have observed this company, and now the shares finally look fairly priced. As of this writing, the market values BBBY at $40 a share. According to my breakdown of the company and its subsidiaries, present value probably exceeds $47 a share. But the bottom line is that I just don't see a large moat around BBBY's economic castle, so a 20 percent margin of safety doesn't feel sufficient. If you really have to own a troubled retailer, then BBBY is probably your best bet. Ideally I would like to see huge improvements to e-commerce and continued development of shopping as an experience. I want people to look forward to BBBY's stores the way they get excited about going to an establishment like IKEA, which has mastered the art of making shopping fun and memorable. That is kind of brand building that makes the economic castle more impenetrable.
For now I would take a wait and see approach. Look for a vastly improved online presence and a bold new shopping experience. If BBBY makes serious strides on those fronts then the stock warrants serious consideration up to $47 a share. But those changes seem very far away, so prepare to wait for a while.
Disclosure: I/we have no positions in any stocks mentioned, and no plans to initiate any positions within the next 72 hours.
I wrote this article myself, and it expresses my own opinions. I am not receiving compensation for it. I have no business relationship with any company whose stock is mentioned in this article.