My Beliefs
I believe Primo Water Corporation (NASDAQ:PRMW) presents an attractive value due to explosive growth, consumer trends, and outstanding management. I believe Primo's acquisition of Glacier Water (OTCPK:GWSV) will boost their already impressive financials. Should trends continue, I expect a takeover bid within three years.
About the Companies
Primo Water operates a 'Razor-Razorblade' business. The razor is their water dispensers, a common sight in homes and offices across the US. Their razorblade is the exchange process. You simply walk into a retail location and swap your empty water jug for a filled one. Glacier Water offers refill services across a vast retail network. The combination of Primo and Glacier provides users with a convenient refill option. Their business model is depicted in Figure 1.
Figure 1: Razor - Razorblade Business Model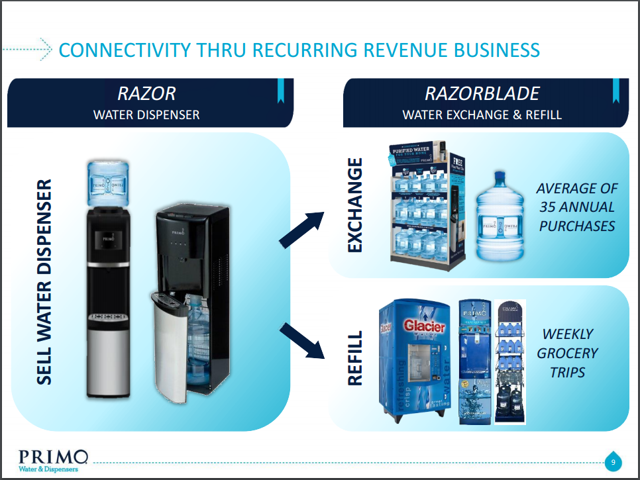 Source: ICR Conference Slides
Public Opinion
Primo has extended their reach at the perfect time. With a potential $1 trillion infrastructure package being discussed, the public may be thinking about the quality of their tap water now more than ever. The Flint water crisis has faded from the national spotlight, but still has not been resolved. President Trump or Senate Democrats could at any time draw attention to the nation's failing infrastructure and water quality. Health and fitness trends also lend themselves to the success of Primo. More and more people care about the quality of their food and water. Primo compares itself with the popular Brita Filter on their website, showing Primo's more advanced filtration. In 2016, bottled water eclipsed carbonated soft drinks in consumption per capita. This is further proof of trends that benefit Primo. I expect these trends to continue as more and more cities implement a soda tax to curb carbonated soft drink consumption.
The Glacier Acquisition
On October 10th of 2016, Primo announced the acquisition of their largest competitor: Glacier Water. Key financials are expected to double immediately. Other highlights include expanded retail partnerships, between $6-7 million in operational savings due to synergy, and, rapid deleveraging of debt.
By 2018, the acquisition is projected to take revenue from $140mm to $295mm, EBITDA from $23mm to $60mm and leverage from 5.4x to 3.7x. This is shown in Figure 2.
Figure 2. Financial Impact of Glacier Acquisition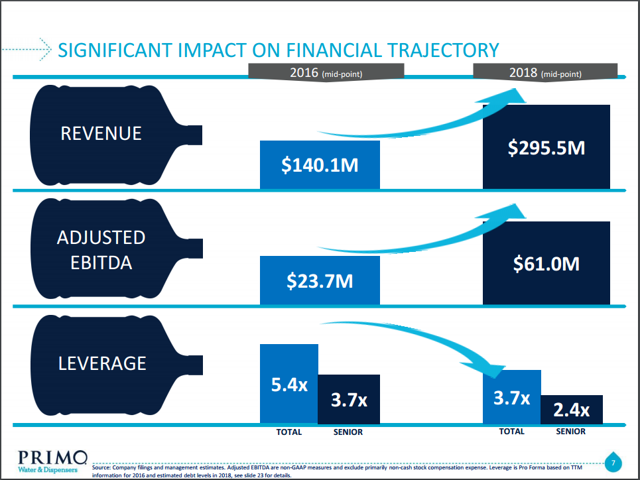 Source: Glacier Acquisition Presentation
Using simple TTM addition of the Glacier and Primo metrics, you can see the immediate impact in Table 1.
Table 1: Primo/Glacier TTM in Millions
| | | | |
| --- | --- | --- | --- |
| | Primo Water | Glacier Water | Pro Forma TTM |
| Net Sales | $133.7 | $140.1 | $273.7 |
| Income from Operations | $8.0 | $6.8 | $14.8 |
| Adjusted EBITDA | $22.6 | $24.0 | $46.6 |
During the past year, 70% of Primo's revenue came from their top three retail partnerships. Now with Glacier's added business, the top three make up 38%. Over 20,000 new retail locations have been added to their portfolio, making it even more convenient for the consumer. Diversification is shown in Figure 3.
Figure 3: Retail Diversification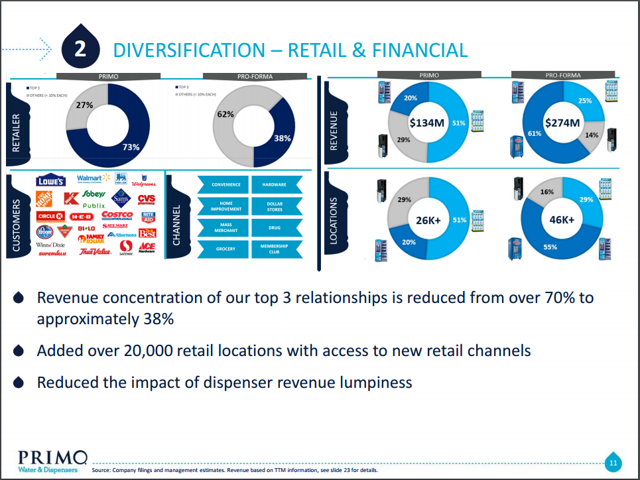 Source: Glacier Acquisition Presentation
All things considered, the acquisition of Glacier will prove extremely beneficial for Primo. All financial metrics are set to benefit and their retail footprint will reach 26,000 locations. Primo is now the market leader in all retail categories they compete in. Yet, I would argue, they are still relatively unknown by the average investor. Their average trading volume is around 150,000 shares per day. They are on the low side of Small Cap with a market cap of $343mm. Despite their relative anonymity, their financials cannot be overstated. Their daily volume and market cap can be found on their quote page, linked above.
Growth and Guidance
Can a company that has increased in value ten-fold over the last four years still be a good value? I believe they can. I have called in to the past three quarterly conferences and Primo has consistently exceeded their own guidance across many metrics despite consistently raising it. They display strong growth in cash flow, EBITDA, net sales, and EPS even without Glacier. Access to a total of 26,000 retail locations can only enhance this growth. Synergy between the two companies will cut costs. Increased free cash flow will allow Primo to pay down their debt and grow. All signs point to growth for Primo.
Management
Billy Prim, CEO of Primo Water, is also its largest shareholder with roughly 9% of shares outstanding. This is a display of confidence he has in the company. He pioneered the portable propane tank exchange while serving as CEO and Chairman of Blue Rhino Corp. After the sale of Blue Rhino to Ferrellgas (NYSE:FGP), he pioneered the portable water tank exchange with Primo. His method of exchange services is tried and true, and I believe Primo is an excellent takeover target, much like Blue Rhino turned out to be.
If 'Big Beverage' continues to suffer declines in carbonated soft drinks, someone is bound to scoop up Primo. As water continues to expand its share of the beverage market, beverage giants will predictably diversify into the water market. Primo is the market leader in all categories they compete in, so they will no doubt be on the radar of companies that wish to buy into the water business. I mentioned before that Primo has a market cap of roughly $350mm. This is nothing for a giant like The Coca-Cola Company (NYSE:KO) or PepsiCo Inc. (NYSE:PEP), who have $25.59b and $14.79b in cash respectively as of the most recent quarter.
Final Thoughts
There are many factors that contribute to the continued growth of Primo. These range from socio-political factors to acquisitions and synergy. I believe Primo's price does not reflect their growth or earnings potential. I also think they are a good candidate for an acquisition by a beverage giant.
Disclosure: I am/we are long PRMW.
I wrote this article myself, and it expresses my own opinions. I am not receiving compensation for it (other than from Seeking Alpha). I have no business relationship with any company whose stock is mentioned in this article.
Editor's Note: This article discusses one or more securities that do not trade on a major U.S. exchange. Please be aware of the risks associated with these stocks.