January was undoubtedly warm, and in many regions of the US, it was ranked either as the fourth to sixth warmest January on record.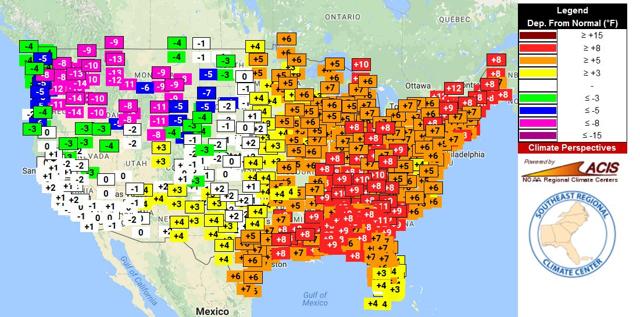 Source: NWS
Our analysis shows that Jan. 2017 was very similar to Jan. 2012. Storage draws, however, in comparison were starkly different. According to EIA historic data, Jan. 2012 saw a total storage draw of -505 Bcf (Jan 06 week to Jan 27 week). In contrast, Jan 2017 is expected to see storage draws of -601 Bcf (Jan. 06 to Jan. 27* our estimate of -88 Bcf). To put it in context, the five-year average storage draw in January is around -689 Bcf or just 88 Bcf higher despite HDDs being 15% lower than normal.
The difference of 96 Bcf between 2012 and 2017 is attributed to the tight supply/demand we are currently observing in the market or what we refer to as the structural imbalance. Over the period of 29 days or so (including Dec. 30 and 31), the structural imbalance observed in January was approximately 3.3 Bcf/d. This structural imbalance already encompasses the fall in power burn demand resulting from an increase in coal replacement. Average power burn demand fell from 25 Bcf/d on average to 21.5 Bcf/d.
From February to March, we estimate that despite the bearish weather outlook for February, the structural imbalance will average roughly 3.6 Bcf/d. This already includes the drop in power burn demand, and incorporates our forecast for higher US natural gas production. For March, we see the structural imbalance increasing slightly to 3.8 Bcf/d.
Power burn demand is expected to see another move higher this year resulting in an increase anywhere from 0.6 to 0.8 Bcf/d. Industrial demand is expected to add similar amounts, while LNG and Mexico gas exports are expected to add well over 2 Bcf/d of extra demand.
Slapping all of that together, and the recent structural imbalance WILL only be resolved IF US natural gas (NYSEARCA:UNG) can average well over 74 Bcf/d for the rest of this year up from the current 70.1 Bcf/d.
We think we've repeated this point more than enough, and that's that the structural imbalance will continue and as long as this exists in the market, natural gas prices will continue to trend up.
If you find our natural gas analysis insightful, we think you will find the premium service to be even more valuable. You can sign up here.
8-14 Day Outlook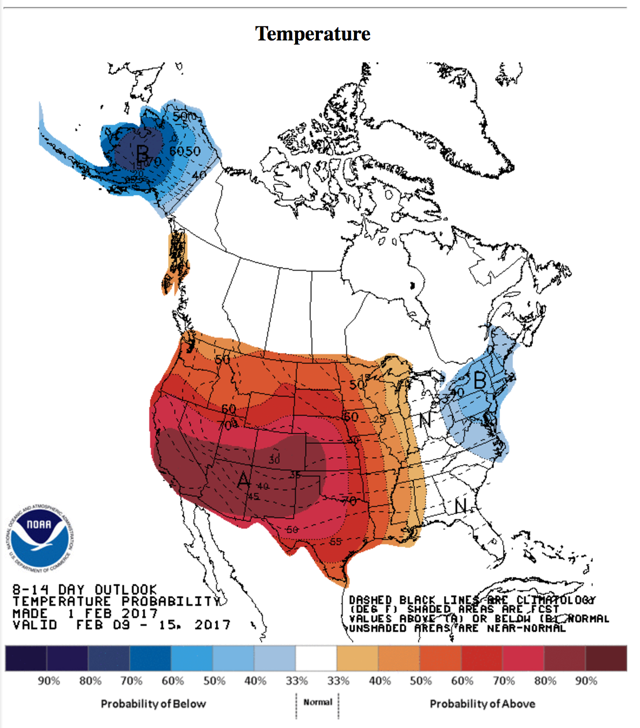 Disclosure: I/we have no positions in any stocks mentioned, and no plans to initiate any positions within the next 72 hours.
I wrote this article myself, and it expresses my own opinions. I am not receiving compensation for it (other than from Seeking Alpha). I have no business relationship with any company whose stock is mentioned in this article.