Apple (NASDAQ:AAPL) reported its earnings this week on Tuesday and the stock has surged since. Unit sales of 78.3 million for the iPhone are up over 3 million units year over year beating estimates of around 76 million units, while the average selling price of $695 exceeded the estimates of $688. Key to this beat in ASP is the product mix shift towards the iPhone 7 plus, whose dual-lens camera, display size and resolution, processing power and variety of other features drove higher-than-expected sales of the model vs. other models such as the SE, the iPhone 6S and the regular iPhone 7. It was critical for Apple to finally see an increase in revenue year over year given the last few quarters have seen overall declines as the smartphone market matures. CEO Tim Cook attributed the surprise in units sold to higher-than-expected holiday sales.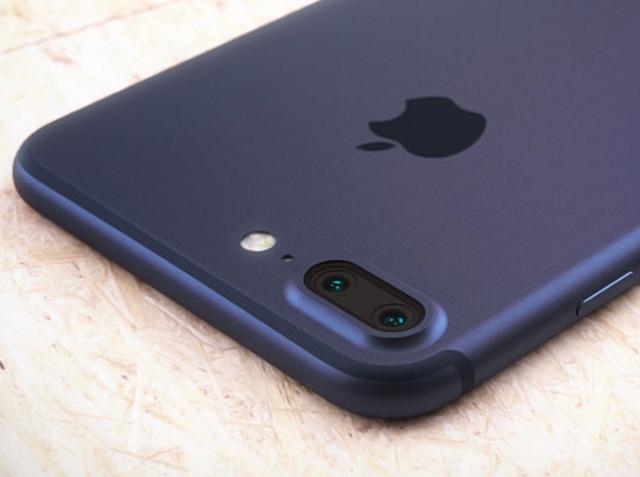 CFO Luca Maestri repeatedly pointed out the bullishness in the services segment, claiming the business should expect revenue to double in the next 4 years. This is in line with current growth rates as around 18.5% CAGR is required to double in that time frame, so it is a healthy forecast to see revenue growth continue at a high pace for a prolonged period of time rather than slow down. Naturally, the services segment has higher margins and demands higher multiples, so one can expect to see expansions in gross margin in the long term for Apple as we see a business shift towards services. Ideally, this will offset the decreases in margins we've been seeing as Apple loses some economies of scale in its iPhone product line and we've seen an increase in consumer trends toward lower-end and mid level configurations which offer lower margins than higher end models.
In the Other segment, we saw declines that illustrate a continued depression in products such as the iPod and displays, which comes as no surprise. Mac sales saw an increase of 7% Y/Y, which seems rather muted given the refresh of the MacBook Pro late last year. In my last article, I spoke about the touch bar and how it could become a competitive advantage. Since then, I have had the time to use one and I have come to the same consensus most tech reviewers come to: Purchase the model without touchbar as the novelty and use of the touch bar wears off quickly and the CPU/GPU upgrades are not worth the price.
Additionally, there seems to be an increased shift from Mac users over to PC brands such as Lenovo, Dell, and HP as some Mac users feel neglected due to a decline in focus on the product line from Apple. Retaining the Mac user base may center on the increased interconnectivity of the Apple ecosystem as iPhones link seamlessly with their Mac counterparts. It wouldn't hurt to throw in a touch-screen configuration for the MacBook Pros as well. This doesn't even cover the lack of attention given to other Mac lines which other articles discuss in more detail.
In a similar vein, we've seen a decline in iPad sales, suggesting increased competition in the tablet world from both hybrid, 2-in-1 laptops, which are becoming increasingly lighter and more powerful, along with direct competition such as Microsoft's Surface Pro line. Additionally, the product life cycle for tablets is much slower than that of phones as the magnitude of improvements in hardware is lower and the need for increased processing power becomes less important given the power, flexibility, and portability of many ultrabooks these days.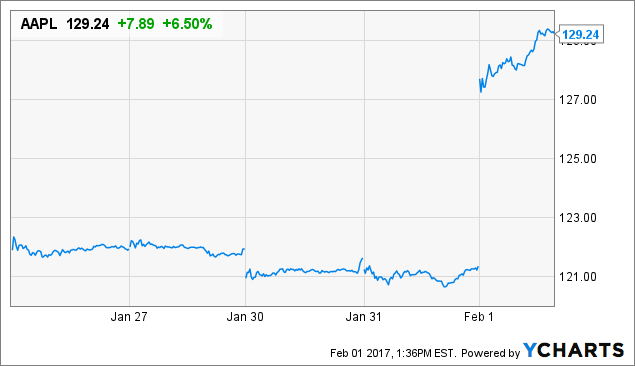 AAPL Price data by YCharts
Perhaps most interesting about the earnings was the sharp move to the upside following these beats. Apple has seen moves of the 6% magnitude the day following earnings fairly often the last year and this announcement is following that trend. At the time of writing this, midday Wednesday, the market is relatively flat and the technology ETF (NYSEARCA:XLK) is also flat if Apple is excluded so the move can be solely attributed to the earnings release, as opposed to any recovery related to the weakness in technology stocks following the temporary immigration ban. The stock is reaching new 52-week highs and nearing all-time highs, suggesting high optimism moving into the 2017 fiscal year.
Is it worth buying at these levels? The stock seems overbought to me at this time, but research has shown stocks trading close to their all-time highs continue to perform well into the future as the momentum holds. Another factor that plays into my thoughts on this is that I tend to think it is a tad overoptimistic that services revenue will double over the next 4 years, given that it would require revenue growth to remain at a sustained high level that is already seeing some declines. I expect significant increases in services revenue, but 18.5% CAGR over the next 4 years seems tough given how quickly 20%+ revenue growth rates eroded away.
Long-term Apple investors have no qualms, and similar to my recent report on Johnson & Johnson (NYSE:JNJ), I have come to the conclusion that what to do with Apple's stock is a function of where the stock is being held (tax advantaged account or not), risk appetite, activeness in the markets, and overall sentiment on the business. I would not hold the stock at these levels myself, but do not have a strong conviction that the stock is overvalued at this time. We shall see how the stock moves going forward into Q2, which is anticipated to be negatively impacted by currency fluctuations.
Author's note: If you would like to be notified when I publish an article, please click the follow button beside my name at the top of the article or on my profile page. Let me know your thoughts in the comments and thanks for reading.
Disclosure: I/we have no positions in any stocks mentioned, and no plans to initiate any positions within the next 72 hours.
I wrote this article myself, and it expresses my own opinions. I am not receiving compensation for it (other than from Seeking Alpha). I have no business relationship with any company whose stock is mentioned in this article.