The long term bull market for gold is still in place. However, nothing goes up in a straight line. A few months ago, I suggested a bullish options trade on SPDR Gold Trust Shares (NYSEARCA:GLD). The trade was:
Sell GLD January 2012 160 puts
Buy GLD January 2012 155 puts
You could get a credit of $2.20 per spread. The spread expired worthless, gaining a healthy 78% return in just five weeks. The trade was based on pure technical analysis. Looking at the daily GLD chart, we can see that every time GLD pulled back around 150 day MA, it has bounced back and the next leg up started.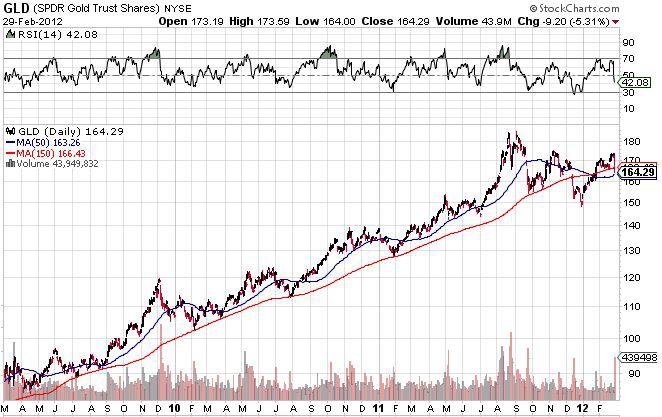 GLD closed at $164.29, right below the 150 MA. Is it time to go long again?
One possible way is to repeat the January trade, this time with April expiration:
Sell GLD April 2012 160 puts
Buy GLD April 2012 155 puts
You will get a credit of $1.35 per spread. Ten spreads will credit your account with $1,350. This is your maximum gain. Margin requirements for this trade are $3,650, so the maximum return on margin is 37%. The maximum gain is realized if the stock stays above $160 by April 2012 expiration.
How do we make money from this trade? The trade is theta positive and vega negative. We make money on the trade as long as GLD stays above $160 by April 2012 expiration. If the stock moves sideways or goes up, we make money from the time decay as well as the Implied Volatility drop.
Of course like with every trade, there are risks. Nothing is preventing gold from going below the 150 MA. But if history has any meaning, the odds favor a bounce in gold prices.
Disclosure: I have no positions in any stocks mentioned, and no plans to initiate any positions within the next 72 hours.