One question that is there in the minds of many investors right now is - which of the three companies out of Energy Transfer Equity (NYSE: ETE), Energy Transfer Partners (NYSE: ETP), or Sunoco Logistics (NYSE: SXL) should they buy or keep invested in? I will evaluate the three options from various angles to find out the answer to this question.
To begin with, considering the merger announcement, it is no longer much useful to evaluate between ETP and SXL separately. Instead, from a long-term perspective, it will be more useful to predict how the combined entity, which will be traded under the symbol ETP, may perform going forward. So, I'm for the discussion here, assuming that buying ETP or SXL is just the same - it implies buying the merged company's share.
ETE's income sources
To give a quick summary, ETE derives its income from cash distributions received from its interests in ETP, SXL, Sunoco LP (NYSE:SUN), and Lake Charles LNG.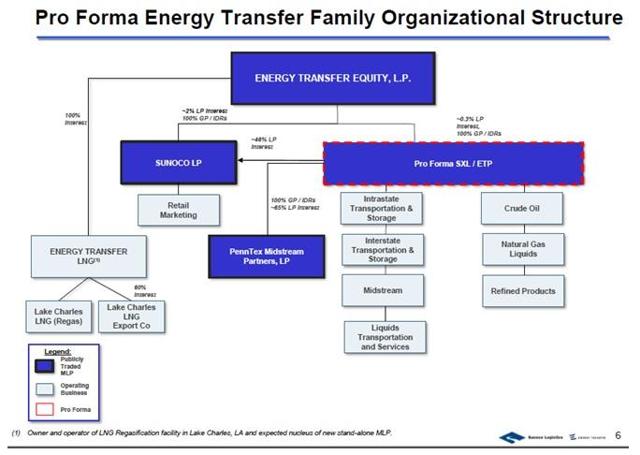 Source: Investor presentation
Excluding SXL's contributions, ETP generally contributed nearly 70% of ETE's distribution income. This has come down to nearly 60% currently mostly due to the IDRs waived by ETE. The Class H units in the table below represent contributions from ETE's interests in SXL.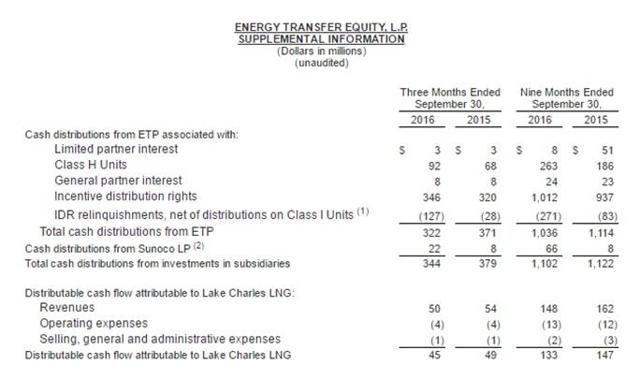 Source: ETE earnings release
Near-term distribution growth
Energy Transfer expects to achieve "near-term distribution increases in the low double digits" post ETP-SXL merger completion. The companies expect to achieve this through synergies and cost savings that are expected to be in excess of $200 million annually by 2019. The expected distribution increases look rather ambitious. From 2011 to 2016, ETP increased its annual distributions from $3.575 per unit to $4.22 per unit, an average of nearly 3.5%.
At the same time, SXL increased distributions at a much higher rate. SXL's distributions more than doubled during the last five years, recording a CAGR of nearly 20%. So, the combined entity's distribution can indeed grow faster. But it should be kept in mind that SXL's distributable cash flows are roughly one-fourth the size of ETP's.
However, the growth is still feasible considering the overall lower payout to begin with resulting from SXL's ETP acquisition. One share of ETP will get $0.765 in distributions (by holding 1.5 SXL shares) instead of $1.055 that it's currently getting. Importantly, the companies expect a coverage ratio >1 post merger.
IDR waivers from ETE should also contribute to distribution growth for ETP. Notably, ETE grew distributions at a CAGR of 13% over the last five years. IDRs restricted distribution growth at ETP level. I would believe that keeping IDR structure at SXL intact after the ETP-SXL transaction, with ETE owning the pro-forma GP/IDRs, continues to keep ETE at an advantage. Though, for the short term, ETE has waived a part of the IDRs.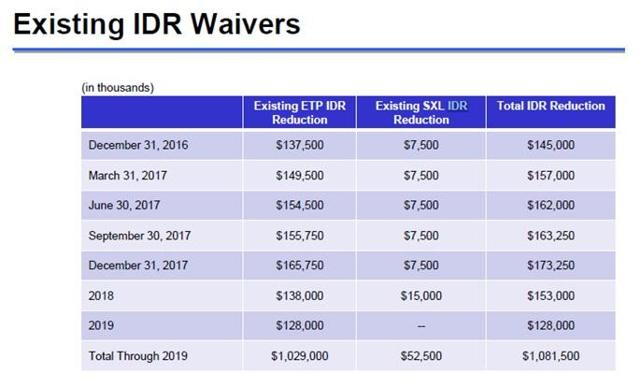 Source: Investor presentation
Yields and valuation
Energy Transfer Equity currently yields slightly above 6% compared to near 8% yield of Sunoco Logistics Partners. ETP is currently yielding more than 10%, but that will change due to the "stealth" distribution cut post-merger. Assuming everything else to remain constant for simplicity, which is a big assumption, the pro forma SXL (or rather ETP) should continue to trade at nearly the same yield of 8%. It may yield higher due to a fall in stock price.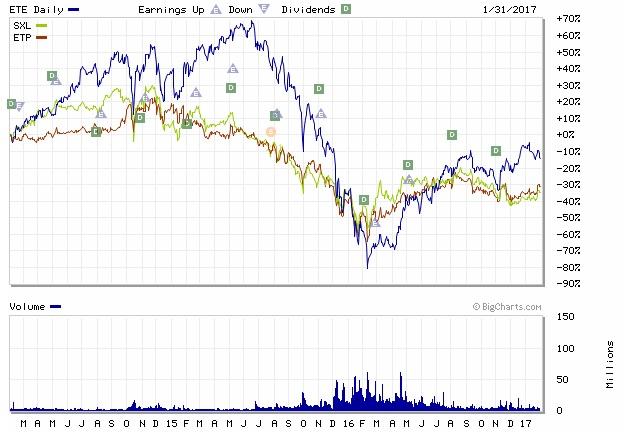 Source: Marketwatch
Considering that ETE derives nearly 85% of its cash flows as distributions from ETP and SXL, investing in SXL (which will include ETP ultimately) look attractive from a yield perspective. However, ETE's distribution growth should be higher considering its IDR advantage.
SXL and ETP are trading at EV/EBITDA multiples of nearly 12 and 10.5, lower compared to nearly 16 for Plains All American Pipeline (NYSE: PAA), 14 for Buckeye Partners (NYSE: BPL), and 16.5 for Enterprise Products Partners (NYSE: EPD). So both SXL and ETP are attractive currently.
On the other hand, ETE is trading at a higher multiple of nearly 17.5. ETE's premium valuation reflects the benefits of a simplified structure, cost savings, and expected synergies. It also reflects a GP premium due to IDR advantage. As seen in the graph above, as expected, ETE rose more than ETP during an upturn and fell more than ETP during a downturn in the energy sector. In the current recovery, it is again outperforming ETP. However, ETE is still slightly on the higher side compared to EV/EBITDA multiples of nearly 15.5 for Targa Resources Corp. (NYSE: TRGP), 13 for ONEOK, Inc. (NYSE: OKE), or 16.5 for Plains GP Holdings (NYSE: PAGP).
Considering that we are talking primarily of the same assets, investors looking for yield income should prefer ETP/SXL. But investors focused on higher distribution growth and potential for stock appreciation should prefer ETE. Notably, ETE's Lake Charles LNG business too has a potential for high growth.
Disclosure: I/we have no positions in any stocks mentioned, and no plans to initiate any positions within the next 72 hours.
I wrote this article myself, and it expresses my own opinions. I am not receiving compensation for it (other than from Seeking Alpha). I have no business relationship with any company whose stock is mentioned in this article.